It's about time to celebrate the most romantic month of the year. With Valentine's Day just around the corner, it gives you the perfect occasion to do a romantic interior design.
Talk about painting the room red or putting on some mood lighting, 14th February is all about setting up romantic bedroom interiors. While there are infinite things you could have done in the non-covid world, the fear of the virus should not restrict you from celebrating with your loved ones. You can transform your room by creating a wonderful romantic decor as you enjoy this Valentines' indoors. So, here's sharing some refreshing romantic interior design ideas to brighten your bedroom.
Design with the bed as the focal point
Create a design that makes the bed the center of attraction of your romantic bedroom interiors. Do not overdo the look by piling up a lot of accessories around the bed but make it look elegant. You can try doing a subtle look for the entire room and giving the beddings a pop of color to enhance the bedroom decorations.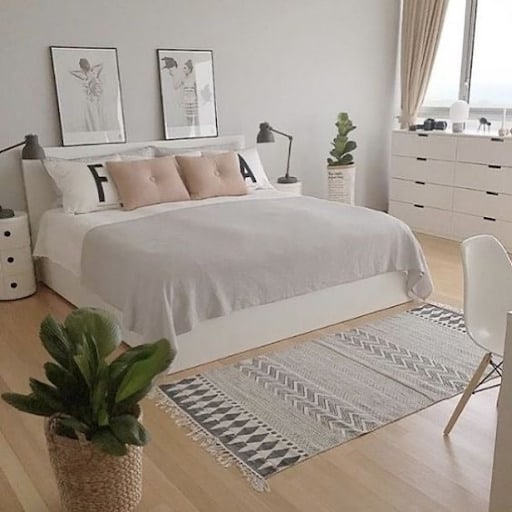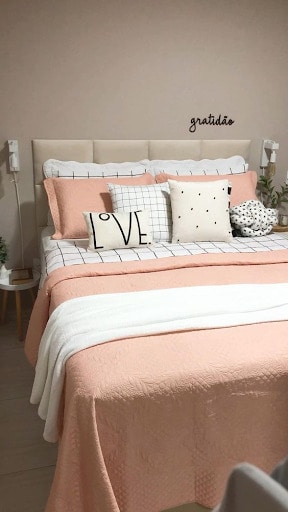 Quilts, pillows, throws, and sheets are very much a part of setting the right romantic decor. Adding some elements of color or pattern to your headboard might also help to create a bed as the focal point. You can also enhance the look with the use of bed curtains by giving it the look of a canopy bed.
Placing a large piece of artwork on the back wall also helps to draw attention. If you are thinking of redoing the bed, then we recommend going for modern vintage and retro furniture. It goes really well with the romantic vibe.
Romantic interior design bedroom are all about lighting
About 60% of romantic interior design is all about lighting. Look out for some beautiful floor lamps, bedside lamps, and hanging lights. Also, if you have the time to take it up, we totally recommend mood lighting. It is the perfect tool to set up an intimate vibe. Go for cool colors to light up your room. Install a dimmer to set the perfect romantic decor.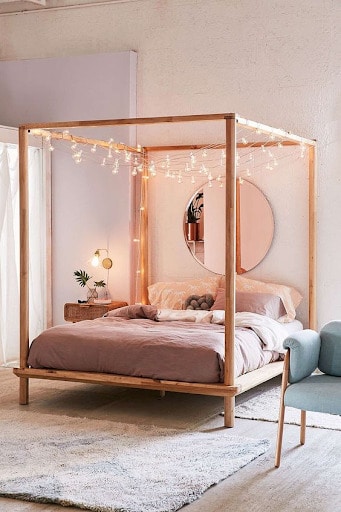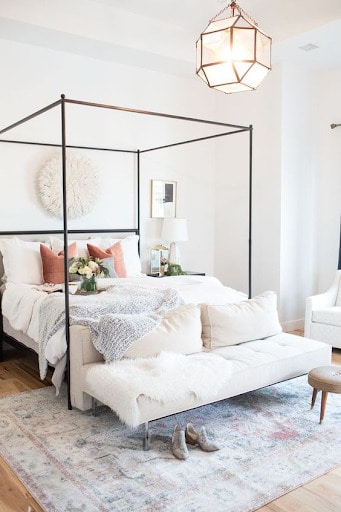 If you have a good ceiling height, then go for a small bedroom chandelier. Romantic chandeliers are not too chunky or too dark. They tend to offer a lighter, loftier feel and are full of grace. For those with lower ceilings, flush-mount lights are a better choice. Also, take advantage of natural lighting opportunities when available, especially if it allows for nighttime stargazing.
Amp up your furniture game
You can consider doing a furniture makeover for your room by bringing in some modern vintage furniture to your room. You can go for the most awkwardly trending furniture pieces like the lip shaped couch to the most subtly romantic ones. A good mix of vintage furniture and accessories such as chandeliers, mirrors, sofas and study table chairs can be added to the room to add a royal touch.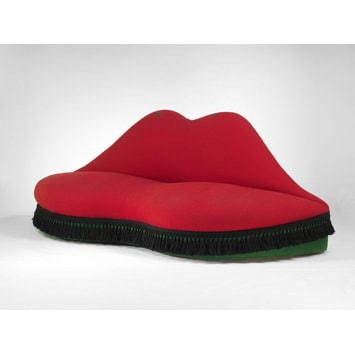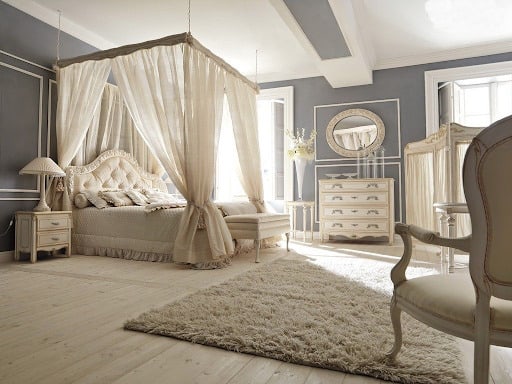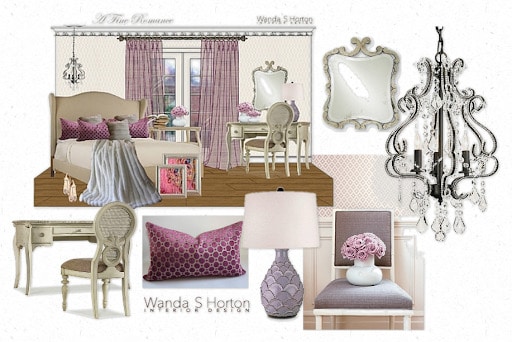 Image name: Moodboard for a vintage style romantic bedroom
Image credits: Wanda S Horton
Transform your bedroom with colors
If you are looking for a major room transformation on budget, you should surely go for redoing the soft furnishings of the room. Here, by soft furnishings, we mean the beddings, curtains, throws, rugs, and all things fabric in the room. A change of fabrics completely amps up your space. The fabrics suede, silk, fur and velvet go very well with the romantic setup. They reflect a sense of luxury and intimate comfort which will help you to set a romantic interior design tone to your room.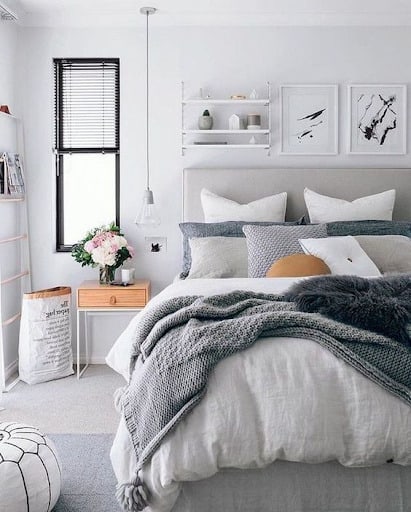 Go for nice prints, textures and don't just stick to the valentine color. Let it be an open choice for you and let this decor redefine your bedroom. You can also achieve the soft draping curtain effect by creating a curved valance to hang your long curtains from. These are easy to tie back and provide a romantic decor effect over the headboard.
Gone are the eras of pinks and reds. Romantic decor is not all about the color red. You should definitely use it, but not to the extent of overdoing it. Use red and its shades for basking in some pops of vibrance into the room. Design the room for pastels and add some reds to it in the form of pillow covers, curtains, etc. Caramel is a color that has a muddy look and gives nature-related vibes. It is surprisingly also considered as one of the most romantic colors.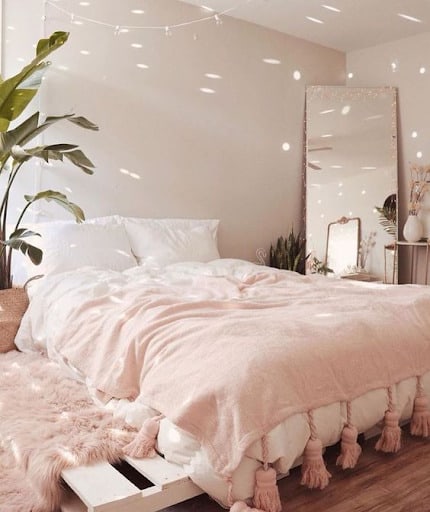 If you are looking for some more color and change, then get a wall repainted. Use some wall washers to enhance the look of that wall. You can also consider adding color in the form of indoor plants. Green is always a refreshing shade and resonates with the feeling of calmness. You can choose to opt for flowering or non-flowering plants.
Never go wrong with Flowers!
Flowers are my favorite and you can never go wrong with them. This is another arrangement you can take up to bring in some freshness and fragrance to your romantic interior design themed room. Some nice floral arrangements and botanicals are a good way to accessorize your room furniture. You can ditch the red roses if you think it's a bit cliche and go for pink asiatic lilies or orchids. They are bright and can beautifully brighten up your bedroom.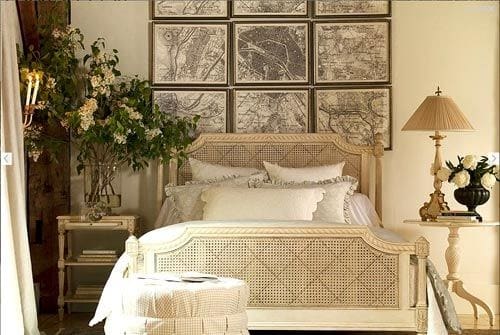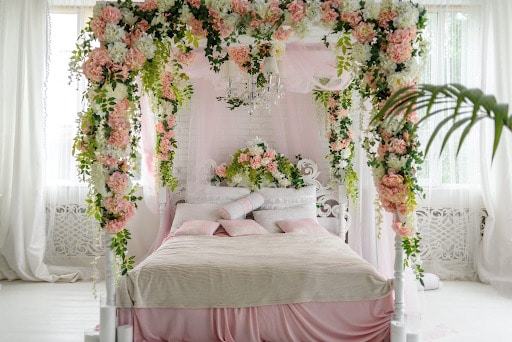 If you have no clue about how to do the right floral decor then follow this step by step method.
Choose your vase based on the type of flowers you plan to use and the size and style of arrangement you want to create.
Cut the stems at an angle for almost an inch from the bottom using garden scissors
Start by adding the largest flowers first, working in a circle, and turning the vase as you go to make sure the arrangement is symmetrical.
Layer in the next variety of flower and keep repeating until all flowers have been added.
Finish the arrangement by adding greenery, grasses, or berries.
What is romance anyway!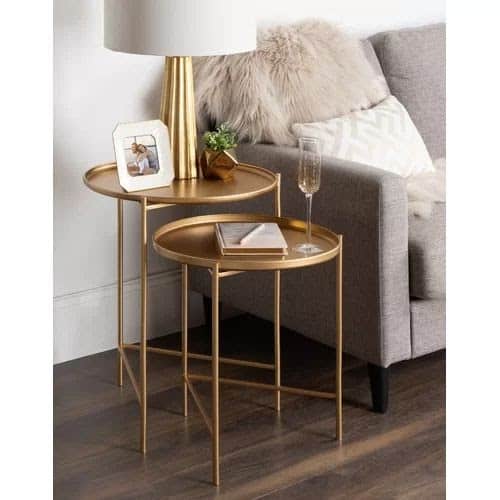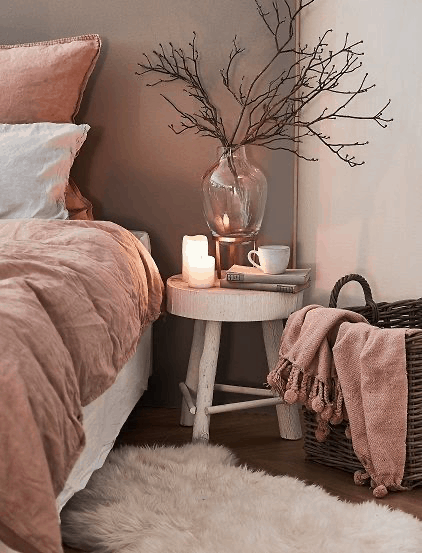 Romance is about being thoughtful about the other person. When designing a room, think of it in wholesomeness. Add little accessories and pieces of furniture that enhance your romantic bedroom decor. Add some side table accessories, magazines, glasses, clocks, frames, room fresheners to enhance your romantic bedroom interiors. These elements complete the look of your romantic decor.
What can really help you to create good decor is to personalize your ideas. If you are planning to put up an artwork then buy something that your partner likes. You can even buy something from their favorite artist. Or if you simply can't decide what to choose, a personal portrait is the best solution! Let these romantic bedroom interiors be a celebration of the lovely bond that you and your partner share. Tidy up your room and personify every element in the room to depict your feelings and emotions. Get their favourite old bike's portrait made? Or their childhood pets portrait? Favourite quote on pillow?
We think that creating romantic bedroom interiors is a tricky business. There is a very thin line between making it elegant and making it cliche. And one needs to strike the right balance. All these ideas will help you design a pretty romantic decor in the most subtle form. If you are trying a hand with these ideas on this 14th February, do let us know how it goes for you. Write down about your room decor in the comments below.