[5 minutes read]
Quick links:
When emotions form a line; art invents…
Art is an ardor.
Art is expression.
Art can be fussy or blank.
.
.
.
Art is …. complicated. And that's what makes it so interesting.

When lines get freedom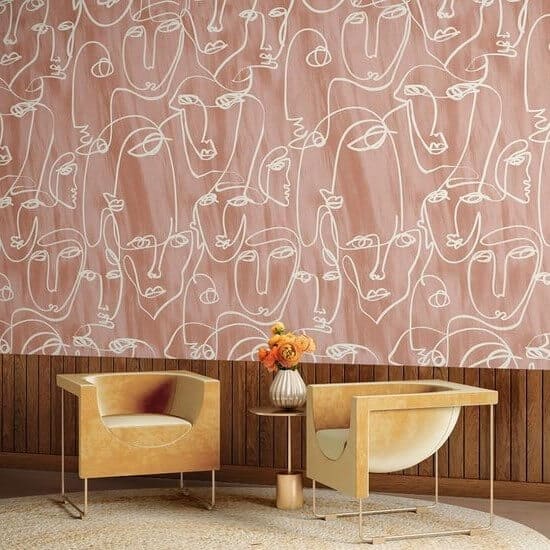 Lines do talk. Draw it straight, it creates a definite form. Slant it a bit, it accommodates. Add a fluid stroke, it forms a shape of freedom…free, imaginative, the way it should be!
Face line art forms…
A naked canvas, stoic wall, or a ceramic bowl, when given an identity with clean, bold lines (no shading) face line art forms. It identifies a human face. It is a human face. Common, isn't is imperative – human emotions have a voice of its own and when taken as inspiration to craft something subjective, it gives stupendous results!
An expressive trend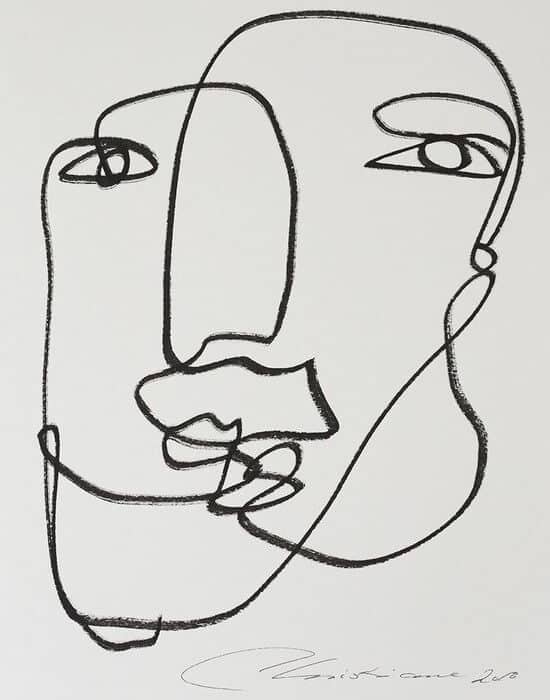 Face Line Art is a buzzing design trend. The millennials are relating to this graphic art trend where the face says it all.
Wondering whoever influenced this line drama? Well, the obvious influence is Matisse and Picasso, who share the throne of surrealist art. Faces and bodies intertwined using fluid lines, the modern art spoke the language of emotions. Stare at it for hrs, new opinion forms.
With lines, interior go artsy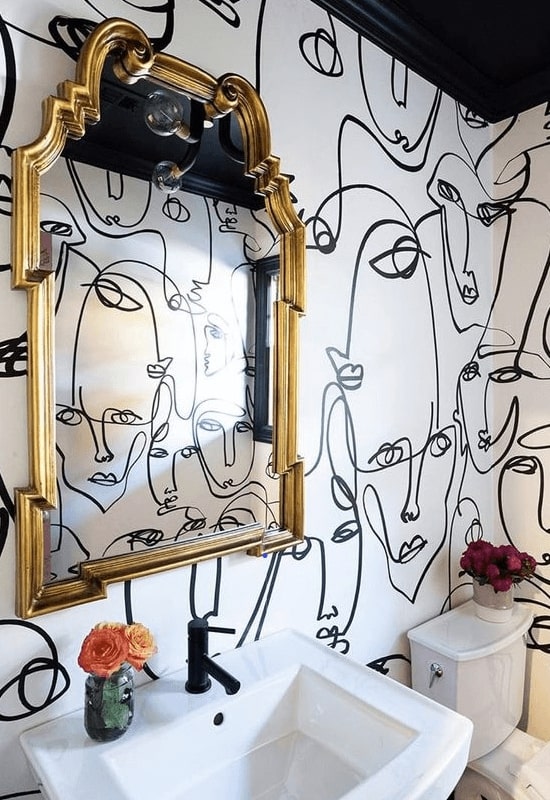 Fluid line art is taking over interiors, with lines, strokes, and expressions. Think it can look complicated, just like human emotions? No, in fact, this art trend is simple and can cut that cord of hiding what you really mean!
A nod to face line art:
For the sake of colors: The creative bees (artists and ceramicists) are bringing in some fantastic pieces on the table – all painted in bold hues and deformed shapes (even better)! If saying it aloud is your motto, this trend is so you!
All for something small: For those who feel for the clean, minimal look; minimalist versions of this art trend are enough to make a big noise. You know, just a face line sketch on the side-wall!
Where being bold is good: Creativity whispered with maximalist pieces; it is needed where space, corner, and emotions scream for attention. The face lines made extra-bold with colors and subject infuse a statement as wall art, ceramics, pillow covers; just about anything!
The facial influence
Face line art is a great way to give an artistic touch to your space. Get inspired and showcase some expressions with:
Sketches and Paintings
[metaslider id="8901″]
Abstract and imperfection (in a surreal way), who does it better than Pablo Picasso? He was one of the first artists to explore such a fun way of adding emotions to the canvas. Continuous line drawing, sketch, poster, print; it's intriguing to explore the possibilities.
A simple canvas, frame (size, up to you) makes a perfect introduction piece.
Choose a pair or add them more (for gallery wall) once you are ready for more expressions.
Wallpaper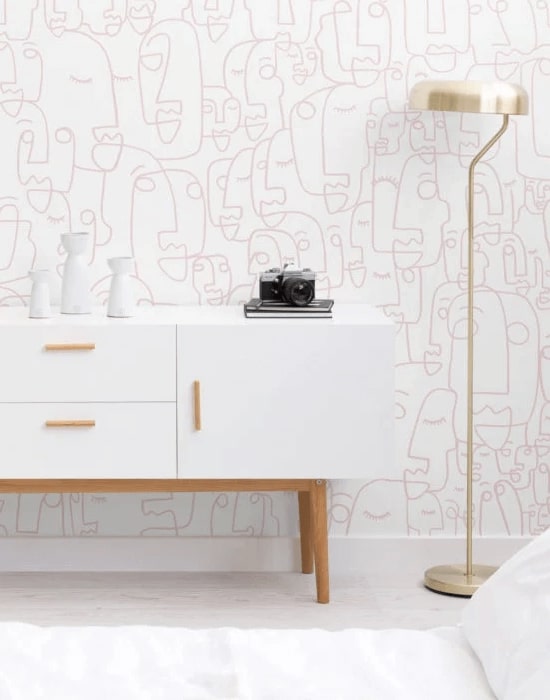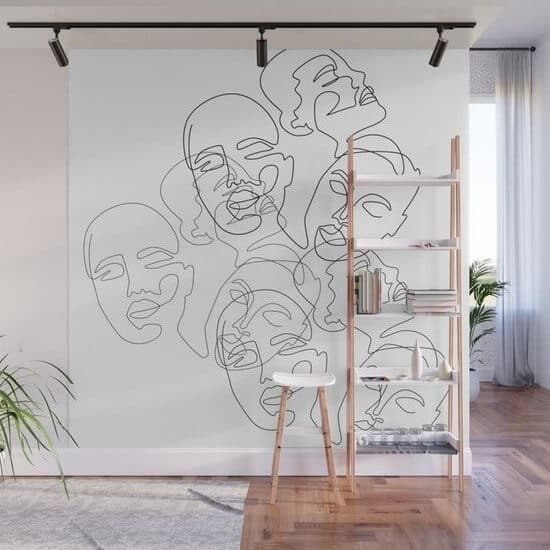 This one is for unabashedly artsy souls! Yes, those who are not afraid to paint the walls with emotions. Face line drawing wallpapers are perfect when walls need to say freedom!
Colors, designs, and different personalities; you get to select it all. Choose the one that can contribute to the feel of the space, room.
Maximalist murals wallpapers are perfect when you don't mind bold lines creating a wall symphony. If some specific expressions buzzing in your mind; there is always customization!
Go subtle. As the walls have too much to say; let furniture, accents be plain and humble.
Furniture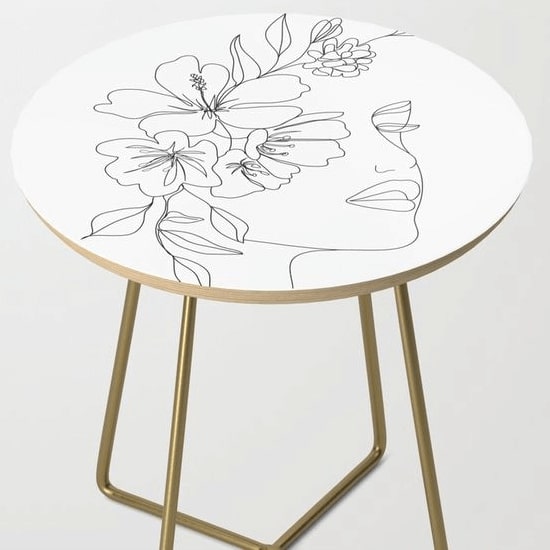 Faces on Furniture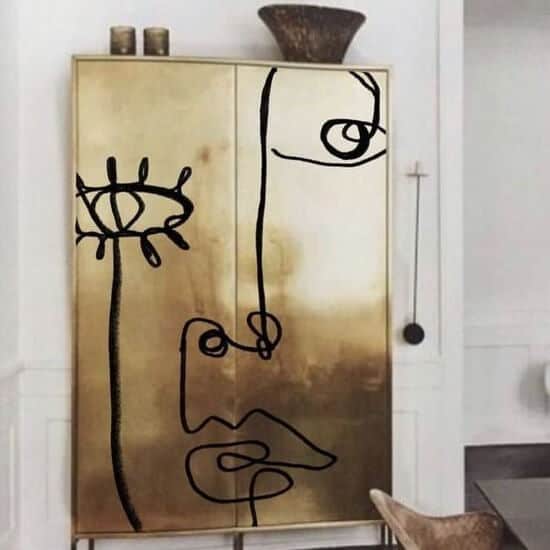 It's got a nice ring to it, right? Tell you what, it looks pretty interesting too! Plain, neutral tone furniture given glamour with face line murals, is a chic option when distressed, glossy feel ho-hum. For the boho-chic interior, these wondrous murals add to the "being extra-expressive"!
Accent table, bar stool, chairs; go minimal just like those minimal art lines.
Add focus. Don't mix them with heavy pieces or textures. Keep it solo and important.
Pillows and more
[metaslider id="8907″]
Print, hint, needlework; face line art can take any form
Bring an expressive touch to your home decor with face line art pillows, bedding covers. And it's ok to deviate from florals, stripes for some time. A new cover, a layer that's got faces all over it, why not?
Accent sham or a set for a plain couch; pillows are a fun way to approve this art-bend trend.
Extend the line trend to your bedding with pillowcases, comforter, patchwork quilt (hand-sewn, old style).
Rugs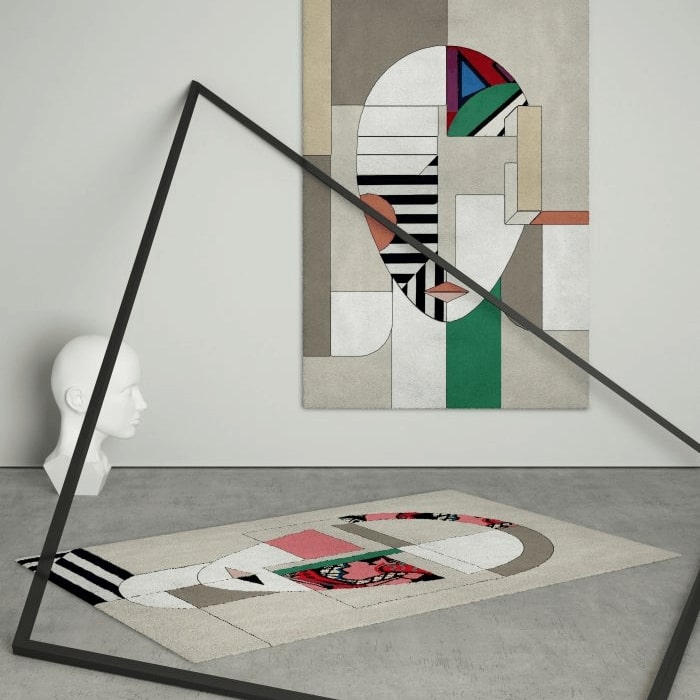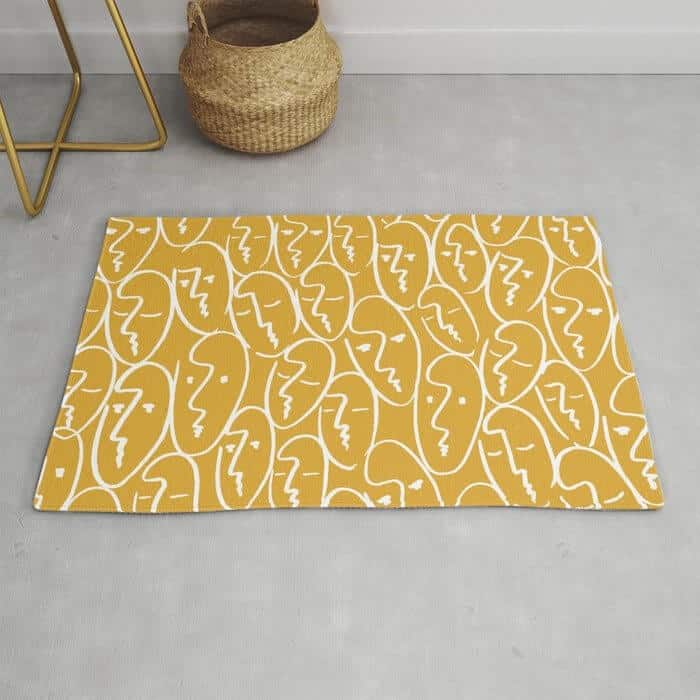 When walls got them, why not the floor? You see, art is forgiving in nature, it doesn't mind you stepping over it, literally!
Threads entwined to create faces; fluid line art rugs look bold and startling. These demand attention, almost immediately!
Face line rugs are very modern and match perfect where contemporary, minimalist abodes need that one piece to say it all.
Color and pattern are personal. Try complementing it with furnishing and flooring.
If these artsy textiles seem too precious to put a foot on it; go ahead and add it on the wall.
Sculpture and Ceramics
[metaslider id="8910″]
If there is no imperfection; it ain't sculpture! Continuous face line drawings make a favorite subject for conceptual molds, shapes. Sculptures, ceramics outlined with the beauty and diversity of a face look truly one of a kind!
Explore. Customize. DIY if you can. Protruding eyes, nose, or face without lips; it's all art.
Such decor marvels, add it solo or create groupings. These are no less than vintage curiosity cabinet pieces.
Our take
It's there's no art, space will always remain incomplete. No, you needn't be an art connoisseur to read or wear everything art. Add a hint, say it with a frame; it's enough!
And the face line art trend promises just that!
Here are a few hand-picked articles for you to read next: