[4 minutes read]
Quick links:
Classic never dies. It's always there, like an unspoken charm… Cane is something like that!!!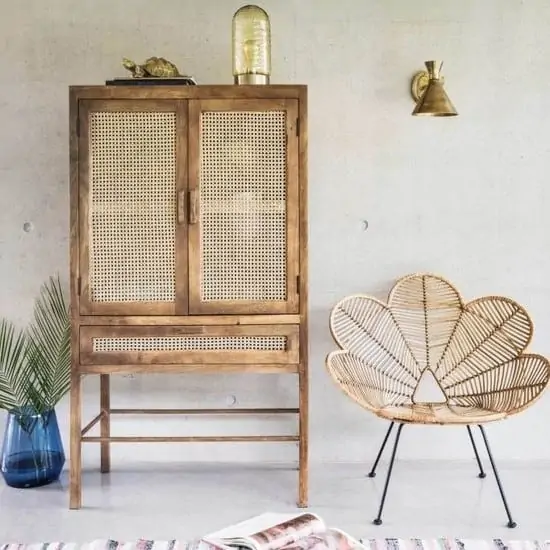 That 70s streak
Grandma's patio furniture no more!
Cane furnishing is having its revival moment for good. The major home decor influencers and magazine biggies are dedicating a page or two featuring cane and its trendy possibilities.
From wicker side tables to uber chandelier, this aesthetically pleasing material is bringing the 70s decor trend back, with a modern twist and weave!
Say yes to cane
Tensile and durable, cane furnishing accents make an ideal find for indoor and outdoor furniture. What's more, the cane is versatile too!
It can be drafted and crafted according to different trends and styles. Be it Modern, Scandinavian or Vintage Chic, cane fits in every design mold!
Why choose cane? The usage and benefits of cane are too edgy to ignore!
Cane/Rattan furnishing accents are lightweight and easy to move. The cane reading chair can become a patio chair to sit and enjoy the evening cup of coffee.
Rattan pieces need low, negligible maintenance. All it needs is an occasional polishing and it shines like a bright penny!
Cane is responsible and doesn't hurt the mother earth. Made from nature i.e. crafted from the stem of rattans, it can be recycled and reused.
Cane/wicker furniture takes on the weather changes sportingly. As a go-to patio, backyard furniture, cane accents are seldom affected by all types of climate changes. What's more? It is water-resistant and rust-proof too!
Know the difference between Cane, Wicker, and Rattan
Anyone who is a self-confessed home decor enthusiast must know this Cane find a dilemma. Search the woven furniture and accessory, the cane discovery is always conjoined with wicker and rattan. The hunt could be for a cane chair but unknowingly wicker chair could grace the reading room!
Make no mistake, everything labeled as the cane is not wicker and vice versa. In fact, Cane, wicker, and rattan are different and distinctive from one another; however, the three phrases do share some similarities though. These are entwined that way!
Upgrade the woven decor guide to make a cult find.
Cane: the material
Cane and rattan are materials that are derived from the rattan palm, a climbing vine that is native to Southeast Asia. When processed the rattan palm is split into two parts: The core reed and a thin interior which is commonly known as the cane. So cane is the actual material that comes from the rattan (outer) stalk.
The cane material is woven into a variety of webbed and weaves patterns. It is used to create trendy yet sturdy furnishing accents. And, the rattan reed material is used to weave wicker furniture and basketry.
Caning is the craft of applying rattan cane or rattan peel to a piece of furniture commonly on the cabinet doors, chairs backs, and seats.
Wicker: The weave
Wicker is the woven technique used to make products out of natural materials such as rattan core, willow, and rush. The word vika which means to bend in Swedish has the direct significance to twist and bend the rattan to craft the decor accents.
Wicker, rattan weave pieces are quite easy to find as they have bigger, reed-like weave and features.
Cane and wicker: the subtle difference
A general guide – pieces that feature thin, woven accents are frequently considered cane. Items with larger, reed-like features are usually wicker or rattan.
Unlike cane, Wicker accents can be crafted from a range of materials i.e. reed, bamboo, willow, and more. Hence, wicker is often thought of as a weaving process, not a material.
Cane, wicker, rattan: A happy cohabit
In spite of their subtle differences, cane, wicker, and rattan can all be added in solo decor. So go ahead and place a thin weave vintage cane chair alongside a wicker couch. Or add wicker basketry on a rattan side table.
Cane or wicker has a natural, subtle hue and texture. Play with colorful upholstery to justify their individuality. Tie-up cushions, woven seat rest in different patterns and textures are easy ways to add a drama to this sturdy weave!
The Cane decor guide
Furniture is solid and practical
[metaslider id=8712]
Rattan is ancient and vintage. It's been around since the Egyptian Era and has not lost its 'favored sheen' ever since! So you know, it's good and here to stay for many more eras.
Practical, lightweight, and organic, wicker furniture has made a strong mark in modern and contemporary furnishing.
Modern rattan furnishing accents are hugely inspired by 19th-century Victorian style is showing off some noted caning techniques like open-weave, graphical treatment or portraying the natural tint just the way it is
The natural hue of wicker made furnishing accents blend in well with almost all decor palettes. And, it takes the paint coat pretty well too
Adding wicker just as a patio, outdoor furniture is a passé'. The motto of BRINGING THE OUTDOORS IN is making the wicker stay indoors for good
Show some Rattan on the wall
[metaslider id=8719]
The weave, the texture, and the smell, rattan made wall accents make a perfect boho chic decor. From wall hangings to hand-painted spiral weave bamboo, cane plates, cane wall decor is chic and earthy.
Cane decorative is perfect where LOVE THY NATURE plays primal
Boho decor is forever incomplete without a kick of cane accents and accessories
Handcrafted and dyed to the finesse, cane wall hangings look mystical and endearing
Giving due to accent walls, rattan made plates, platters and frames make it the 'it' accessory
The accessory game
[metaslider id=8723]
Think bringing everything cane is not your game? That works too. Start small instead. Easy cane accessories like small stools, trays, baskets add a perfect retro punch to the decor.
Plus a hint of sustainable accents takes the overall concept of home decor on to a 'being responsible' level.
Crafted to perfection, cane made accessories are a result of artistry at its best. Local artisans weave the magic of effervescent patterns and types.
Small furniture accents like cane stools, ottomans, pouffe sit pretty well with major settee
Rattan serving trays, bowls, and baskets make the perfect tabletop accessory
The weave takes it all. Be it loop, spoke, twinning; cane accessory is a piece of art. When hung, they dazzle the walls in craft galore
Cane gleam
[metaslider id=8728]
Cane lighting accents illuminate the decor in contemporary gleam. From desk lamps to wall sconces, rattan lights promises a versatile touch to the general ambiance.
The mold, the twist, and the texture of cane lights beam the home decor in the most understated way. A staple in boho chic decor, cane lamps, chandeliers infuses a touch of art, all thanks to its handcrafted prowess.
Cane floor lamp, pendant lights add a contemporary touch. Mid-century modern, Scandinavian style loves to add this earthy radiance
Rattan lights are super versatile. It plays the role of ambient and decor light pretty well. The glow is very rooted and understated
Styling spaces: where cane plays better
Cane is flamboyant. As a material, as a texture, It's adaptive and super versatile. It fits into almost every design mold.
From mid-century modern to the coastal interior theme, cane accents never fail to impress. But viewing cane as fill in the blanks accent makes it underutilized. This understated material deserves better than that.
In fact, you can draft the entire decor with everything.
Popular interior themes where cane makes a common picture:
Go Coastal with the Cane
[metaslider id=8733]
An escape from daily hullabaloo, we all crave that exotic escape, albeit temporarily. A beach destination could play the inspiration for building a coastal-inspired decor.
Cane furnishing accents tops the list when adding sand between the toes or sea wind vibe indoors. It has an inbuilt relaxing punch. Either go for everything cane or add a hint of it here and there!
The resurgence of Vintage
[metaslider id=8737]
Mid-1660s England, France, and Holland, the bygone era loved and trusted the cane for durability and flexibility. But wicker is not confined only to add as chair backs and 70s conservatory seating anymore. It has evolved and how.
A hint of vintage streak to decor is not such a passé' either. In Fact, it's trending everywhere. For someone who loves adding vintage flashback in homes can add conservatory cane accents with a dash of color, weave drama!
The boho brouhaha
[metaslider id=8740]
The clean lines and measured angles, boho decor doesn't believe rules. It's free-flowing, rebellious, and mystical.
There is a definite space for every accent which is nature and craft inspired. And that does include cane too.
Cane furnishing is a staple in boho decor. From canopy bed to flea market bought dream catcher, the boho soul is cane hungry, always!
Future is better with cane: now trending 2020
[metaslider id=8744]
Feel everything has become impersonal and stony? Agreed, there is no escape from the technology brouhaha but seeking solace from this wireless hysteria is indeed possible.
A candid confess – We crave warmth, comfort shield to survive the vying race. Cane as a furnishing accent promises just that!
Inspired by the Japanese Aesthetics, THE wabi-sabi trend where raw plays beautiful, interior design trend 2020 blueprint will center on comfort, being humble, and getting even closer to sustainability. Decor made happy with humble materials like cane, rattan, hemp, and jute will be seen in the design sphere.
We love cane
Cane is classic, effortless, and versatile. Be it a cane napkin ring or four-poster bed, the humble texture and material are simply hard to miss!
Whether to draft an entire decor plan with love thy cane or adding a hint of cane with easy accents, the call is personal and influential. Or, start with a planter or wine rack maybe!