A person's preference in colours is an important part of their personality, and selecting a colour scheme is both the most important and challenging step in decorating their houses. Colour psychology is used to describe how a colour makes you feel, and repainting the entire house would alter how it appears and feels. But why is it crucial to pick a colour scheme carefully?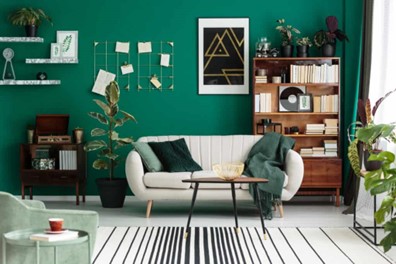 Image credit- https://upgradedhome.com/colors-that-go-well-with-green/
Considering that colours offer a space uniformity and alter the mood it transmits. A comfortable home can transform your life. Colours can instantly make a dull setting interesting, but choosing the right palette can be difficult. You can narrow down the best colour palette for your home with the guidance of this article.
Look for Colour Inspiration-
Image credit- https://explorewalldecor.com/whole-house-color-palette-benjamin-moore/
Choose a colour scheme that is inspired by a picture or object that you admire, such as a favourite outfit, a work of art, a picture of your ideal vacation place, or even accessories. Online publications and catalogues are great sources of inspiration, and social media sites like Pinterest, Dribble, Instagram, and others are great places to find inspiration. Consider choosing a colour plan for the entire house, as picking a colour for a single room can be difficult. Look within yourself and your surroundings when choosing colours for your room, as they are personal.
Decide a Colour Scheme-
Image credit- https://www.bhg.com/decorating/color/schemes/interior-color-schemes/
Make a list of the items in each room of your house and a floor plan. Take into account the transitions between rooms, the mood you wish to convey, and the materials available for palette creation. Colour wheels make it simple to generate colour palettes. Consider the value, which describes the lightness or darkness of a colour, while choosing colours. A multi-hued palette can be kept from looking cluttered by using a colour scheme with a range of values.
For a straightforward colour scheme throughout your entire house, try utilising one hue in varied amounts in each area. East-facing windows that receive early morning sunshine benefit from warm colours, while west-facing windows benefit from cold, light colours.
Effects of light on colours-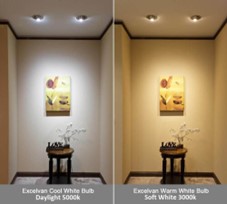 Image credit- https://www.interiordesign.to/blog/how-to-choose-a-paint-color-for-your-home-with-expert-advice
Daylight is considered the ideal light source due to its consistent intensity over the whole visible spectrum of colours. Natural light, as well as artificial lighting, influences the colour of textiles, paint, furniture, and other surfaces. In terms of artificial light, incandescent lights provide a redder and warmer light than sunlight, while fluorescent lamps produce a bluer, cooler light. The purest colours in space are those found during the day, and the colours will change throughout the day and seasons as the lighting changes. When selecting a colour palette, keep in mind that lighting will alter the appearance and feel of individual colours.
Purchase sample-sized paints and paint on poster boards or the wall, and observe how the colours interact with one another. Certain colours may need to be relocated, or you may need to select a different colour from the chosen palette.
Use Colour Scheme Creatively-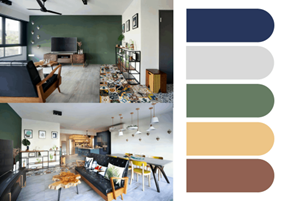 Image credit- https://www.screed.com.sg/colour-palettes-that-set-the-mood-for-these-homes/
It's vital to start with printed cloth when deciding on paint colours. Prints on pillows, beds, and even tablecloths can serve as sources of colour inspiration. Create a palette with three colours; this is a balanced number that adds aesthetic value without being too dominant. Neutral paint colours don't have to be dull; they can be used to influence how much space you perceive. Colours should complement one another rather than having to match.
A simple beige may not be so simple if it has a strong green undertone. Undertones can surprise you. Making visitors feel intrinsically connected to your style and personality by using colour schemes that reflect you.
Sample Colours before Shopping-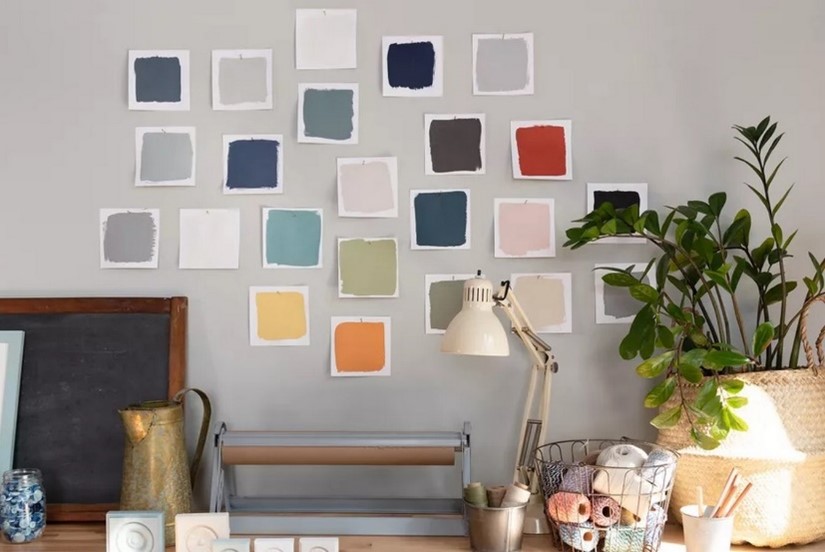 Image credit- https://www.re-thinkingthefuture.com/interior-design/a6111-how-to-select-the-right-color-scheme-for-your-home/
When choosing paint colours for your home, take catalogues and periodicals into consideration. Never buy paint without first trying a sample, and keep it to no more than two or three hues. Make a note of how much paint you'll use and keep in mind that choosing the right colour requires a lot of trial and error.
Decorate to add Depth-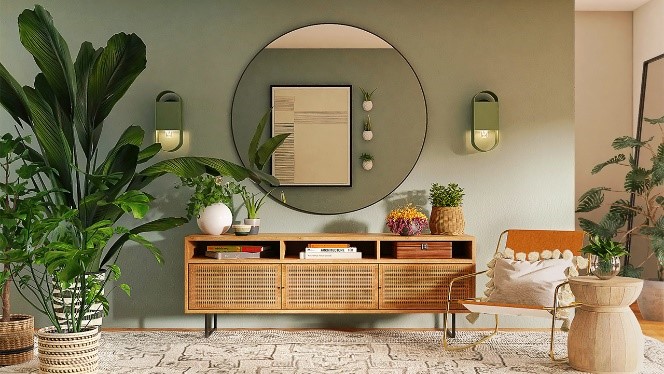 Image credit- https://www.infurnia.com/blog/interior-design-trends-2021
A chosen colour scheme can be used in large bursts or in subtle nuances to incorporate colours in many ways. While numerous colour glazes and shiny metal finishes add depth, fabrics and linens are ideal for adding pattern and texture to a space. A room's colour and personality are added by the artwork, while a splash of colour is added by the owner's personal belongings and accessories. A vivid depth may be added to any space by utilising the vibrant tones found in nature, such as those seen in flowers and fruit. To blend in with nature if you like being outside, employ plants.
Consider a colour consultant-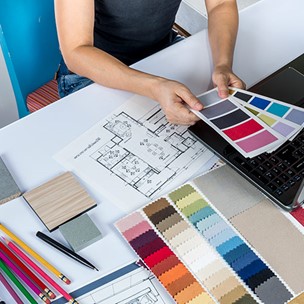 Image credit- https://www.ppgpaints.com/pro/color-consultants
Making a number of mood boards and colour experiments is necessary when using colour in the home. Get the advice of a colour consultant if you're having problems deciding on the ideal colour scheme for your home. An individual colour palette can be created with the assistance of a colour consultant. Before meeting with the consultant, gather inspiration and ideas. If the consultant suggests changing your colour scheme, don't be startled.
Conclusion-
According to a proverb, colour usage and our moods are directly related. For a variety of reasons, we value colour in our living spaces and workplaces. The appearance of the house is more cohesively unified by the colour scheme than by the furniture and accent items. Every room in your house, even if it only has one, has a colour scheme, if you look around. While the design style you choose has a big impact on how we feel in the space, the colour scheme you choose is the only thing that will tie everything together. Thus, choose wisely.
References-
https://amazingspaces.net/amazing-homes/color-palette-home
https://www.housebeautiful.com/uk/decorate/looks/a2069/decorating-designing-with-colour-home