Embrace curves to feature a shapely and comforting vibe to the interiors!
There is no denying that straight-lined, sharp-edged interior design elements are preferred for the clean, and fuss-free outlook it offers! But the latest design trend in Interior vocabulary is encouraging to the curvy lines and rounded elements. Curves are ideal for bringing in a softer, comfier feel to the spaces earlier defined by poker-straight lines. A peek through the latest home decor magazines will give you proof that curves are indeed hot!
What's a curve? Simply put, a line or shape that bends around and forms a softer, artistic edge! Look around and you will notice that, we are surrounded by these softer silhouettes almost organically. Take nature for instance, which is marked by curves in every imaginable form! Or notice a dining chair, for instance, It could feature a straight-line seat but the back of the same can have a sensuous curvy design. If you have opted for such design and decor elements then, you already know the importance and essence of curves in spaces!
Spaces Defined with Curves Appear Rhythmic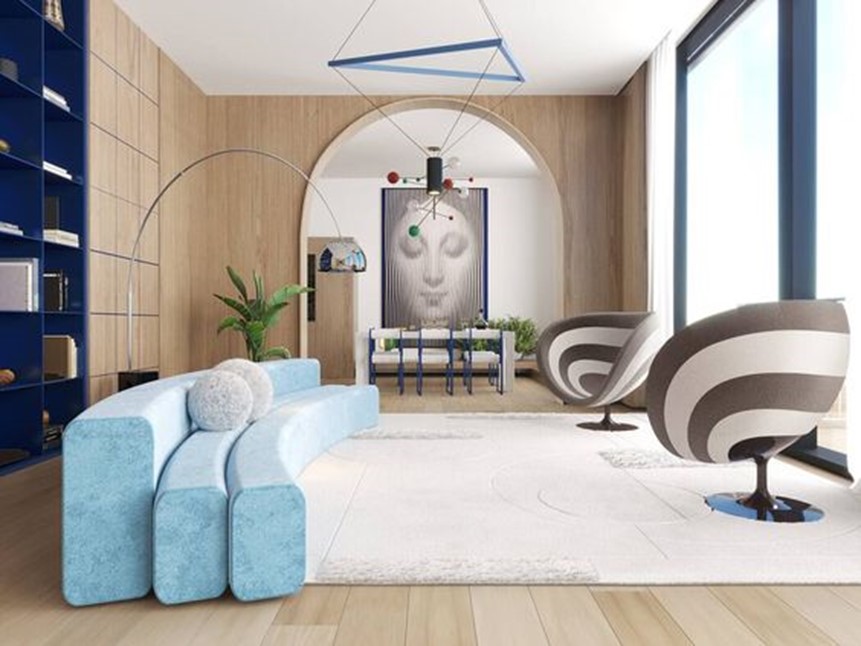 Images: Pinterest
Before we delve into understanding how curves can make spaces appear different from straight lines, let's first explore what elements can be labelled as "one with curves"! So from rounded doorways, furniture with curvy forms, scalloped edges, shapely padded objects, globe lights, serpentine design area rugs, to voluptuous tabletop sculpture, curves can take a shapely turn and how!
Homes or areas designed with straight lines have a certain streamlined feel to them which can be easily interrupted at intervals with curves to give it a certain flow or fluidity. To infuse curves in the design, you don't have to omit straight lines. Instead, you can feature a fine blend of lines and curves to form a design that infuses the space with an organic flow and warmth!
Curves Make the Flow of Space Better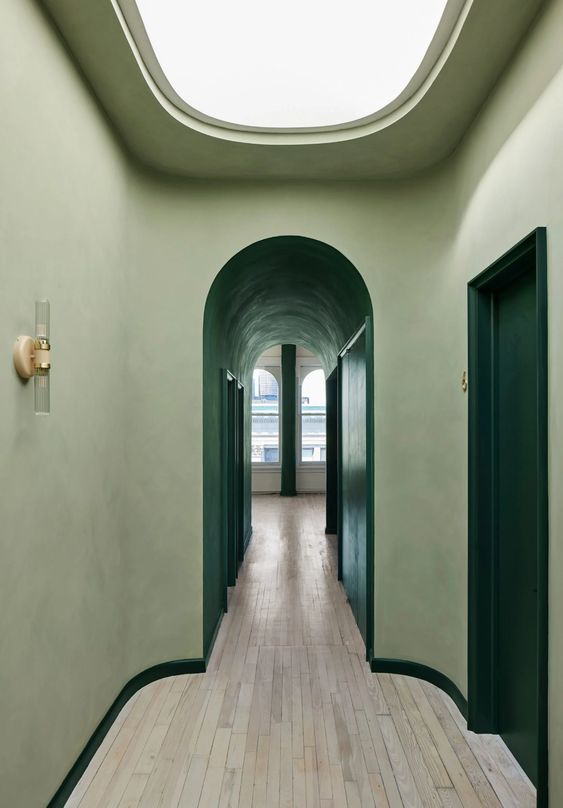 Image Credit: Pinterest
When you design a space, each room or corner should organically flow or blend into other. The sharp corners or elements everywhere may hamper or restrict that movement or bring in that "cutting the space" outlook. Curves on the other hand feature a 'seamless' appeal that makes the entire space as one body or entity and not something which is restricted by stringent lines!
What's more? Curves instantly add a certain softness to the interiors. Call it feminine and sensuous, but it is the curvy design which makes the flow of space refined and interesting!
Add Curves, But…
Too much of any one design element is not favorable and that means adding curves too. Curves along with straight lines will help balance out a design outlook and help these rounded designs steal the spotlight. For example, curvy accent chairs alongside straight-edged couches can have more impact than opting for every furniture piece in rounded forms!
Let Curves Shed the Design Rigidity
Here's how you can embrace the curve trend in interiors:
Curves in ceiling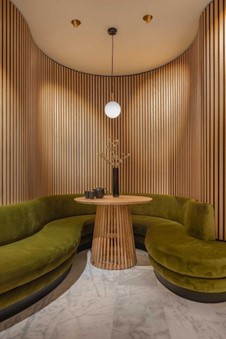 Image Credit: Pinterest
When we enter any room, it is the walls that grab our attention first. So it makes sense to add some offbeat design element to the walls that can translate into a feature or accent wall. Curved walls add a stylish and original feel to the space. So if you are planning to make structural changes in your home, then creating a curved wall is ideal for forming a flow between the rooms.
Curved walls
Ceilings do not always have to be outlined with a straight form, they can take a certain shapely turn for added drama. Curves can make a practical addition to space design and is a perfect option to create a focal point within a space. A ceiling with curves can add depth, visual movement, and instant attention. Curvy false ceiling design can take the basic ceiling design of the ceiling in any chosen room onto another level. With additional spotlights, it can lend character to the shapely ceiling design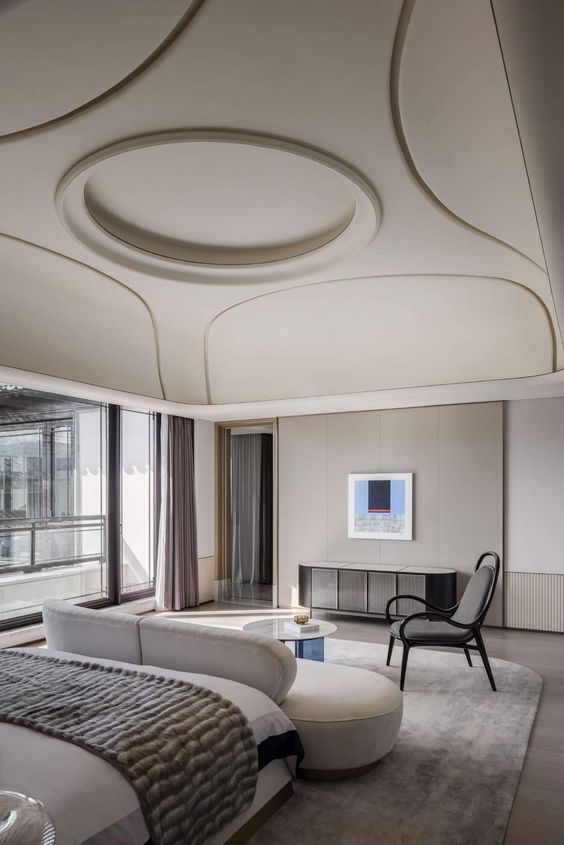 Image Credit: Pinterest
Arched Entrances and Corridors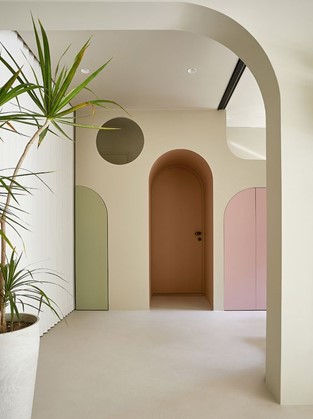 Image Credit: Pinterest
From classic Roman, and Gothic, keyhole arches to decorative Moroccan archways, the curves as a design form help create seductive spaces. The arched entrance or corridor can be the perfect structural addition to homes or spaces. It creates a movement within the form!
And the best part is, curves are suitable for all forms of architectural as well as interior styles. From country style, neo-classical, and art deco, to modern-contemporary curves can make a befitting addition!
Fillet Corners of Wall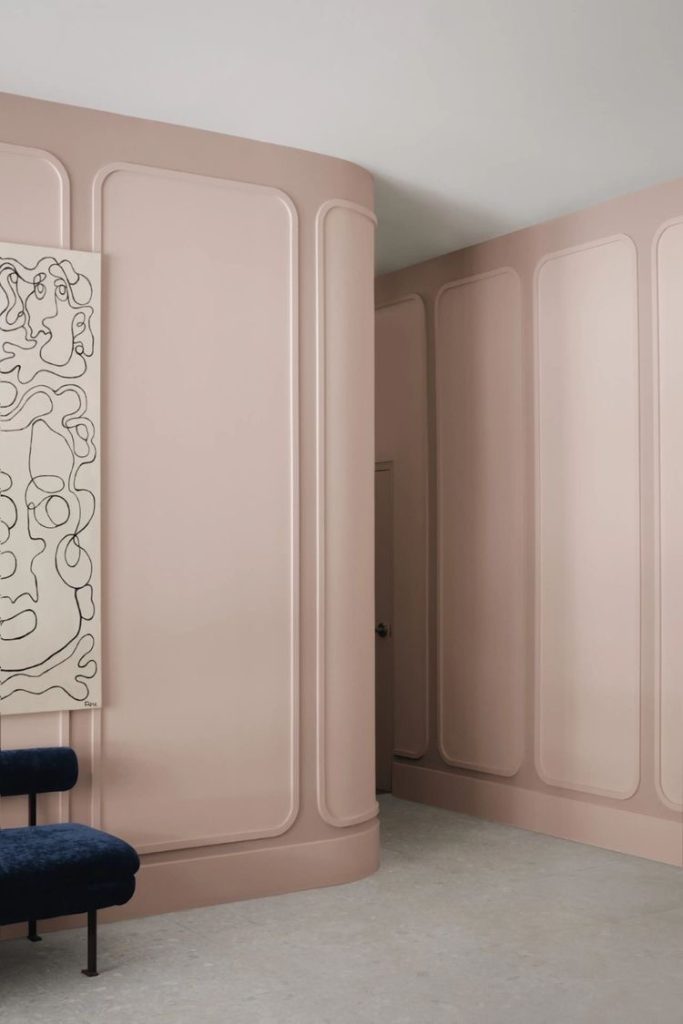 Image Credit: Pinterest
Popular wall designs like stucco, stone walls, drywall with bullnose corners, etc feature round or irregular shapes. That means these filler corners of a wall do not have a sharp 90-degree corner. Wall corners with curvy outlooks appear distinct and can be further elevated with a curvy floor vase or a side table!
Curved Furniture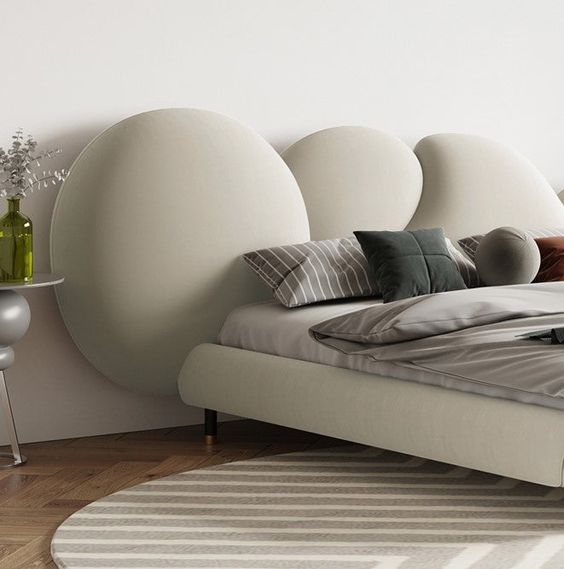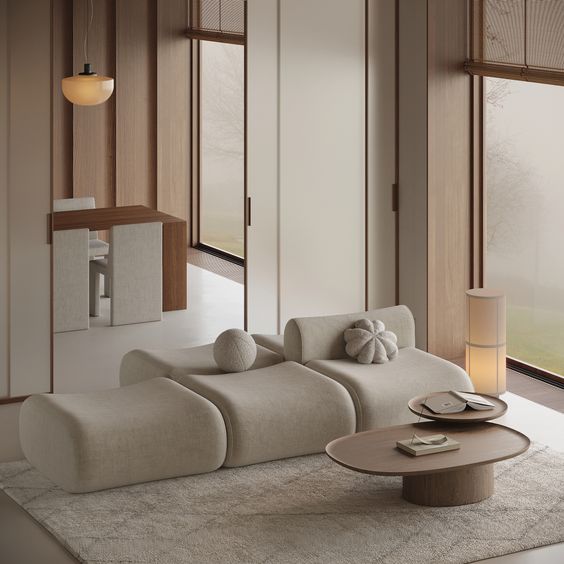 Image Credit: Pinterest
One of the easiest ways to incorporate curves into your interiors is with statement furniture pieces. For example, a curvy couch, a round coffee table, an oval dining table, oblong nightstands, wall units with curvy edges cabinetry, etc can define rounded silhouettes. Also, if you don't wish to part ways with your straight-structured furniture pieces, you can introduce an easy, movable furniture piece like a round ottoman, or pouffe which can infuse curves and invite a fresh vibe to the lined interiors!
Washroom mirrors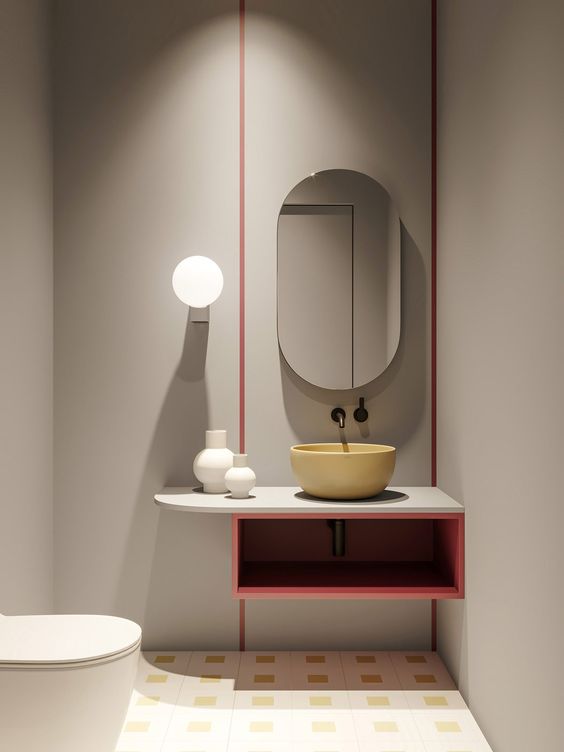 Image Credit: Pinterest
Home decor accents and accessories are the easiest and most cost-effective ways to feature curves. You can showcase curves in the most unusual, uncommon yet essential corners or zones in your home. For instance, an attractive bathroom or vanity mirror in a lozenge shape, round or oblong style is the perfect choice instead of regular rectangular ones. Often bathroom design is full of hard edges, a curvy mirror can bring in some softness to the space!
Curvaceous Lights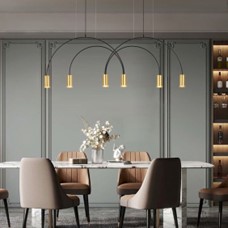 Images: Pinterest
The globe light fixtures are trending for quite some time now and looks like they are not losing the preference spot anytime soon. This type of light is an ideal reference for adding curves in interiors that are backed by artistry and flamboyance. Interesting-looking lights not only work functionally but can also be labelled as an 'it' decor accessory. Modern or minimalist spaces use light fixtures as a curated decor piece. Lights with rounded shapes and forms have the solo potential of changing the whole vibe of such interiors!
Area Rugs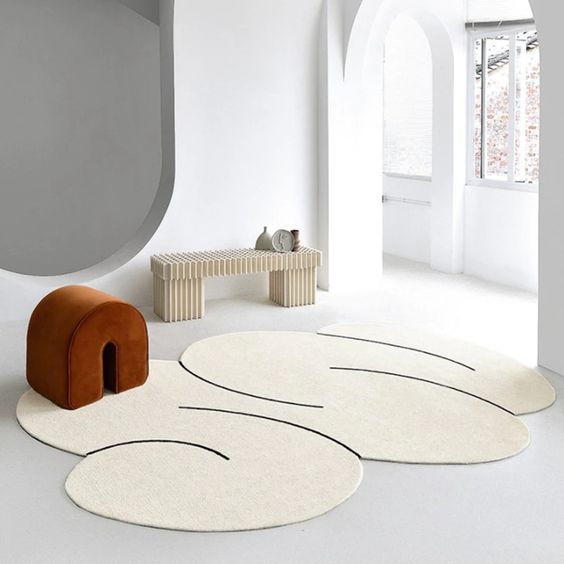 Image Credit: Pinterest
We agree that rectangular rugs do fit in most common layouts of any room but there is no harm in exploring different shapes of rugs like round, abstract, or irregular rugs. Area rugs make a necessary addition to featuring color, texture, warmth, and dimension to the space and the one with a shapely outline or edges can be that perfect statement or conversation addition piece!
Decor Accents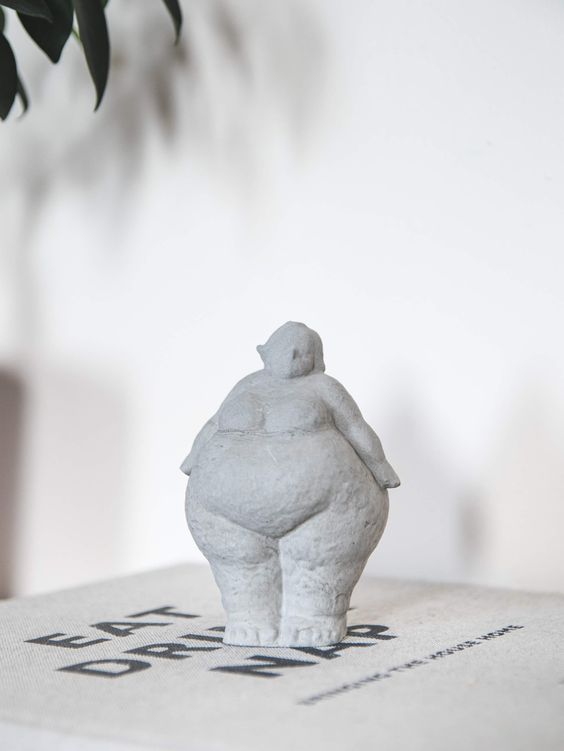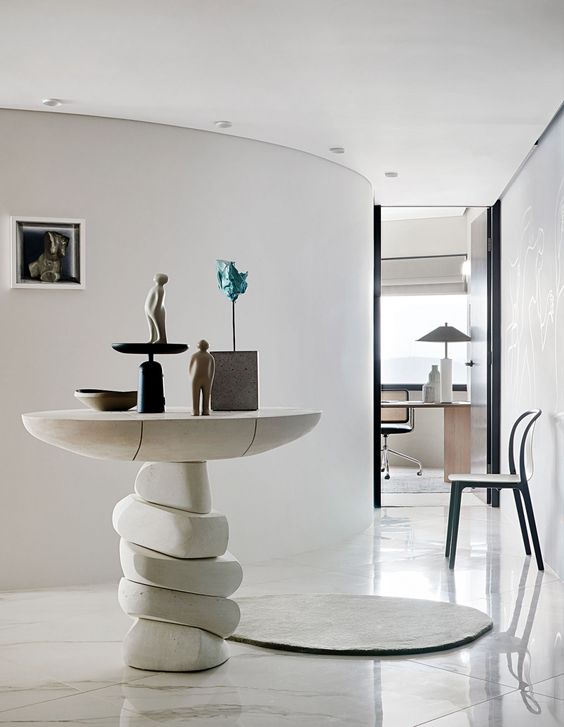 Image Credit: Pinterest
From wall art prints, table lamps, blob mirrors, sculptures, curvy serveware, and more; you can flaunt the curves in your space in every creative way possible. If adding curves still sounds intimidating, then let us simplify it for you. Select any structured surface like a rectangular sideboard or square side table. Add a cylindrical shape vase or oval shape decor tray over it. And voila! That's how you exhibit curves!
Our Verdict
Design trends come, go, and return after a certain hiatus. The curves trend is currently having a moment of glory to create thoughtful interior design and decor. Include curves in moderation and let them attract in the most organic, inspirational way possible!