Fabrics are magical. Add them to a piece of wood or smooth bricks, a surface invents. Either plain, shiny or velvety! Velvet is synonymous with the richness, glam, and grandeur! And the celestial touch, too hard to resist!
Mention velvet and the imagination takes a twirl! A silhouette wearing a flowy velvet ensemble or a room full of aristocrats sharing a cigar and drink sitting on a plush velvet settee!
The world of interiors has always been in its awe. Velvet is gradually overcoming the preconceived notions and has seen a resurgence in 2019 with interior styles like maximalism, art deco, and eclectic glamour that always adored velvet as everything!
VELVET – THE FABRIC OF OPULENCE
See it, feel it, and savor it – the texture is elegance signified. Drape it as a valance, pinch or pleat it to make a luscious pouffe or just admire lighter or darker hue interlaced by nap; velvet tantalizes.
And for interior's sake – the decor has to be a fine amalgamation of rough, shiny, muted, and smooth. And when you think smooth – velvet appears, almost organically!
THE SILKEN JOURNEY
Mention rich and royalty and velvet appear everywhere in homes, domes, and cases to store jewels too! The fabric gave justice to the stature of those who mattered to the mass. This king of fabric was introduced in 809 A.D by Kashmiri merchants from Baghdad (the land of infectious carpets; so, the velvet discovery justifies here) and the fabric soon became a piece of pride where being grandeur mattered.
SEE THE VELVETEEN SIDE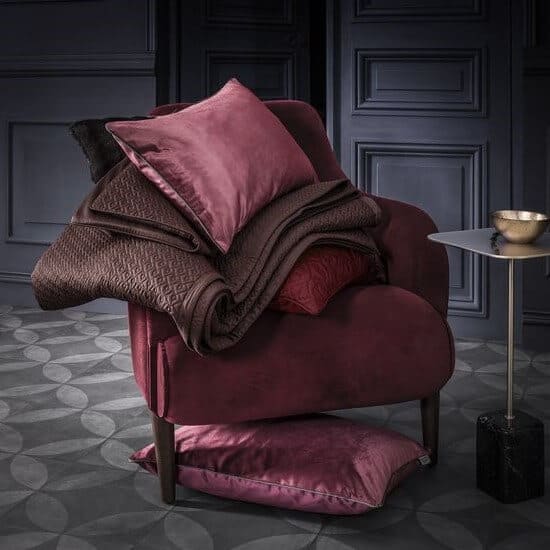 The common notion of a velvet being heavy, stuffy, and overwhelming fabric needs a serious revamp. Velvet is pretty soft, durable, and exudes comfort when layered as furnishings, upholstery, or napkins complementing chinoiserie plates!
From luxury hotels, bars to awe-inspiring living, entertainment rooms; the velvet presence is unmissable. It's kind of a shapeshifter too – scallop, pleat, or dimple it, the fabric behaves and outshines at every single nap!
Use it well and velvet can become your ticket for the luxury frame in interiors. It's not that the fabric has been a plush invention of today's creative minds, the fabric's been there, decade-old; loved and appreciated by Surrealist, Art deco admirers! But today, the velvet trend has taken a subtler, modern-chic avatar in homes and spaces!
You don't need to drench and pin the entire frame in velvet; a hint or patch is enough to say ritzy!!!
OH… SO PLUSH DECOR
The velvet lookbook today is packed with different varieties and reads affordable too. That makes it pretty easy to apply it in different forms; from upholstery, drapes, and carpets; the velvet verve will continue to inspire the interior gurus, crafters, and end-user to feel the patch of luxury!
Let's explore the vivacious blend of this woven tufted fabric on various interior accents that say, that's one lustrous piece!
FURNITURE GOES GLAM
[metaslider id="9056″]
Come on, aren't you tired of seeing the plain, woven look on the couch? If yes, then why not jazz-up the upholstery with velvet? It's smooth to feel, view, and relish. Sofas, armchairs and ottoman – go for velvet next time you go furniture hunting!
Here's why:
Art deco, maximalism and Arabic interior- these ultra-opulent styles swear by velvet (it's a staple) and don't shy away from overdoing it. So, can you!
The velvet sofa is the hero of any living area. No, don't think – it will cost you the earth. Coz, it won't. There is a fine range available in the home stores, markets for velvet furnishings. Pick a color, size, and range favorable and see how it changes the look of an average, sorry-looking living or parlor room.
Why shine just the living room? We say extend the velvet route to bedrooms as well. For starters, bedrooms are a comfort zone and if you add velvet to it, it gets even better! Velvet bed, bench, or accent chair; it's your call.
For those who love to entertain, host dinners, and portray a magnanimous picture, the mention of velvet – has to be there!. Add performance velvet chairs for these reasons:
Velvet chairs are chic and party-ready.
These are stain-resistant too (vine stains, they vanish).
Formal (with traditional wood-leg) or funkier (brass, metal legs), velvet chairs are beauty.
Velvet chairs, settee, pouffe compliments everything basic and humble, like timeworn wood, ceramics, rustic metal. The visual balance between silky and organic is hard to miss!
VELVET ON WALLS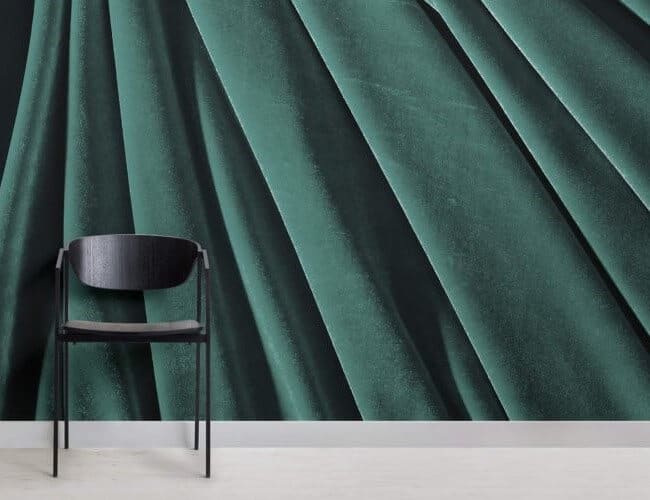 Why leave the walls simple? Add opulence to it. Velvet wallpaper is the "it" trend and we think the "VELVET ON WALLS" style is here to stay. It's timeless and brings in drama to the walls pretty instantly.
Check out the Opulent velvet collection by muralswallpaper where the velvet plays a sensuous muse. The colors and texture of these wallpapers are royal, regal, and enough to say "oh so plush" at first glance. These wallpapers boast in some rich, comforting hues including dark blue, emerald, dusty pink, and very retro-ish mustard!
Hold on, can you figure out what's the real beauty of these wall marvels? It's the drape-like design with stylized folds – it looks as real as it should be!
THE CURTAIN CALL 
[metaslider id="9050″]
What's a regal interior? The style where, from ceilings, floor, to lozenge windows; everything reads regal. And that includes plush velvet drapes tied with tassel tiebacks!
NO, don't think they look dated, heavy and are introduced in a limited color palette. Agreed, as we tend to go modern in everything (including interiors), curtains cut out of velvet may look, feel like heavy-duty to pass onto those curtain rods, but tell you what- it's not.
Here's why:
Velvet today has shed its extra weight. Modern window treatments are soft, sumptuous, and drape well.
A sense of privacy or blocking out that light in your sleeping den; there's nothing velvet can't do. The bedchamber translates into richness.
Wait, style caution ahead – velvet curtains can look extra traditional (similar to Baroque, Rococo) if you choose predictable hues like red, royal blue, or additional accessories like valances, tassel cords, etc. Instead, opt for basic, fringe-free velvet curtains in soft, muted colors like dusky pink, or a bold but modern shade of teal.
SPEAK THE VELVET ACCENT
[metaslider id="9038″]
If you think your design aesthetics (yes, we mean interiors) are not ready to try on the full-length velvet cloak; we say, go small instead. Add the velvet decor accents like throw pillows, lampshades, pouffe or wall art!
For a plain upholstery couch, add velvet pillows in poppy hues and fun print. An instant glam-up hack. Or choose plain sham when the settee is printsy or extra weaved.
Go for velvet lights. Silken lampshade and firm metal are a terrific combo. Create a cozy, retro, or eclectic side corner. Complement it either vintage or modern frames, vase or clock; set the mood.
When you are comfortable with glam-filled velvet accessories, go ahead and add something solid and stately; like a plush accent chair or daybed. The oomph kicks without trying too hard. Velvet works silently.
CALL OF CORDUROY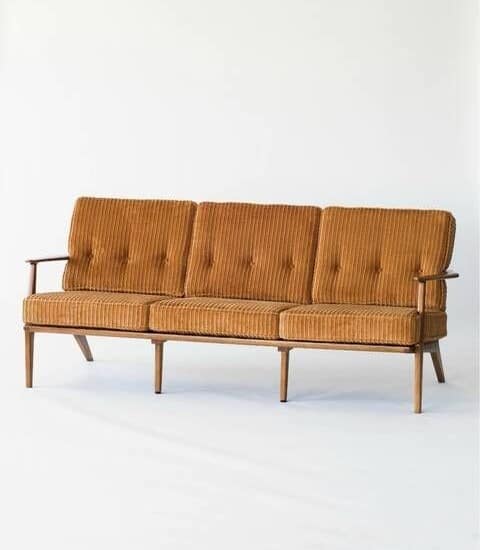 Corduroy, the fabric with vertical ribs grace the tailor's dummy whenever the couture calls for rich and smooth. But corduroy isn't just for pants or jackets anymore. Designers are adding the corduroy touch to interior designs now. Think it's the velvet clone? It's not, it's a funkier fabric and makes a great alternative when velvet feels plain and old!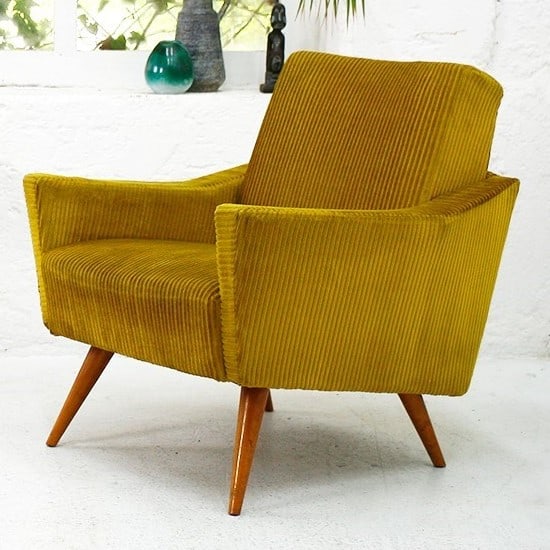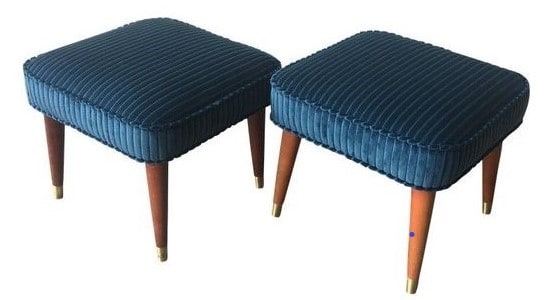 Corduroy upholstery with prominent bands of cord adds a bold touch to furnishings. The more subtle tones you choose, the fabric attracts even more.
The textile softens the sharp edges of contemporary furniture accents organically. Plus, the wider ribbing (wale) looks funkier and distinctive. It's an in-built pattern in itself!
OUR TAKE
Velvet has come a long way (Baghdadi roots and route), it stayed, impressed, and never really left the decor frame. It's inherently rich-looking fabric and gives a Midas touch to almost everything!
Your interior design plan can do with something velvety. A piece of furniture, flowy but solid drapes or floor pillow to curl up and snuggle against silky smoothness; velvet grabs attention, immediately.
Go ahead, pin some velvet on the wall!