Who doesn't want to have the best home interiors?
You constantly search the best alternatives, trends that give an effortless, elegant look and feel to your house. So, here is our question? Have you ever thought about 'Glass' for interior design, to enhance the beauty and brighten your home?
Glass is a smart and versatile material that offers endless possibilities in interior applications. You just need to be creative. Glass in interior design helps enhance the visual appeal of your living space.
Why glass out of all the other options?
Presence of light is one of the best interior design tricks. Glass transforms the dark and gloomy interiors of a room into full of light and space. Light makes a room feel larger, more comfortable, and more natural.
The first thing that may come to your mind when you hear glass is its low- durability and frail nature. Although we don't deny it; there are durable glasses of various size and shape available in the market ranging from transparent, translucent, embossed, tinted/painted to engraved, acid-etched, bubble, crystal, or sintered glass.
From Glass top dining table to floor and ceilings, doors and windows, walls, staircases, lamps and artefacts, in bathrooms, you name it and glass is used there.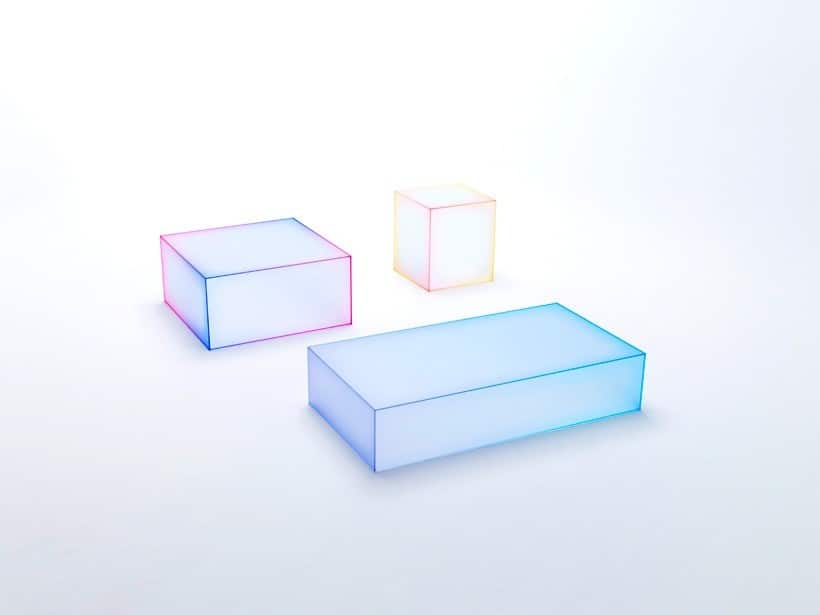 What we will focus on this article is the use of glass as furniture.
Glass furniture creates a futuristic look and is perfect for small spaces as it allows the eye to move through it, effortlessly making your home look elegant and chic. They give a classy, sophisticated look to your interior.
While the use of glass furniture is not a novel concept, with newer types of glass available, the designs and options are better.Glass consoles, cabinets, and countertops all look extremely elegant and trendy. Floating shelves using bevelled glass are perfect for small spaces.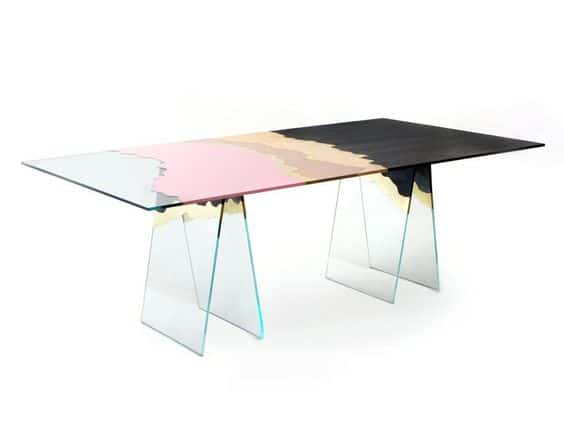 A glass-top table can visually expand the space and make it feel bigger.
Pair glass with wood, leather, and metals for an urban industrial aesthetic or use traditional and ornate lines to bring the materials together beautifully in your furniture.
Let's talk about coloured glass – one of the latest interior design trends.
Coloured glass can be used in furniture to make them look fresh and innovative. You can use it for cabinets, shelves and designer panels. The colouration of the tinted glass varies depending on the angle of the light and the observation point, which results in magical and ethereal objects.
Confused about how to select the right wall art for your room? Read our blog on 5 easy steps on how to do it.
The contemporary décor styles use glass in most of the furniture. Doors with glass panels, table tops with a glass surface, chairs, mirrors, closets, shelves, stands, TV stands, dining set, computer table, colour boards and others give an elegant and a sophisticated look in your home.
Some things to bear in mind: Glass increases reflected noise; consider sound-reducing surfaces, curtains; Glass reduces the feeling of visual privacy, so you may need to use film to partly obscure glazed walls; Glass can be a more expensive option and it needs regular cleaning to remove dust, mould, fingerprints especially in high traffic areas.
Modern home interiors are starting to use glass in unique ways than they used to. Be creative; there are very few limits with glass. See where it can brighten up space in your interiors.
Our take:
Glass is magic! Delicate but majestic.
At times, they can be so transparent, that they disappear in the backdrop.
Glass adds novelty into the room by virtue of their simplicity and elegance.
Surely, the use of glass elements is an easy and stylish way to add a new dimension of decor and poetics in the room with modern colours.
Alcove Studio
provides architecture and interior design services. Our office is based in Mumbai, India.