Here's our top secret plan to get that bedroom look from IKEA
Quick links:
On the launch of IKEA Mumbai, we have brought to you some really amazing ideas on how to create the perfect "bedroom look from IKEA" with these furniture pieces. But before that, let's get to know a bit about the brand.
IKEA is a multinational brand originally from Sweden that designs and majorly sells cost efficient, ready to assemble furniture, home accessories and kitchen appliances all over the world. Even though IKEA has been in the international market for over 75 years, it recently launched its first store in India in Hyderabad in 2018. India sees its second IKEA store in no other place than "Aamchi Mumbai" and is receiving an amazing response.
No wonder, every Indian wants to know what the hype was all about! But with a huge variety of products, it's often easy to get lost as to the most suitable product for you. So fret not, as we have done the heavy lifting for you by selecting the top 5 furniture pieces to create that bedroom look from IKEA, right out of its store.
1. Songesand Bed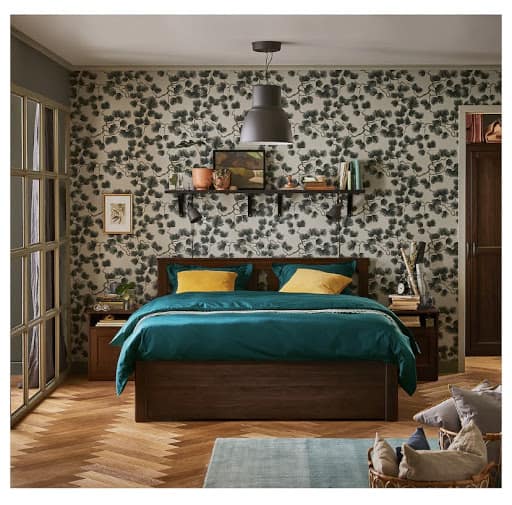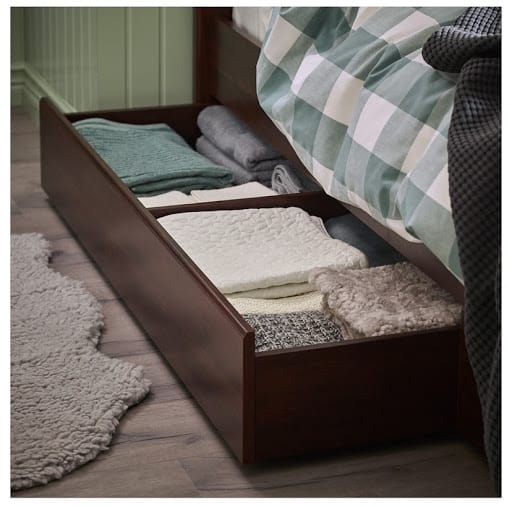 For a while now, beds with storage have been preferred a lot more by Indians because of the limited floor space we have to work with. It is smart to invest in a bed with inbuilt storage as it not only helps you save space and helps control the clutter to an extent, it also provides more stability for the mattress. Hence, the Songesand Bed is the most suitable for the Indian consumer! It is your go-to furniture to create that cool bedroom look from IKEA.
Size : It is available in 3 sizes
140 x 200 cm

160 x 200 cm

180 x 200cm
Colours: It is available in 2 colours
The bed sides are adjustable and thus a mattress of any thickness can be used. Adding Songesand bed storage underneath will give you a lot of space to store her linen and extra quilts and pillows.
Price : ₹12,990
You can check it out here!
2. Landskrona Sofa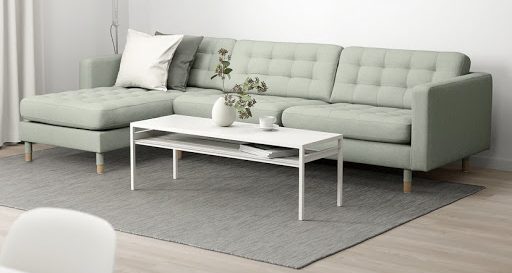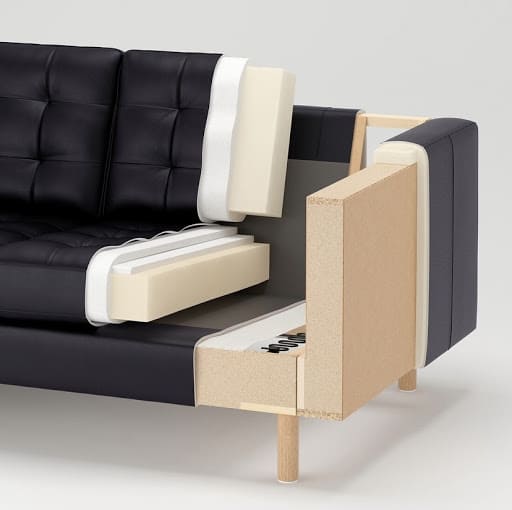 Got ample space in your bedroom to accommodate a sofa? Then, this one is a must try! If you're someone who is in touch with the latest furniture trends, you would already be well aware that modular furniture is the future of interior design since it can be customised according to the consumer's requirements without having to invest in bespoke furniture.
It gives the consumer the flexibility to use the product in multiple ways or to keep changing the orientation to change the look of their space! The Landskrona Sofa does just that! It is a 4 seated sofa with a chaise lounge that can be placed on either side of the sofa. The armrests are removable making the lounge fit however you want it!
The sofa legs are available in both wood and metal and hence won't be a dealbreaker with respect to the other furniture in your room.
Colours: The sofa comes in 2 colours
Price : ₹69,900
Size: 282cm x 158cm
The sofa will amp up this bedroom look from IKEA. You can check more about the product here!
3. Kallax Shelving Unit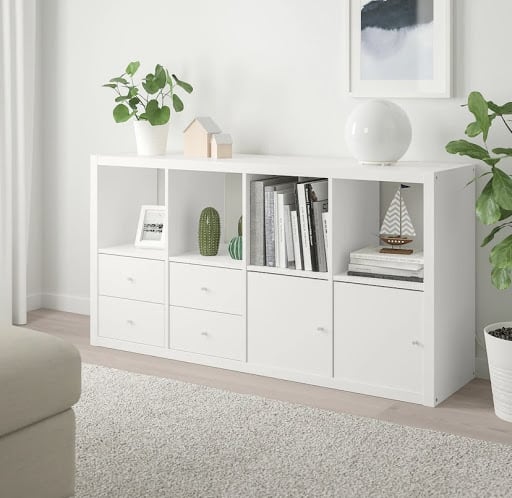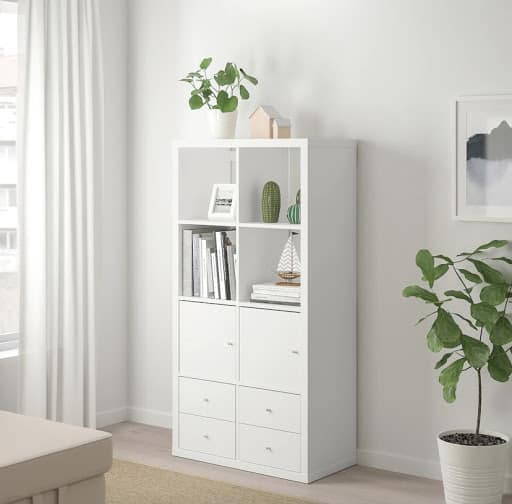 This highly functional and modular shelving unit can be placed both horizontally or vertically depending on the space you have. It can be kept on the floor or mounted on a wall and can also act as the perfect room divider! What's better is that it can be customised however you want it.
It comes with 4 drawers but more can be bought from IKEA according to the aesthetics of your room! The inserts come in a wide variety, from jute baskets to wood and upholstery. If you're looking for a multipurpose storage, this is the product you should buy! You can pair your shelf wall with a beautiful wall art as well t complete your bedroom look from IKEA. Here are some steps for selecting the right wall art for your home!
Size: 147cm high and 77 cm wide with square shelves of dimension 33cm.
Colours:
White

White high-gloss

Black brown colours
Price: ₹10,590
Check out more about the product here!
4.Kvistbro Side Table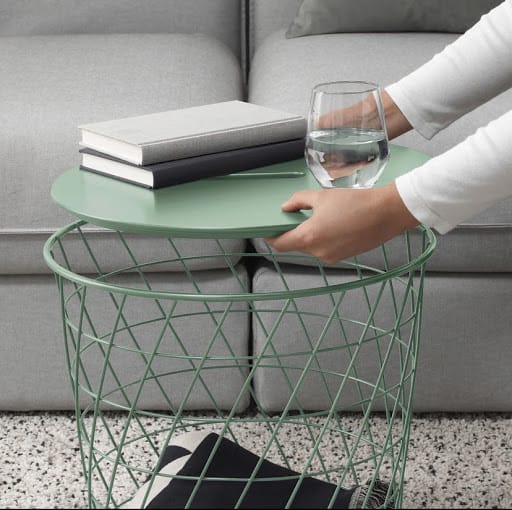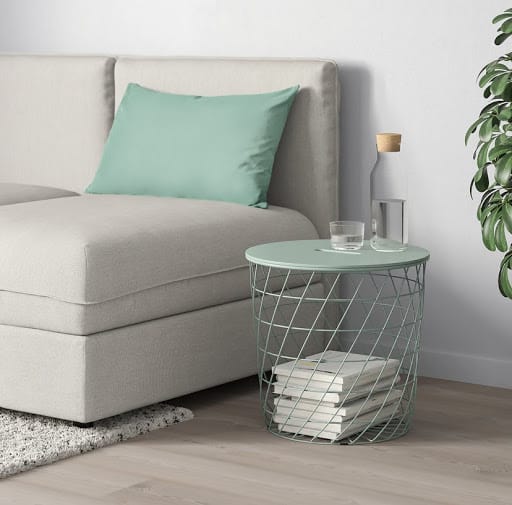 A side table with a light and airy look, this piece of furniture would instantly create a style statement wherever you keep it! Store newspapers, books, extra pillows, throws or keep it empty, the table would give off a spacious feeling however arranged. There is a lid with a handle for easily taking off the top for storage purposes. This table can work as a bedside table, a small coffee table or a side table! It is the perfect bedside table and will certainly fit into complete your bedroom look from IKEA.
Colours:
White

Light grey

Green

Black
Size: 44cm x 42cm
Price: ₹2,900
Don't miss this great furniture piece! Get to know more about the product here!
IKEA provides for contemporary solutions to the modern lifestyle. They have got designs that work well not only for the millennial gen but also the mid-age category. This very balance has created IKEA into a brand loved by all!
Looking out to execute this bedroom look from IKEA with our help? Let us know. We have more exciting ideas and trends that would work well. What do you think about these furniture pieces from IKEA?
Fab or Drab? Let us know in the comments below.