Here are a few simple tips to recreate the perfect Indian home decor
Quick links:
Indian decor is as easy to create as it is gorgeous and comfy. It doesn't demand any fancy redecoration but just changing a few things here and there can help you create the perfect Indian style house.
1. Colours: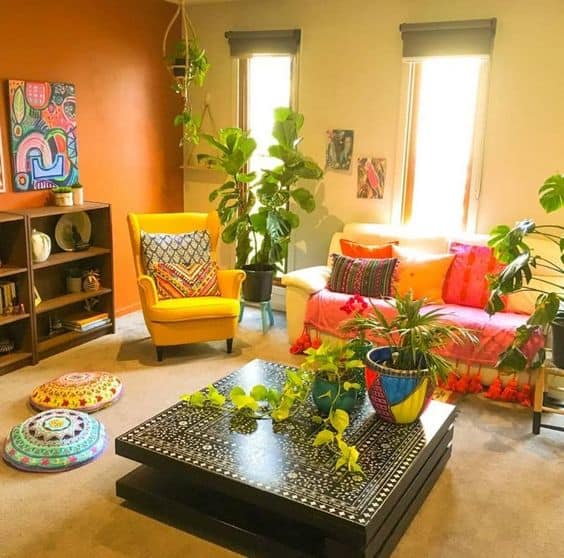 Go bright, Go bold. Nothing says Indian traditional home design like bright blues, reds, yellows and greens. Unlike the contemporary style that clings to black and white like a shy kid at a relative's house; Indian home décor is known for accepting all that stands out only to blend it all as one. A bright room with lots of colours and texture or a sombre coloured room with some splashes of colour both equally stand as the representative features of the Indian style.
For a simpler look, you can use coloured accessories over khaadis, beiges, creams and whites to give your house a more traditional look. Oh! And we simply cannot miss the radiant tapestry or the traditional art that the ensemble is juxtaposed against. Instead of making one colour pop in one room, use all these cute alight colours to set the tone for the room.
2. Prints and textures: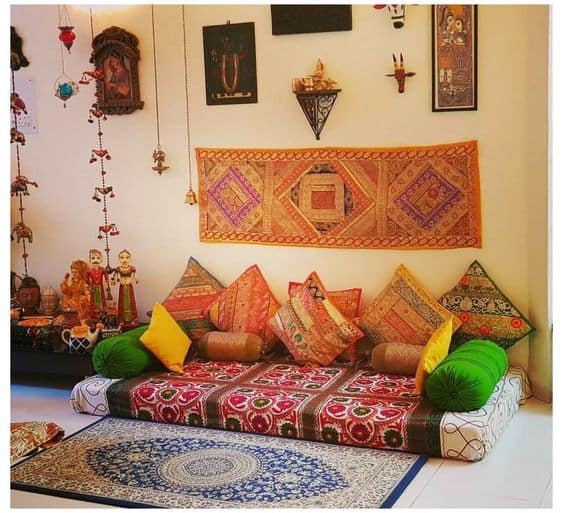 India has a centuries-old textile industry and unique gorgeous varieties of art practised all over the county. Hence, it would be greatly difficult to cite the prints and textures that create a typical Indian style home design. But the most widely used fabrics to name a few include cotton, linen, silk and khadi which look good both plain and with prints or embroidery. The prints include Khari prints, Ajrakh prints, ikkat prints, kalamkari, etc.
All that being said; one needs to also understand that Indian style home design is about plain and raw fabrics as much as it is about prints and embroidery. It is simply about finding the right balance. There is no rule book to be followed for making Indian home decor. It is all about putting what looks good to you and what you feel the most comfortable in.
Even dropping all prints and only using colours to create focal points on simple bland furniture has the potential to completely transform the look of a space.
3. Furniture items: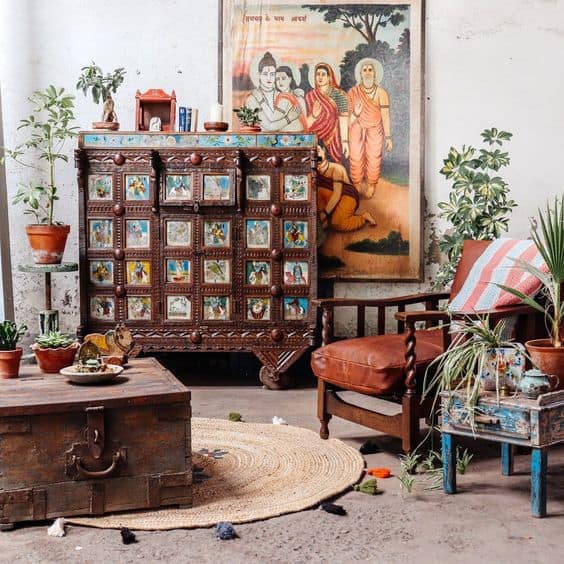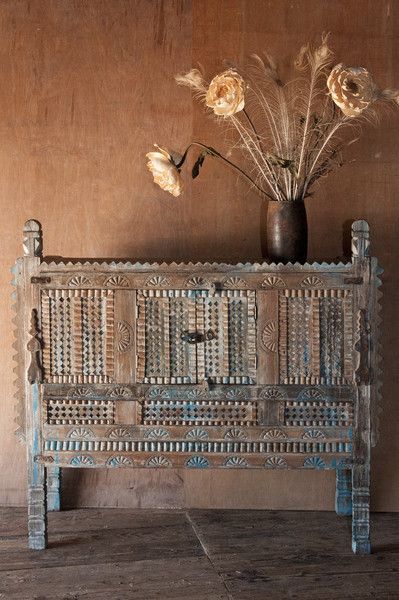 It would be too obvious to even suggest against using a cabriole or chesterfield for creating an Indian look. But despite whatever furniture items you have, your home can be styled in Indian home décor with some simple design additions.
For starters, wood would be the most crucial element in the furniture for an Indian style home. Wood, especially darker coloured wooden furniture adds to the ethnicity of the space. The colour not only helps the other colours to pop but the soft texture complements the embroidered fabrics that it is surrounded by.
One can use a divan instead of a sofa but if you wish to renovate without spending too much on furniture items, add the colours and fabrics to create the décor you want. Additionally, bring in some wooden trunks and chests instead of the metal and glass centre or side tables and cohere the room with a nice rug.
Even a few antique pieces like a wooden jaali partition, a shabby chic shelving unit, wall pieces etc. or even stone figurines help add character to the room. Thus giving it an Indian makeover. Make sure you don't go overboard with elements in creating the perfect Indian home decor look or you might end up like the storage unit of an ethnic shop rather than a home.
4. For the wall: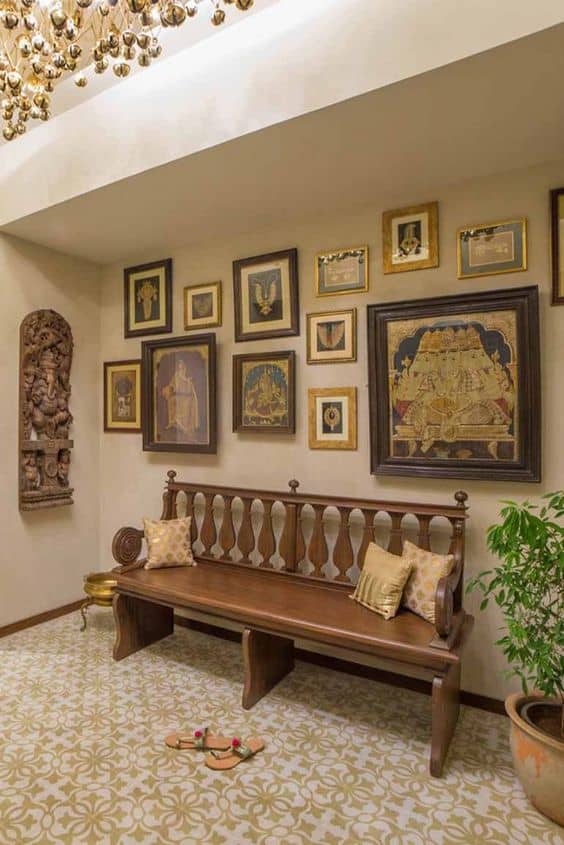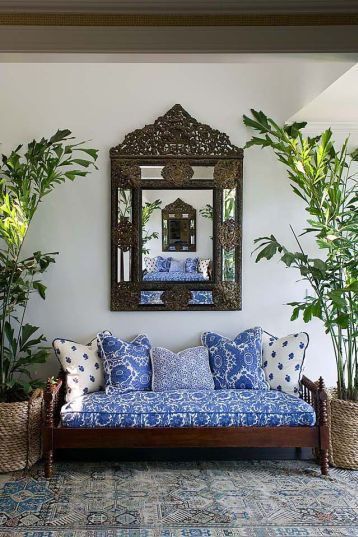 Both the items are a part of the Indian decor as much as wood and colours. India has a rich culture of art thus leaving an array of options to choose from. Anything and everything from bandhani printed tapestry to antique copper wall décor can be suspended on the wall or placed on a console for a classic look. It simply needs to be mindfully selected based on the rest of the items in the room but in the end, it comes down to one's personal choice whether they want to blend it in or make it stand out. Indian instruments also make the perfect piece to choose for your table, wall or rather any place in the home.
Fortunately, the Indian home décor is just as accepting of diversity as the country is of its diverse population. So placing a Rajasthani tray on a table cloth with south Indian print might even look great as long as the colours and overall look is taken into consideration. In this kind of décor, sometimes, 'less is more' and the other times less is simply less, so try striking the right balance depending on the size of your room and size of elements in it.
Another thing that can be added without making the room look too ornate are mirrors. From huge wooden engraved framed mirrors to those small ones encompassed in metal design all are much-recommended wall hangings for the Indian décor. Not only are they the perfect alternative to adding god idols for all the atheists who love traditional vibes but also become the perfect focal point on a rather empty wall.
For anyone who isn't a fan of tassels, wall hangings and tapestry; the mirror with or without its surrounding design is a total gratifying substitute and thus becomes a must-have in the list of Indian home decor ideas.
Despite all that, neither of these elements are compulsory in the room. There can be one or none, completely based on the designer's preference.
5. On the table: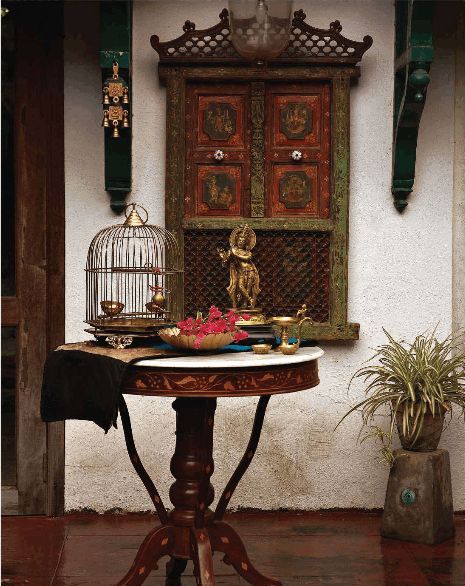 Indians have been somewhat the opposite of minimalistic. Thus the bucket of Indian style home ideas is always rather overflowing than what one might expect. They have all sorts of adornments on any and every surface available.
These can be potted plants or idols and figurines of wood on consoles or side tables or trunks used as side tables. These look gorgeous when embellished with flower arrangements during festivals making your house look like the front cover of any magazine featuring, Indian style home Interior design.
Another option can be flowers and/or diyas floating in water-filled wooden or metal trays. At times, something as simple as a beautiful fabric laid at the centre or woven basket in the corner makes a good addition to the list of 'things that go well on the table in an Indian home decor.'
6. From the ceiling:
Be it the hype of the fluttered hearts when Jaya Bhaduri turned on all those hanging lamps while Amitabh Bacchan played the harmonica in the background or the torans above almost every Indian home throughout centuries; Indian decor always seems to be as much above ground as on it. Hence apart from the heavy wooden chests and rugs with pillows on the floor, the jhula is a popular item amongst Indian decor ideas. Also, it has numerous items hanging from the ceiling or along the wall in this style.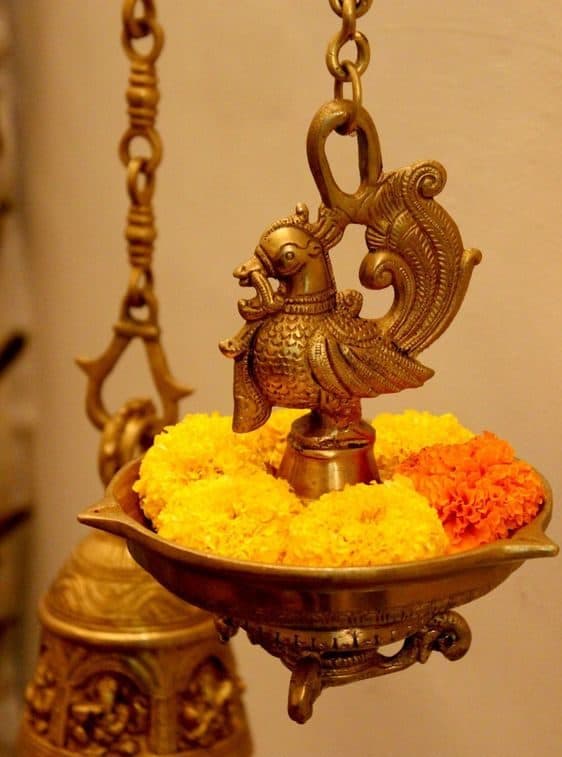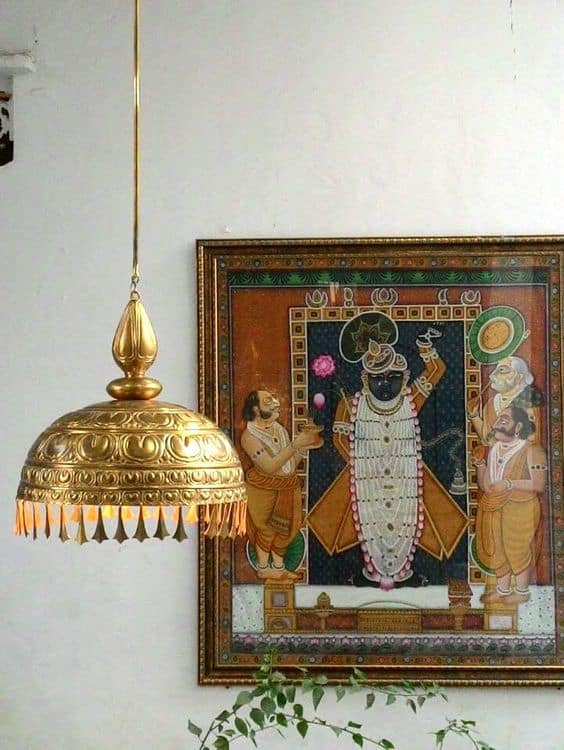 Apart from the aforementioned ceiling hanging lamps, Indian décor works with suspended potted plants, lanterns with metal jaali, metal chimes and a variety of metal and ceramic wall hangings. So instead of filling your wall with huge overbearing tapestry or heavy looking mirrors in frames, these dangling adornments make the perfect Indian decor addition to a fairly sleeker room.
7. Lamps, Diyas and more: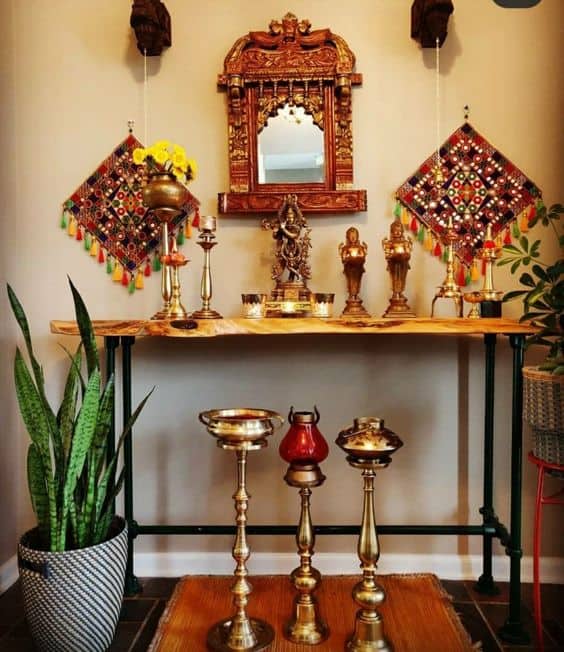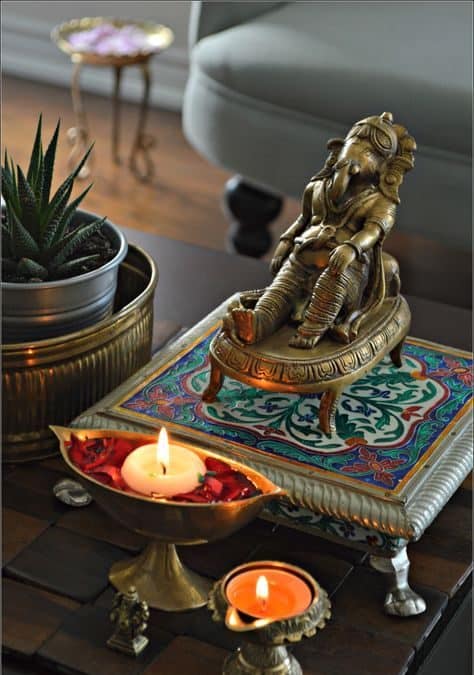 Diwali may be the festival of lights but we Indians don't think that lamps and diyas are to be confined to only those few days in a year. Though they were a necessity once, long long ago but instead of fading away in the brighter light of Edison's invention, they have evolved into the perfect ornament for any and every Indian home decor.
Other than their religious purpose; ceramic diyas, big copper or brass diyas (also called 'samayee'), metal diyas dangling from the ceiling, etc. look gorgeous with or without light in them. So make sure you buy a few lamps, antique metal or funky coloured ceramic on your way home because your perfect Indian style home might seem incomplete without it.
8. Finishing touches of green: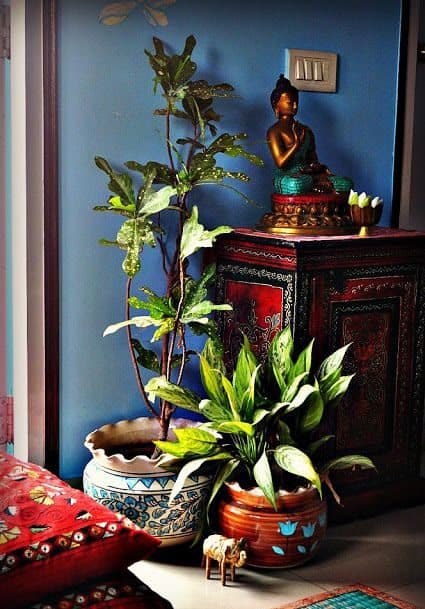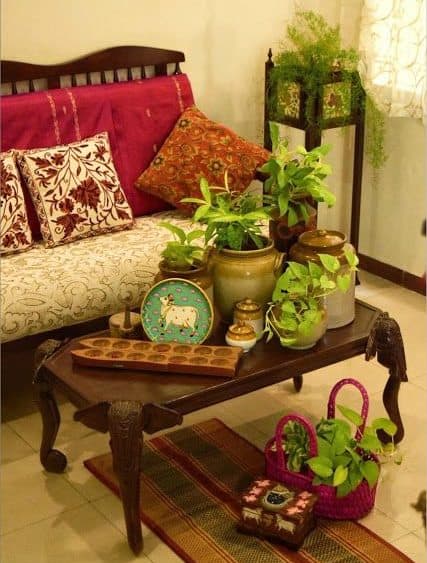 To live in an Indian style room, one needs not a green thumb but green arms. Nothing brings all the elements; coloured or not, heavy or sleek, on the floor or the wall like a few splashes of green. Take any Indian decor, for example, there is bound to be at least one plant in the room. It can be a huge plant in the corner leaning against the walls or a small petite one proudly standing alone in the centre of the living room.
Understandably, not everyone is capable of growing and taking care of a plant but it is very much advisable to have one to complete the ensemble. You can obviously add more than one whenever and wherever required, varying from creepers to cute little succulents on the table beside a few figurines and lamps.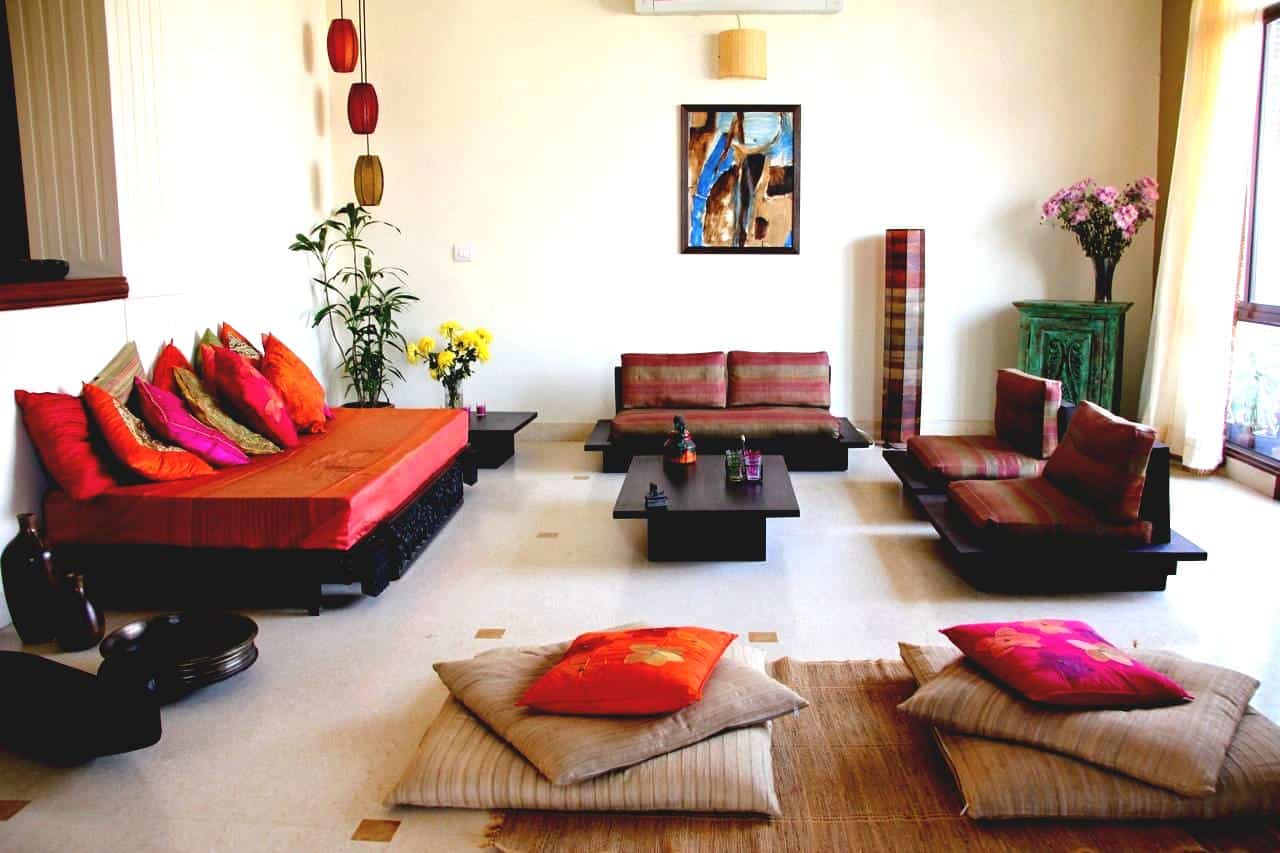 The key to making the perfect Indian home decor is adding whatever looks good. No website or blog can exactly explain what you need to do in your home but can fill your mind with a variety of Indian home decor ideas and that is more than enough. Place the stone statue on a glass table or hang the tapestry on a grey wall, the best thing about Indian home decor is that nothing is wrong as long as it looks appealing and traditional.
Of course, adding a few diyas in a room that screams modern might not help but replacing some upholstery, throwing in a few coloured pillows and adding some wooden items here and there could definitely help. Choose the colours you like, be it yellow, pink or original khadi and create your home with all the things you'd love to see every day rather than investing a bucket load of money in recreating some Pinterest images.
So for any occasion or festival replace the lilies with lotuses and marigolds instead of roses to make your Indian decor home host ready. But for some specific yet simple Diwali decor ideas check out our post, DIY ideas for home decor to brighten up your Diwali.
We understand that saying all that is way easier than it is. Write to us at [email protected]) and we will gladly like to assist you for your Indian home makeover.
Let us know how these ideas worked out for you in the comments below!