We understand that nothing in this world can ever be cuter than babies but at the same time, the space around babies can be made just as adorable. It might seem like a hard and laborious task but it is as simple as it can get. Here are a few simple steps that you can try to create the most charming nursery for your home.
1. Decide on a decor
You don't need drafted layouts for this but simply a Pinterest board. Scroll through thousands of options and pin whatever appeals to you. Don't even think about what, how, where at first but just collect images for inspiration.
Then start looking for similar items online or at stores near you for the ensemble. Don't hesitate from showing them your Pinterest board and asking if they have that specific item. Only keep in mind the dimensions and sizes while you are on this hoard streak.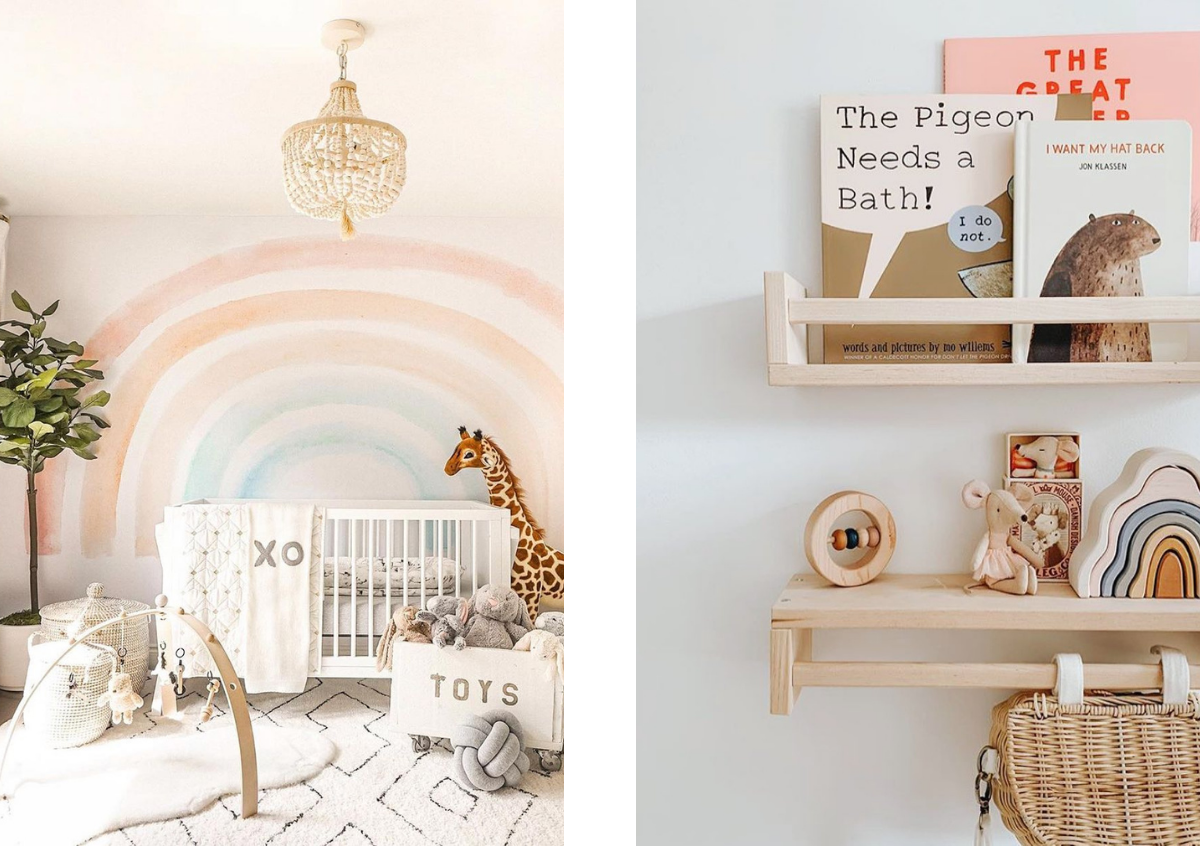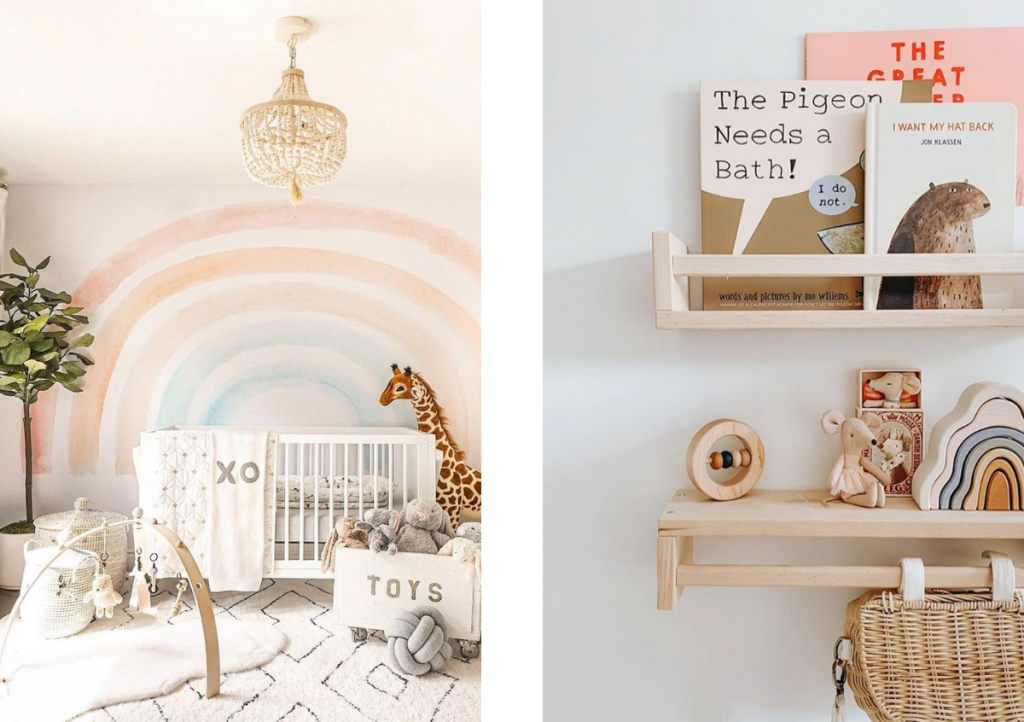 It is important to have a concept or theme but it's your baby's room so feel free to go off syllabus.
2. Choose a perky light
Apart from the colour and luminescence of the light before buying, choose a fun and attractive fixture as well. It not only adds to the playfulness of the nursery but also ties up the room together.
3. Invest in the right furniture
Remember, your baby won't always be a baby. It will grow into an active kid running around the entire house so make sure to buy furniture that grows with it. Though you might want to splurge on your baby's room, it is imperative to purchase furniture that you can use in the future as well.
For example, a daybed can be a cozy spot for late-night feedings but it can be used later also if it doesn't have sharp edges.
4. Adorn the changing table
One of the most practical and functional spaces in the nursery also needs some embellishment. Add some photo frames, stickers or shelves filled with toys or simply splash the background wall with a fun mural or cute wallpaper to make it look as attractive as it is useful. Another thing while selecting the right changing table is storage so check whether you want closed drawers or open shelves.
5. Opt for fun furniture
Furniture is one of the most important things in a nursery and we recommend buying furniture that is practical, durable and childproofed. But nowhere does it say that it needs to be boring. Get a fun crib and a cutesy mobile that can blend well with whatever other furniture items you have like a daybed, rocking chair, stools, poofes, changing table, etc.
Play with colours, patterns, prints and whatever you have at your disposal. There are so many pretty options available in the market offering you an array of options to assemble your picture-perfect nursery. Just ensure that they all look good together and are practical.
6. Buy lasting upholstery
Taking care of a baby is no easy business, there's spilling, dirty diapers and loads of hard work. You can reduce all that labour by investing in the right upholstery. Buy ones that don't stain easily, are made of spillproof material, are machine washable and look new for longer.
Have fun with attractive patterns for sheets or crib beddings and funky colours on throw pillows. The entire space can be brought together using soft furnishings.
7. Splash bright pastel colours
Most of us think that soft light colours are the only way to go for a nursery as opposed to bold bright colours but we cannot be farther away from the fact. These colours are both youthful and energetic. Additionally, they suit the kid even as it grows up irrespective of age and gender. But be careful not to choose overbright colours that attract too much attention so it's always safer to go pastel and use it in proportion.
8. Balance of empty and filled walls
Though it is important for any decor to leave some blank walls, a nursery must have some accessories on the wall. Create a library of bedtime storybooks, a gallery of pictures, make a mural, hang cute things or paste fun stickers to add to the nursery and make it more aesthetic.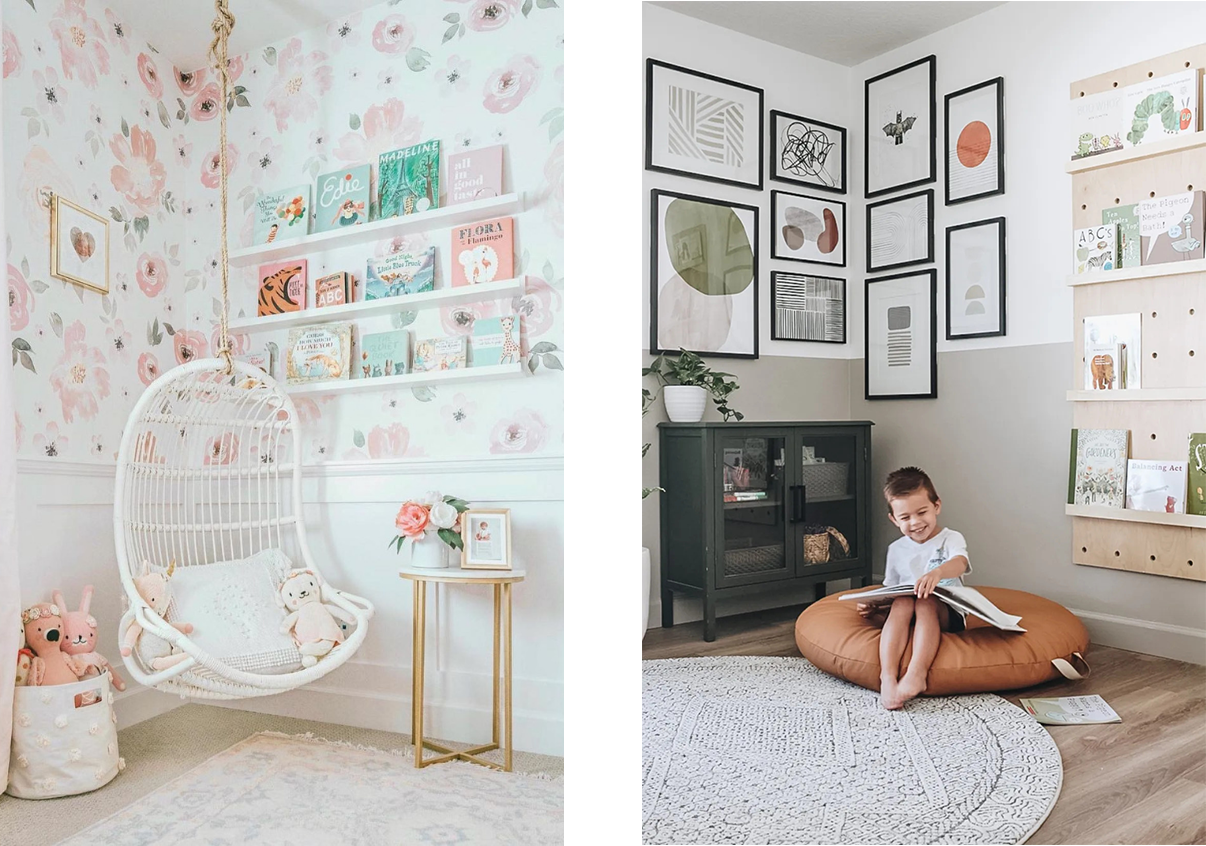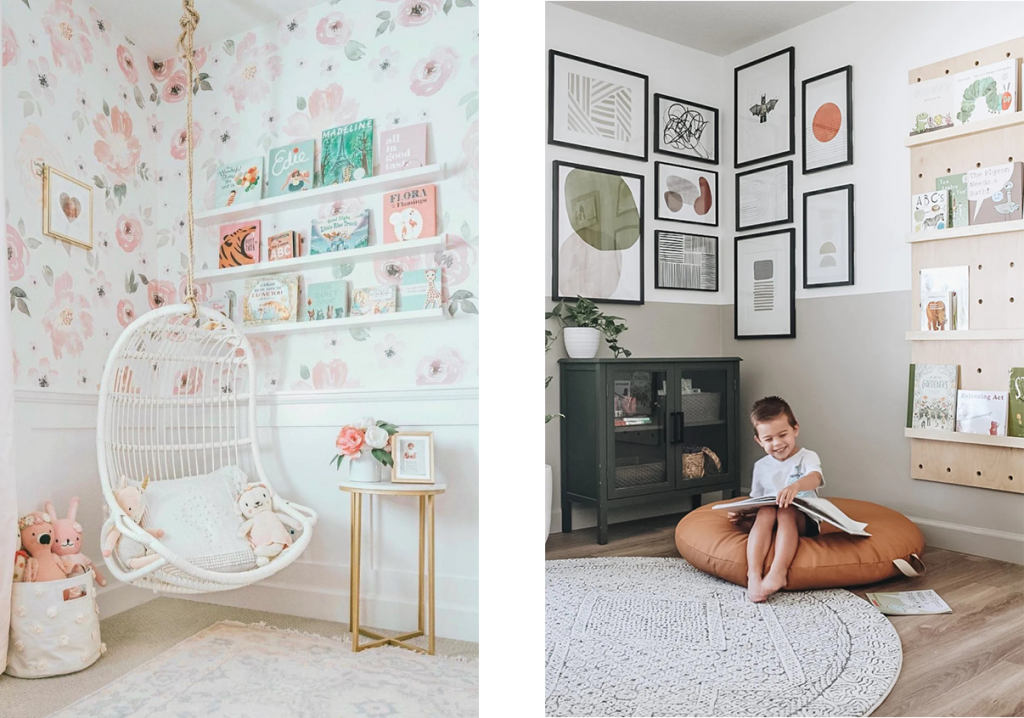 9. Spruce up the ceiling
From a baby's perspective who spends most of its time lying on its back, the walls are an obscure element. So you can opt to minimize the work on walls and decorate the ceiling instead. This space with empty walls and a lively ceiling looks bigger than it is but if the ceiling height is less it can also make the nursery look flatter.
10. The right amount of storage
All the cutesy aesthetic you so lovingly curated can go to waste if all the spoils and necessities have no place to be stashed. No one wants to accidentally step on a burp cloth, diaper or receiving cloth and hence make sure your furniture pieces have the right amount of storage.
Furthermore, maintain a balance of open shelves (to arrange toys, books, etc) and drawers (for clothes, cloths, etc) If you have limited space in the room then invest in multipurpose furniture.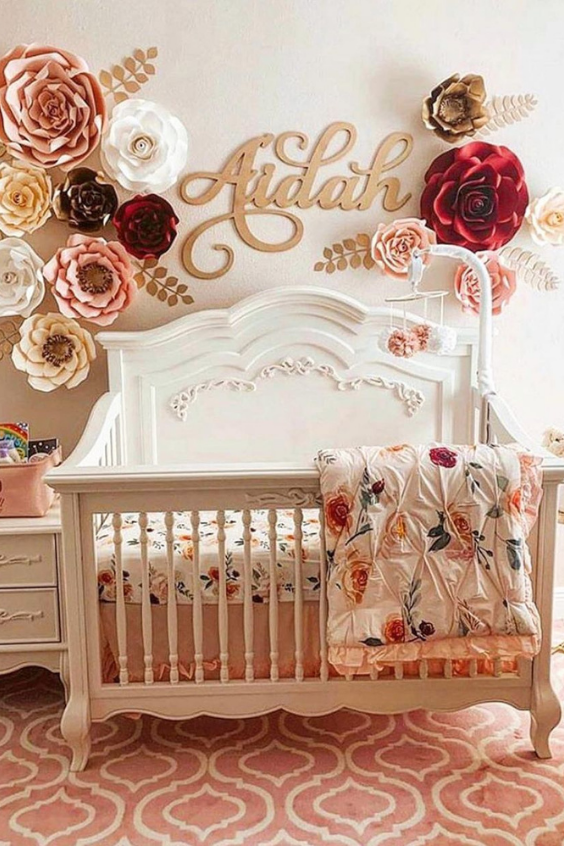 Despite all the other tips the most crucial thing to remember is that it is your baby's nursery so some personal touches are a must for the finishing touch. This can be anything from a nameplate, a mural of initials or a family portrait gallery.
So have fun decorating your nursery and do tell us which tip you loved the most in the comments below.