Quick links:
Kitchen designing is an enormous task. It is a space that needs constant updating, repairs and renovation to keep it well functional and aesthetically appealing. To have a good kitchen remodelling whether in a hotel or home, involves a lot of detail design thinking to be done. As quoted by Boulud Daniel, "Kitchens should be designed around what's truly important –fun, food and life." Although kitchens are an intricate space, they are also a celebration of cheerfulness, craft and content. They have to be renovated every once in a while for the purpose of decluttering, accessibility, comprehensive space utilization and maintenance.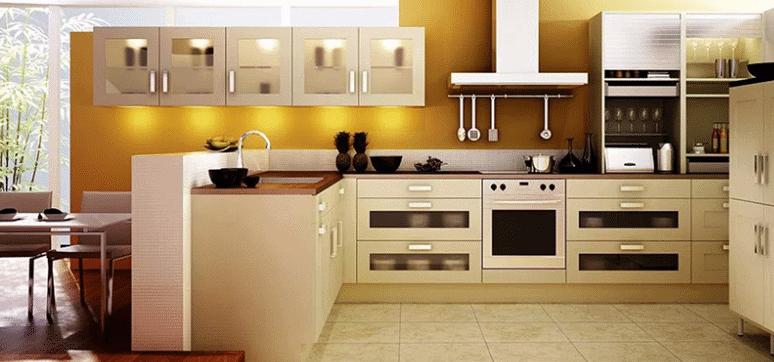 Looking out for kitchen remodelling hacks can be pain-staking. With oodles of information and products in the market, it can  be an exhaustive process. Therefore, we bring to you, a list of the most trending and feasible ideas that you should try for your next kitchen remodelling project.
1. Optimize the working triangle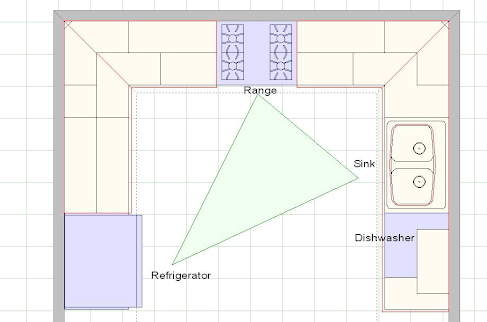 Work flow and accessibility is the prime factor that you should consider while kitchen remodelling. The work triangle represents a pattern of movement of the user in between three main functions of the kitchen. They are namely the refrigerator, stove and sink. This triangle should be uninterrupted by cabins or any other superficial design elements. Also, the counter space around these three points should be adequate.  To ensure sufficient amount of work space, the perimeter of the work triangle should be in between 12-26 feet.
2. Design custom storage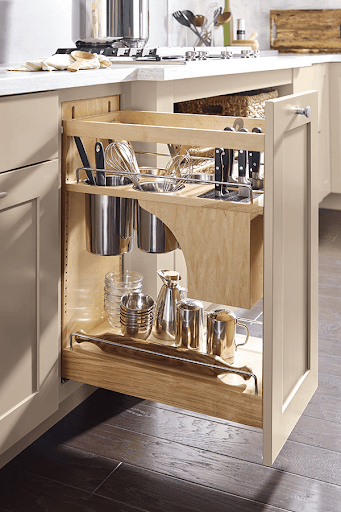 Kitchen designers always have an eye for detail. Go ahead and carve out spaces for the smallest utensil and equipment when remodelling. Make some room for keeping the silver foil box or have some partitions in the drawer to separate out the spoons. The idea is to pay attention to the minutest detail and provide a design which is tailor-made for the client. You can go the extra mile and make a list of all the things that usually loiter around in the kitchen with no definite place to keep. The more involved you are with creating custom designs, the brighter are your chances of having recurring clients.
3. Use those niches for kitchen interior work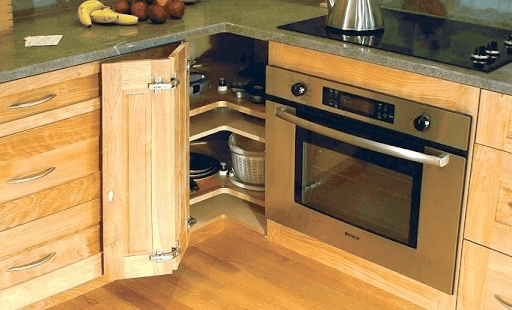 More than often, we create corner cabinets that overlap when opened. Even though it seems like an obvious design solution for space optimization, it is practically not feasible in day-to-day life. They are difficult to access and clean. Therefore, try to propose feasible design solutions for the corners. Churn your creative wheels to think of using niches for purpose other than storing or simply change the opening patterns of the cabinet. You can also place furniture, just chamfer or keep equipment to avoid the corner storage issues in design. 
4. Bask in the colour splash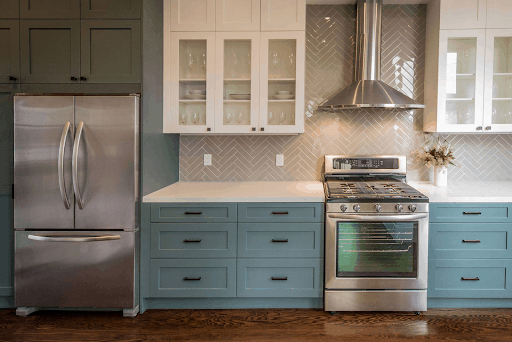 Colour brings liveliness in the most subtle form. They add depth and meaning to a space. A hint of vibrance can majestically enhance a kitchen's aesthetic appeal. If you are an interior designer who prefers monochrome, you can always go for hues of grey or blue. However, if you love colours, then you can probably dig deeper into colour theories and decide for a colour that resembles with the user's personality. It helps make the user experience better and makes them feel involved in the process. But also remember to not go overboard with colours. Keep it simple, bright and classic.
5. Re-cushioning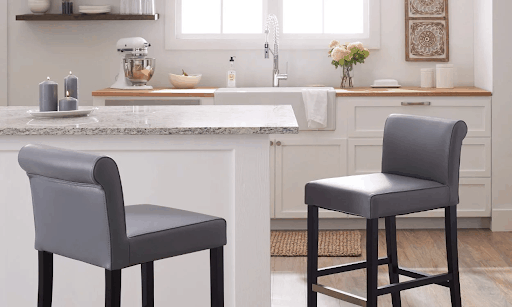 Re-cushioning and upholstery can be a fun activity. While re-cushioning and refurbishing lets you explore the versatility of the furniture, upholstery can add a new look to it. Especially in case of Indian kitchens, where the use of greasy elements is more, the fabric should be selected which is easy to clean and maintain. Remember to check up for the existing furniture's quality and strength. It is vital to take recommendations from vendors on how sturdy the furniture is. If it is fit for use, you get a variety of re-cushioning options to choose from in terms of material comfort and affordability. 
6. Zoning and organizing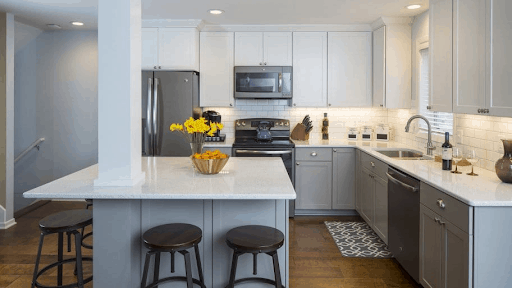 This is the basics of kitchen designing. Before planning for any layouts, one has to zone the kitchen according to the existing floor slopes, plumbing fixtures and accessibility. The broad zones include consumables, non-consumables, cleaning, cooking, preparation and waste. Try and avoid overlapping of zones for user convenience. Organize your spaces and layouts within these well defined zones. If there is adequate space, then making kitchen islands is also an effective option to zone out functions. It provides additional space for serving and can act as an eat-in desk. It makes the space hassle and mess free.
7. Adding hooks for hanging utensils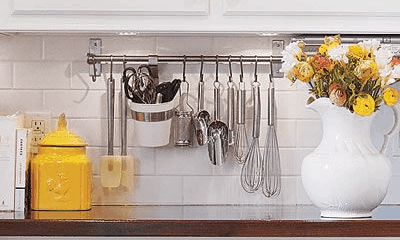 Storage space in the kitchen is always a matter of grave discussions. There always seems to be a lack of space to accommodate utensils and cutlery. Here, wall rods and hooks come to the designer's rescue. It is always recommended to provide for additional storage areas in the kitchen. Making provision for hooks allows the user easy access for day-to-day items. It also allocates a dedicated space for every spoon or stirrer ruling out any possibility of misplacing. It is a good option for kitchen interior work on a low budget.
8. Rolling shelves to maximize cabinet space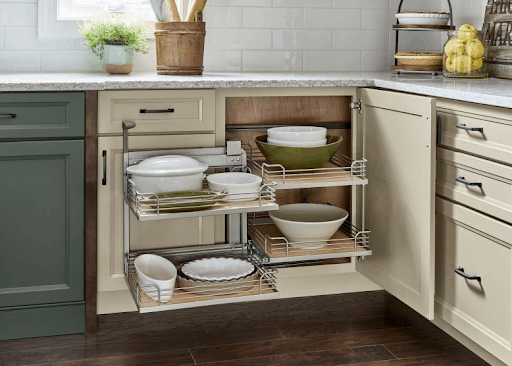 Space optimization is essential in kitchen remodelling. Rolling shelves are an excellent kitchen interior design idea. They let you create that extra storage space for future purposes. They are sleek in design and user-friendly. Their mechanism is simple and easy to maintain. They not only help to organize and declutter, but they add accessibility to the kitchen.
These kitchen redesign hacks are simple, practical and effective. You can try a bunch of them and let us know how it works out for you. We are sure that it will help to ace the kitchen remodelling industry. 
If you are an interior design enthusiast and wish to Master Kitchen Design, we suggest a workshop perfectly suited for you. It will be a 2-day live session on zoom from the 19th to 20th of September 2020, where we will simplify the kitchen design to bits. You can click on the link below, to know more.
Master Kitchen Design program: https://alcovestudio.in/interior-design-workshop/kitchen-design/
We have also curated an E-book titled "Indian Kitchen Design" which is your go-to guide for designing a perfect kitchen. The book contains detailed information about ergonomics, standard dimensions, terminologies and detailed drawings of a kitchen. Sounds exciting, doesn't it? So, get clicking and place an order for the book now! You can click on the link below, to book a copy.
Indian Kitchen Design : https://alcovestudio.in/interior-design-workshop/indian-kitchen-design-ebook/