The fabric trend that is reigning the globe
Quick links:
Fabrics put life in any piece of furniture! You chose a texture and it spreads over your furniture like a second skin. Used through the ages as the most effective tool for texturing, fabric is a world of infinity. While some are classically used over generations like silk and rayon, some are the star of the season! And this season, it is time for the most controversial fabric from the 40's – the boucle fabric.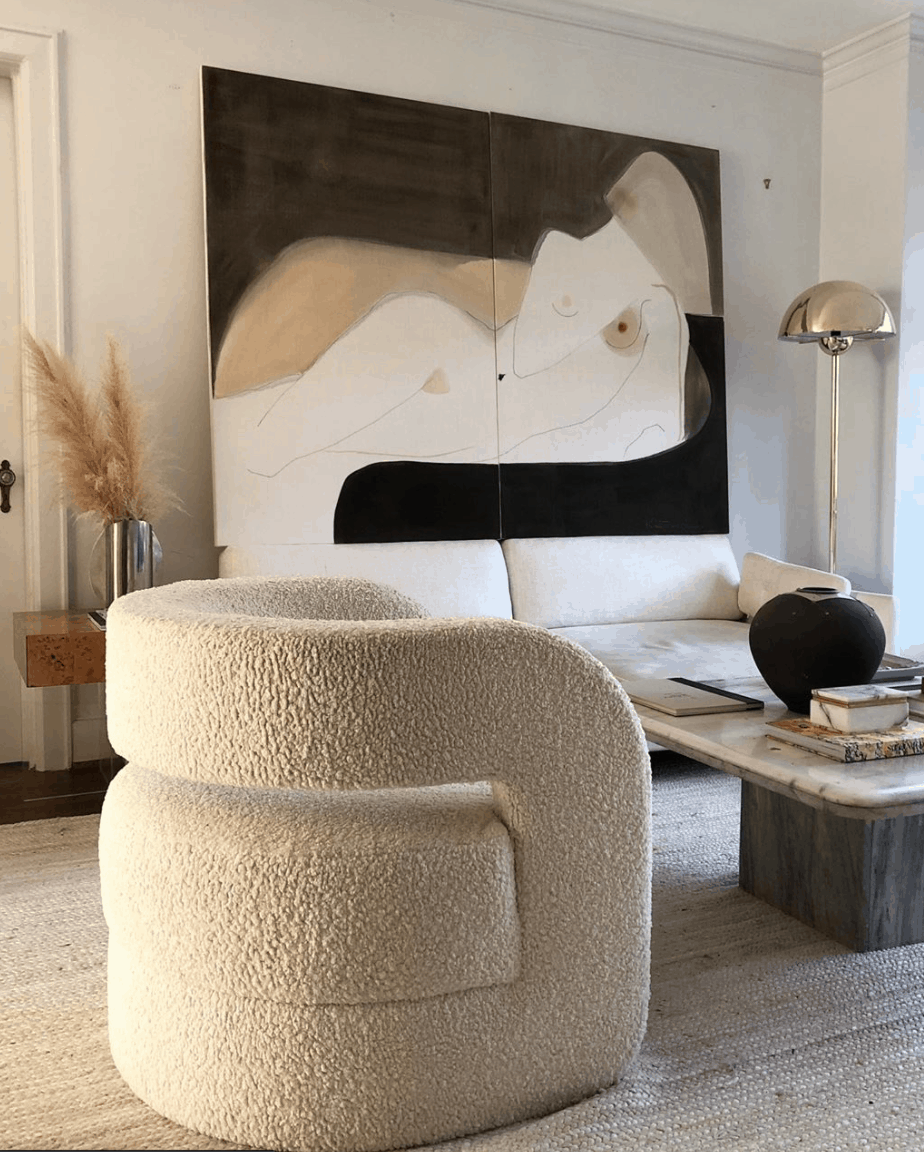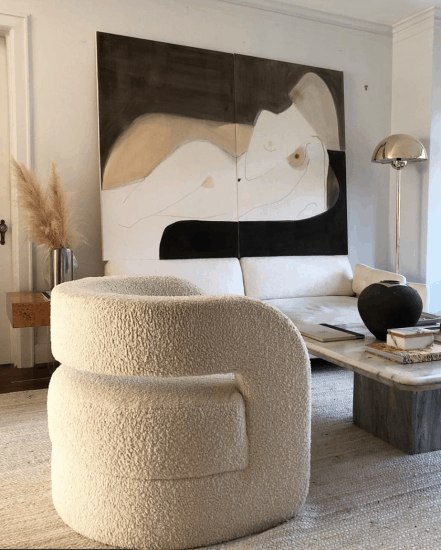 Imagine a piece of cloth that is soft as a feather and also hugs you back! That is a boucle for you! It is a unique fabric of the textile industry, that is both a yarn and fabric that's made from it. Boucle fabric falls under the family of wool, and transforms to an aesthetically pleasing atmosphere, seen through it's upholstery in interior decoration setups.
About Boucle fabric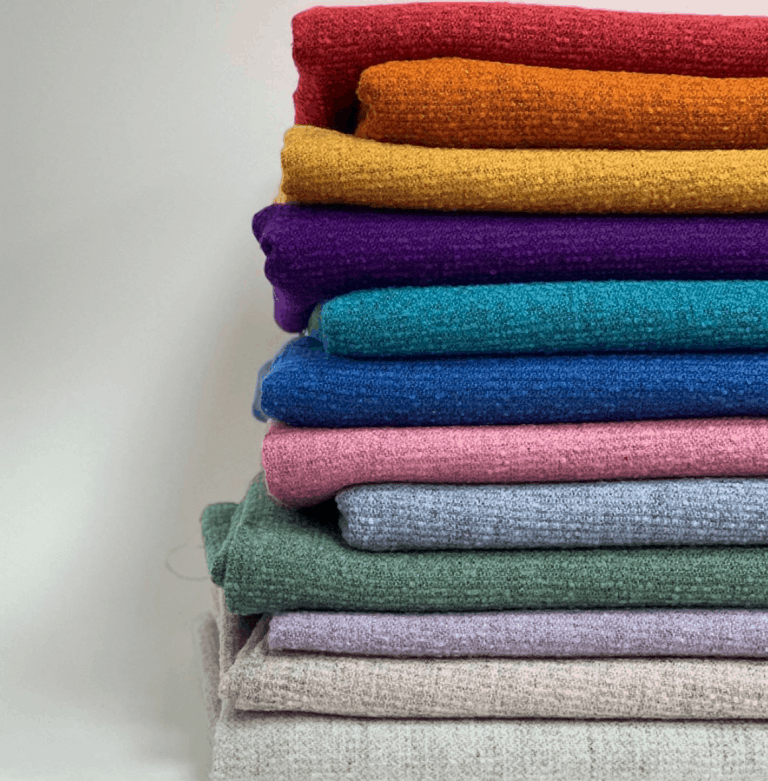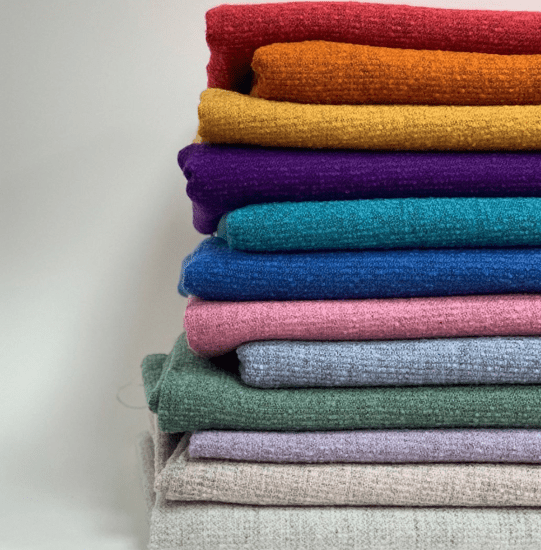 Origin and (re)trending
The word boucle is derived from the language French which means "curled" or "ringed."  Boucle is referred to as a yarn, made from a series of looped fiber.. Wool is the most common fiber to undergo the technique, though cotton, linen, and silk have also been used for achieving a similar finish. The fabric works great from the maintenance point of view. It requires a gentle washing with cold water because of its delicacy in handling. It is easily cleanable and a tight weave is less likely to allow dirt, dust, and liquid to penetrate.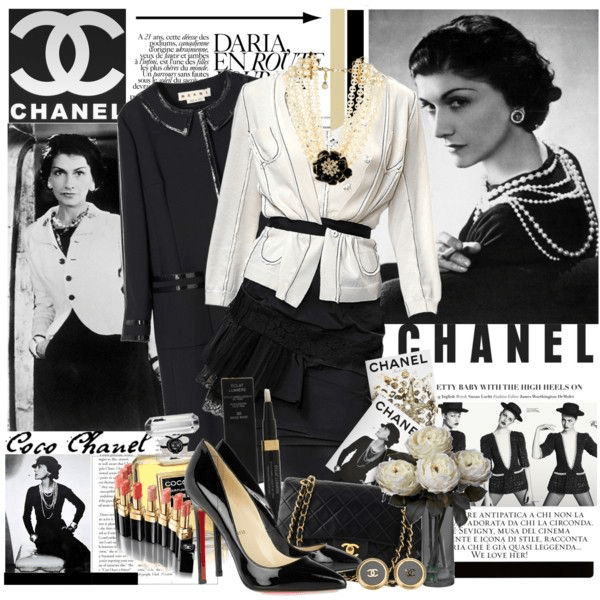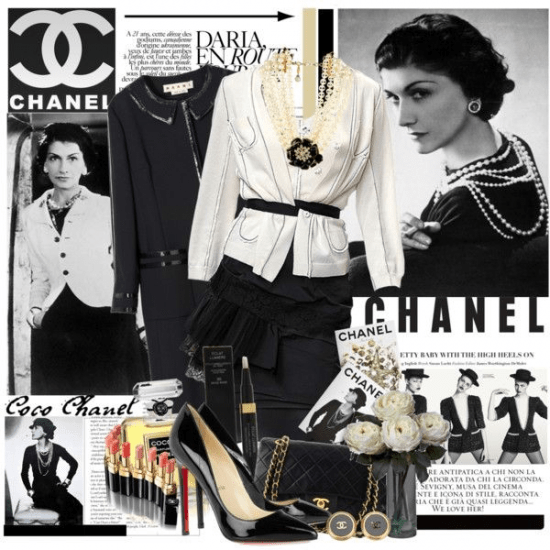 Boucle's origin traces back to the 1940's,  when the renowned designer label, Coco Chanel launched the glorious "Boucle Jacket".  In the decade following Saarinen's curled-up release in 1940's, boucle fabrics spread cross-category, becoming a staple of fashion couture houses and of the mid century furniture designers.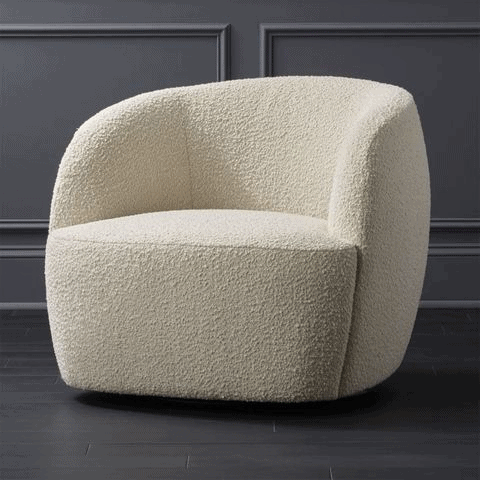 It bounced back in the 21st century at the 2018 Goup x CB2 collaboration, and has ever since dawned the taste of many Architects and Interior designers around the world. It has been a popular trend since then. The fabric has made a stellar appearance in 2019 with its stint in the collection, Kielder by Sekers. In 2020, the boucle fabric is all set to reign the furniture and upholstery market.
Boucle for interior design- Around the globe
The fabric is widely used abroad, especially in countries with low temperature. It is the most loved fabric for residential spaces. Since boucle is a warm fabric, it keeps the interiors a comfy and cozy space which resembles the emotions of a home. Boucle is a fabric that represents the contemporary face of designers. It is rough and earthly, yet comfy and trendy. 
While most of the previous fabric trends such as velvet have been giving the vibe of royalty, luxury and elegance; boucle is a fabric that stands for a chic and modern finish. It hits off with people with an instant relatability of comfort and leisure. The popularity of this fabric is not just limited to the elite bandwagon but also fast catching up in the economical class.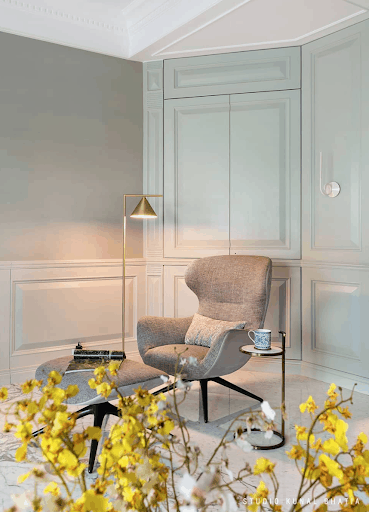 Decoding boucle for home interiors
The fabric endures a versatility that makes it blend well in the most rustic interiors. You can merge it seamlessly with a concrete panelled or brick cladded wall.  It can add the softness and comfort you look for when creating intimacy in the space. The boucle carries an aura of soft, comforting, warm, subtle, muted and luxure. Some of the world acclaimed interior design brands such as Sweetpea and Willow, Chaplin Furniture and Jonathan Adler are widely using boucle all over!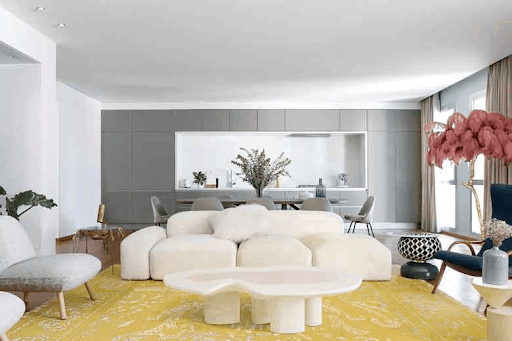 How is boucle reigning the furniture segment
In interior spaces, boucle is used for soft furnishings,  upholstery and throws. The best suited boucle for interiors would be the medium-weight boucle fabric, as it's great for indoors and its versatility makes it a suitable bet for upholstering on furniture too. 
If you are looking for a quick home makeover, here is how you can use boucle and experience its luxury.
1. Sofas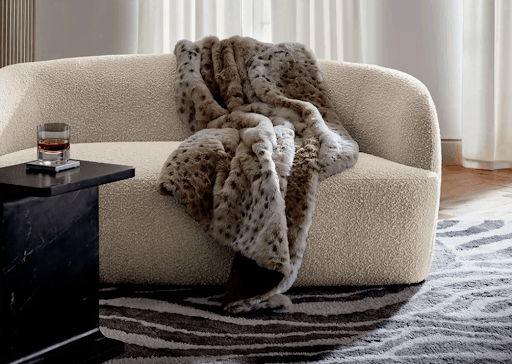 Curled, rounded and organic; today's boucle sofas are synonymous with comfort. They take the shape of your posture and curl around to adjust to your ergonomics. Our recommendation would be to plan a boucle sofa for living rooms of bungalows/ penthouses; where you have the space to demarcate your formal and informal living spaces. The best part of this fabric is that you can customize it to your needs.
2. Chairs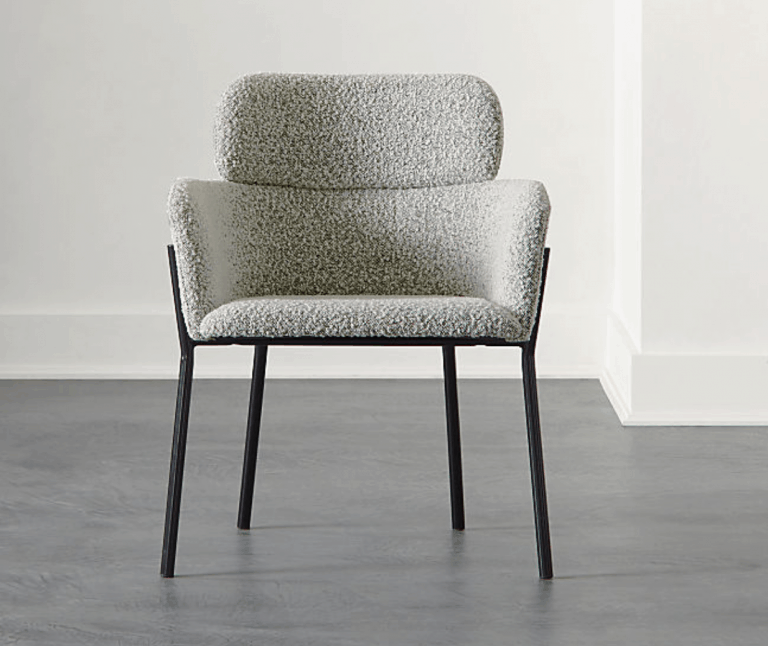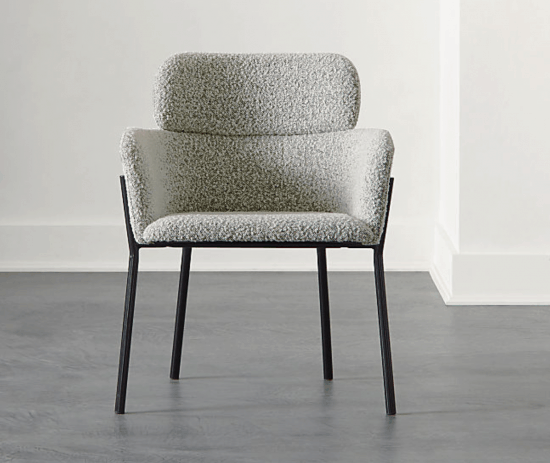 Boucle upholstery on chairs have become quite a talk of the town. They are widely used in dining areas. You can pair the dining chairs with a geometric table to complement and balance your design. If you do not wish to get a huge sized boucle furniture, you can start with a chair and see how it suits your space. They are also suitable for office lobbies and waiting rooms where one has to be seated for long hours of work.
3. Pillows and Cushions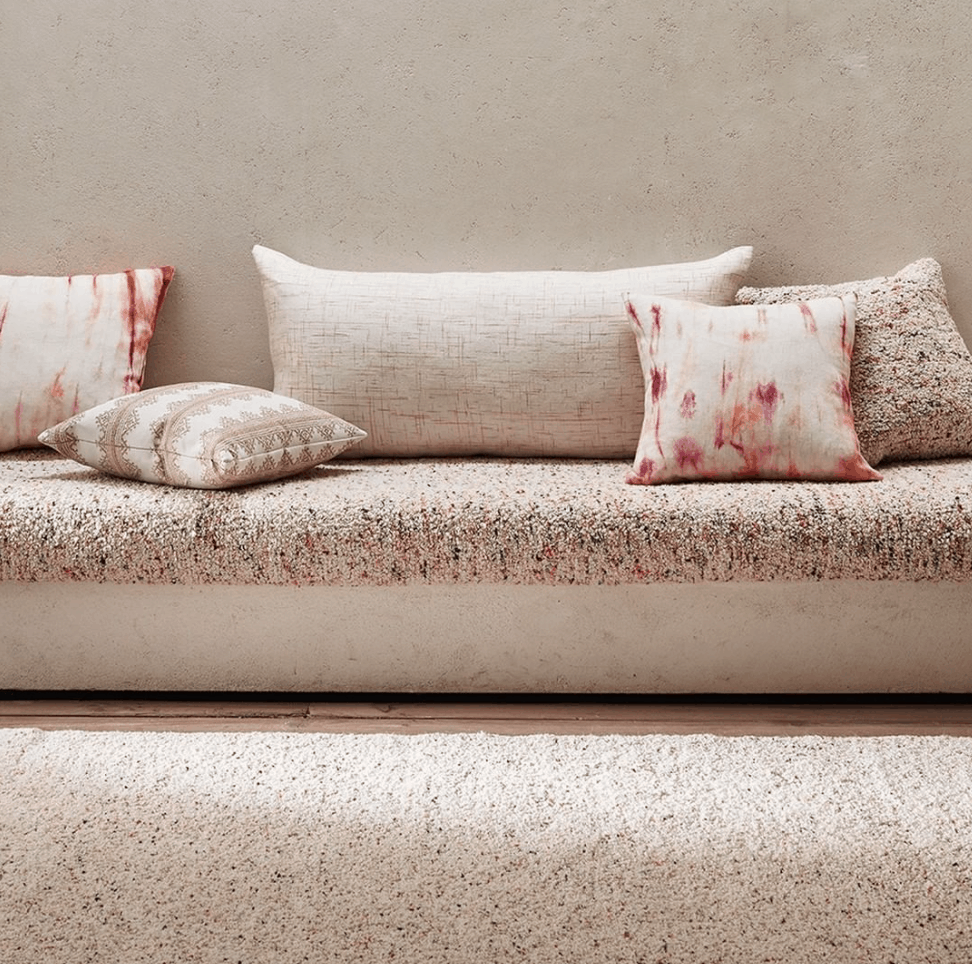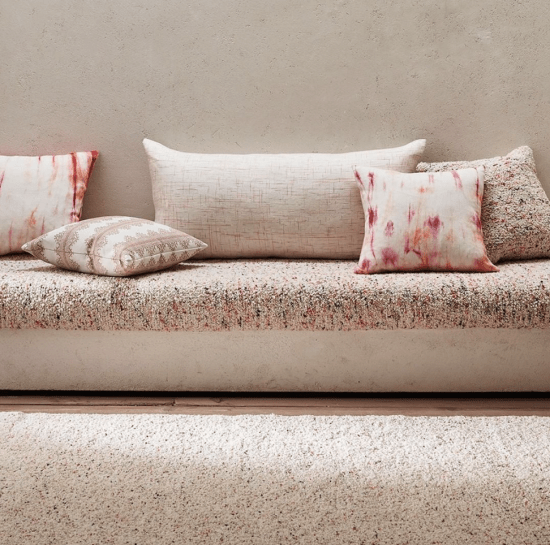 Soft furnishings is the best suited use of boucle. Be it pillows, cushions, throws or blankets; boucle is meant to give a relaxed vibe and is therefore suitable for them. Boucle fabric brings in simplicity and represents an elegant and chic demeanour. Our recommendation would be to choose a pastel fabric colour and add some hints of colour to it to make the furniture setup stand out.
4 . Benches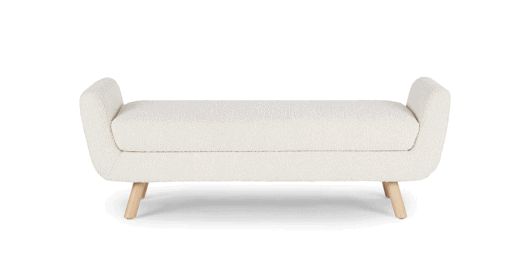 Bench seats made of boucle fabric is another cool trend for informal spaces. They can fit in compact spaces and give a nice comforting look.
5. Ottoman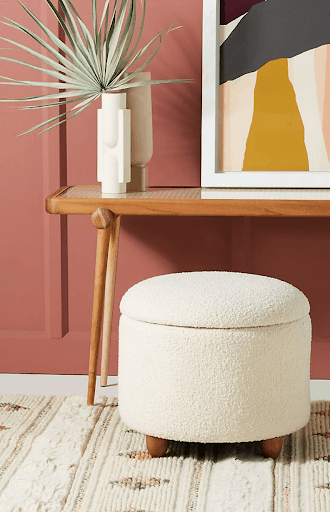 Ottoman is a piece of furniture that can make your space look elegant. A slender ottoman with boucle top works best for luxury living rooms by giving it a sophisticated appearance.
Boucle is a fabric of immense possibilities. We think it is here to stay and reign for long. The fabric is versatile and offers a promising range of utility. It is apt for use in a variety of spaces and acing every piece of furniture it touches! What do you think of this fabric trend? Yay or Nay? Let us know in the comments below.
If you wish to try the boucle trend in your home, write to us about your aspirations and we will get back to you with the most comforting contemporary designs!