Looking for some small kitchen design ideas?
Alcove Studio brings you 8 easy and effective ideas to get your dream kitchen interiors.
1) Tidy up your compact kitchen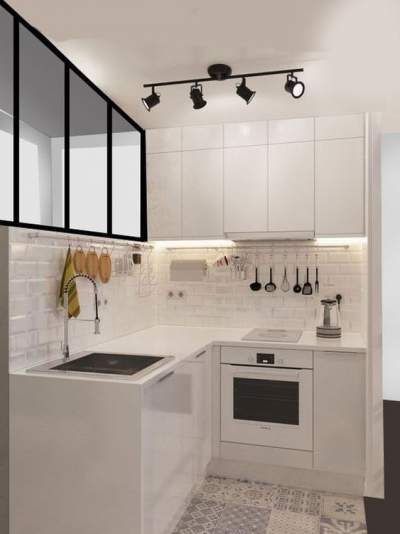 To avoid cluttering the worktops, ideas like wall-mounted magnetic knife strips, rails to hang utensils, mugs, pans, and cutlery bins will work like a charm. Items that you use every day, such as chopping boards, wooden spoons etc, can be stored away until needed.
Don't overdo the materials in a small place. Be creative about their placements.
Consider downsizing your kitchen; keeping things which are useful from a functional point of view. To save some more space, you can also get downsized appliances like a small refrigerator, small microwaves, stoves and a single kitchen sink.
Tip: If your washing machine is taking too much space, its time to find it a new place. Consider shifting it out of the kitchen, maybe in the bathroom where it belongs. If your bathroom is just as tiny, you might be able to squeeze it in a cupboard under the stairs.
2) Keep your kitchen scheme simple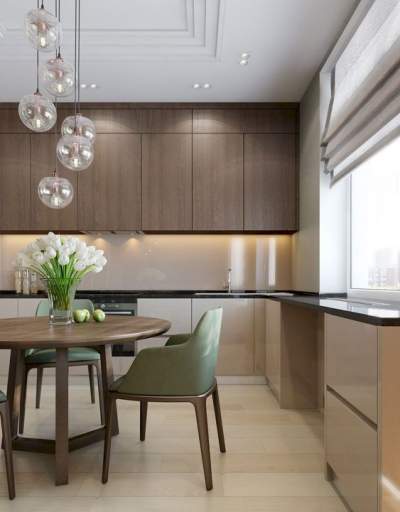 Nothing makes a room seem larger than simple white walls, so why not take it further with sleek details that open up space. In a narrow space, it's sometimes best to opt for a simple colour scheme.
Light, minimal designs and reflective materials are your best buddies in a small kitchen, so consider white or frosted glass cabinet doors, white stone or composite, or stainless-steel worktops, and white splashback tiling.
Minimalism is a common choice among top kitchen ideas and designs. Clean lines, light colours and uncomplicated fixtures all help create that illusion of order and space. The metal stools, bare floor, and plain cabinets all work to highlight the chic minimalist theme.
3) Use of Light to visually expand your room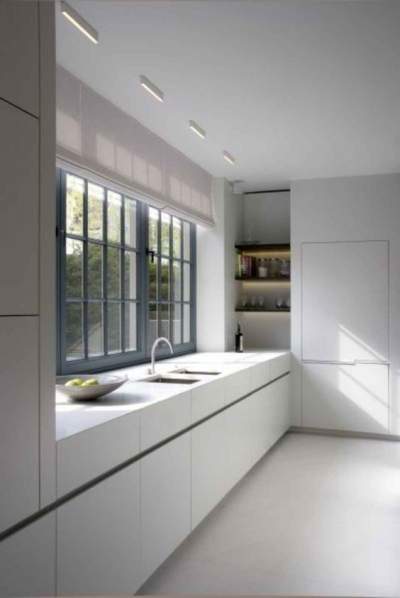 Light naturally makes a room appear more spacious; you can have a window connected to the other rooms or outside which can provide enough ventilation and brightness. Choose apt lights which can give your kitchen an appropriate look with a combination of atmospheric and task lighting.
Consider using pendant lights which can give your dining area a cheerful look. Make use of incandescent lighting with yellowish colour under the upper cabinets. Using these lights will help you accentuate your countertop areas.
You can also have small lights in cabinetry flooring areas. Doing this will let you brighten your kitchen even more.
Tip: Consider adding small plants which are a great way to add freshness to a small, stagnant space.
4) Go for Glass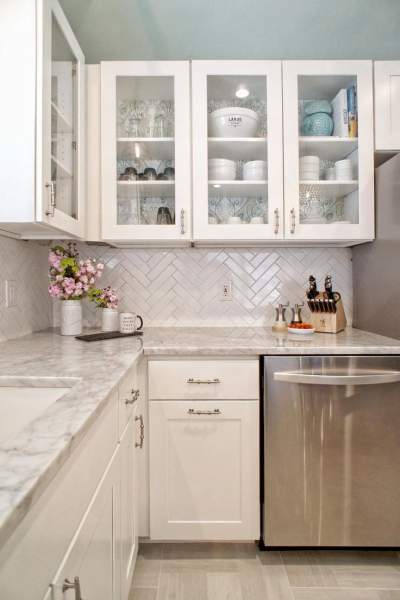 One of the best ways to create an appealing kitchen is to incorporate its interiors with glass. Try a glass counter or tabletop, tile, shelf doors or kitchen doors that lead to the outside world or to the next room.
Place mirrors in the backsplash and the kitchen corners to have a brighter area. You can also opt for the highly reflective glass tile in your kitchen.
5) Kitchen cabinets and open shelves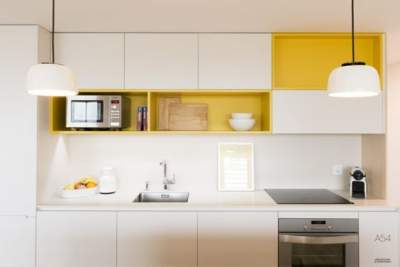 Large Wall cabinets can really encroach on space, so consider combining it elegantly with open shelves. Open shelving can make a huge impact in a small kitchen, creating an open and airy feel, as long as you limit the number of shelves you use, and what you keep on them.
Your kitchen will look more spacious and serve up display space for your favourite dishes, shiny pots and pans, or artwork. Vertical drawers are also ideal for using up the awkward gaps between appliances, walls or cabinets.
Tip: Every kitchen has one thing in common: a stove. A four-burner cooktop can take up a majority of counter space, even though it gets used for a few hours a day. Sacrifice one burner and add a tray to hold everyday spices like salt and pepper (or even a little plant).
6) Kitchen Walls
You can take advantage of the wall space of a tiny kitchen by adding in a metal rack above the sink for tools and utensils. Clear away the clutter in small kitchens.
Walls are also good storage spaces. Instead of hanging a picture or a decorative feature, install racks and hooks for additional storage and organising help.
Tip: In order to make your kitchen design look trendy, you can match the colour of the kitchen walls along with the objects and the shelves. If you have furniture placed in your kitchen, you can match them with the wall colour. To add style to your kitchen you can have bold coloured countertops, cabinets or other areas.
7) Kitchen corner space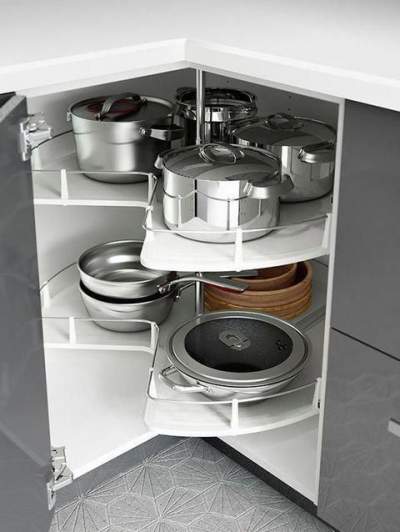 The corner space of your kitchen can be put to functional use by installing small cabinets. You can entirely remove the door from the corner cabinet and then install large hooks in the top surface of the cabinet to hang pots and pan.
Setting a corner oven or stove is a great way to get rid of those hard to reach corner cabinets.
Hafele and Hettich provide good blind corner fittings. Check them out.
8) Give your kitchen a distinct personality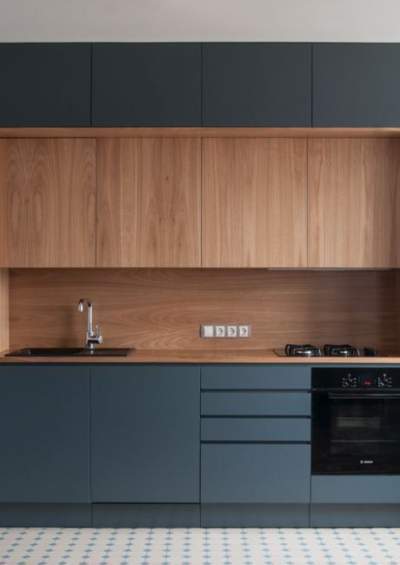 From choosing kitchen wall paint colours to create a gallery wall or picking pretty kitchen wallpaper designs, giving your kitchen's interior design personality is all in the detailing.
Sourcing the best kitchen flooring, choosing the best kitchen window dressings, or simply displaying family photos effectively are all part of the process of giving your kitchen personality.
Just as you'd add those personal touches to a living room, putting your own stamp on a kitchen will take it from showroom piece to heart of the home.
Alcove Studio
provides architecture and interior design services. Our office is based in Mumbai, India.