1. Bajot
We all have seen a bajot in our house at some point or the other. Oh! For all those who call it by some other names, bajot or a chowki is a wooden stool used both in utility and furniture. From sitting on one while worshipping a low height pooja ghar or placing the deities on one, bojots have almost always been a part of Indian homes. They can be considered as the furniture pieces that never actually went out of style so it might seem a bit wrong to add them in this list but at the same time, the list will seem incomplete without their mention.
From intricately carved to painted in bright vibrant colours, these Indian furniture items can be found in old countryside homes as well as urban ones. Some people use them as side tables, some as a decor item for the corner and some use them as stools for sitting or resting their legs. Though their height is much less than the classic stools, their utility is fairly the same. These vintage furniture pieces are available in a lot of shapes and sizes with variety in material, patterns, colours and a lot more.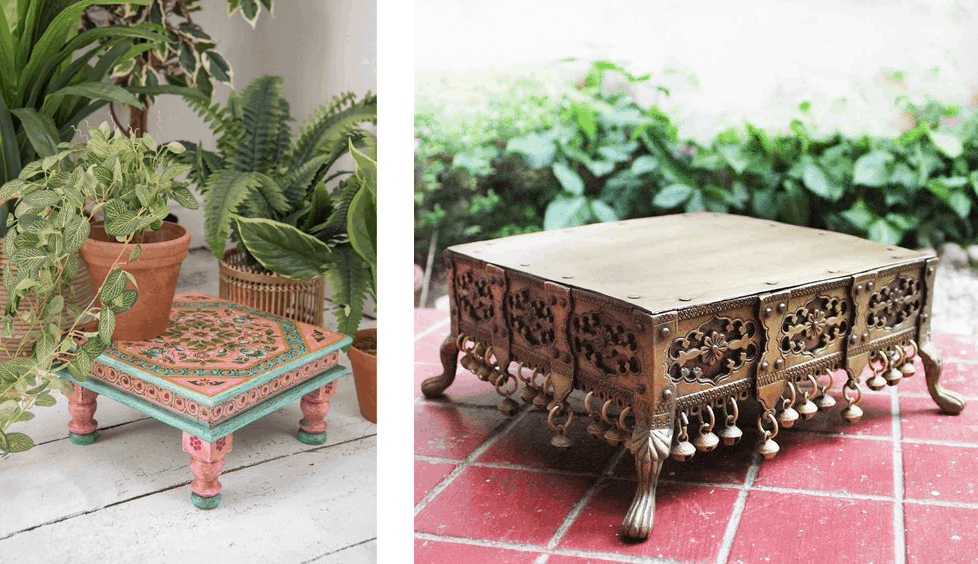 2. Antique Teak Cabinets
Metal might have dominated the contemporary and modern eras but it has been sidetracked because the old carved or painted distressed wood is taking the center stage again. These cabinets have aged like an exotic wine and revived with a character that is as classy as it is alluring. They stand tall and proud against any and all coloured walls, from whites and creams to maroons and sage greens.
These antique cabinets come in varied shapes and sizes. Making them appropriate for everything from cupboards and wardrobes to consoles. It can go in the living, kitchen, dining or the bedroom depending on one's personal taste and requirements.
But these Indian furniture pieces are differentiated on the basis of their shutters. Few, very few of them have glass shutters with wooden frames but these armoires mostly have ornate shutters with wooden carvings or exquisite paintings. In many ways, these shutters resemble the wooden doors of the traditional Indian homes.
3. Indian Ottoman
For all those who don't know, an Indian ottoman is a form of stool or footstool with beautiful traditional fabrics. They can be in the shape of poffee or a cushion on wooden legs. The only common thing between them would be their vibrant colours, textures and prints.
Not just an accessory to the armchair anymore, these Indian furniture pieces make the perfect extra seatings for small living rooms. Once they are used, they can be easily stacked up in the corner of the room. Or for chilling on a balcony with some nice hot beverage on a winter morning, they act as the perfect furniture, unlike the metal chairs that are too cold to sit on.
The only downside of these furniture items is that they might not go well with each and every kind of decor. Even if we want to make them stand out, their appearance can be too contrasting in a contemporary or boho style shell. But as many people are going for the Indian home decor these days these beautiful items are sure making a mark on the market.
4. Trunks
From metal trunks once used for carrying luggage to hefty wooden trunks that were the norm for storage, all of them have come back into modern homes as Indian furniture items. They might not be serving the same purpose in these 21st-century homes but they sure have become an interesting accent piece. They can act as the perfect substitute for centre tables, side tables, consoles, coffee tables, etc.
Let's start with the metal travel trunks first. Their biggest advantage is that they can be painted in any colour and pattern of your choice to make them blend in with the rest of the decor. They are lighter and come in far less variety than the wooden trunks. The lack of variety we are referring to is the general proportion in its size that was slightly standard due to the purpose it served. But when it comes to colours and patterns the metal trunks are the most recommended furniture items. Not just in homes but even commercial and hospitality projects use these as vintage furniture items that are also funky and attractive.
The wooden trunks look as heavy as they are and hence have the potential to become the accentuated pieces of any room. They bring in a character to the entire space giving it not only rustic but also a mature vibe.
You can check out our blog 8 easy rules to follow in Indian home decor on how to easily style these for giving your home an Indian makeover with all these Indian furniture items.
5. Charpoy
The charpoy or the charpai/ khaat is the flagbearer of the indian furniture when one thinks of old Indian homes. Even Bollywood doesn't shy away from depicting old Indian homes with the weary mother waiting for her son sitting on the Charpoy engulfed in some chore. But it's not a prop for movie and television sets anymore as it makes its way into commercial and at times in residential interiors.
The charpoy has been majorly sighted in commercial spaces like hotels designed in the dhaba style or for hosting traditional outdoor events. It has even been adopted into homes as the ideal furniture for courtyards or verandahs. Though it has its own unique crude look, one can style it with some traditional sheets and lively coloured pillows for the perfect look.
6. Wooden wicker chairs and muddas
What comes to mind when one says an Indian wooden chair. More often than less, one thinks of the wooden wicker chair. Many of us can surely remember, climbing over the one in grandpa's old office only to get our tiny leg or hand stuck in the holes that have stories as old as the chair itself. Its time to get this piece of Indian furniture out of the storage for they are definitely getting back in trend these days. Just make sure to get the wickerwork redone.
These chairs were designed in both ornate and plain simple patterns with variations swaying between delicate carving on legs and armrests to nothing more than plain polished wood. The former wooden furniture is adopted by homes with Indian decor and is sighted less as compared to the former. But the plain wooden wicker chair is sure back in production with designers styling them as dining chairs, waiting-area or outdoor furniture.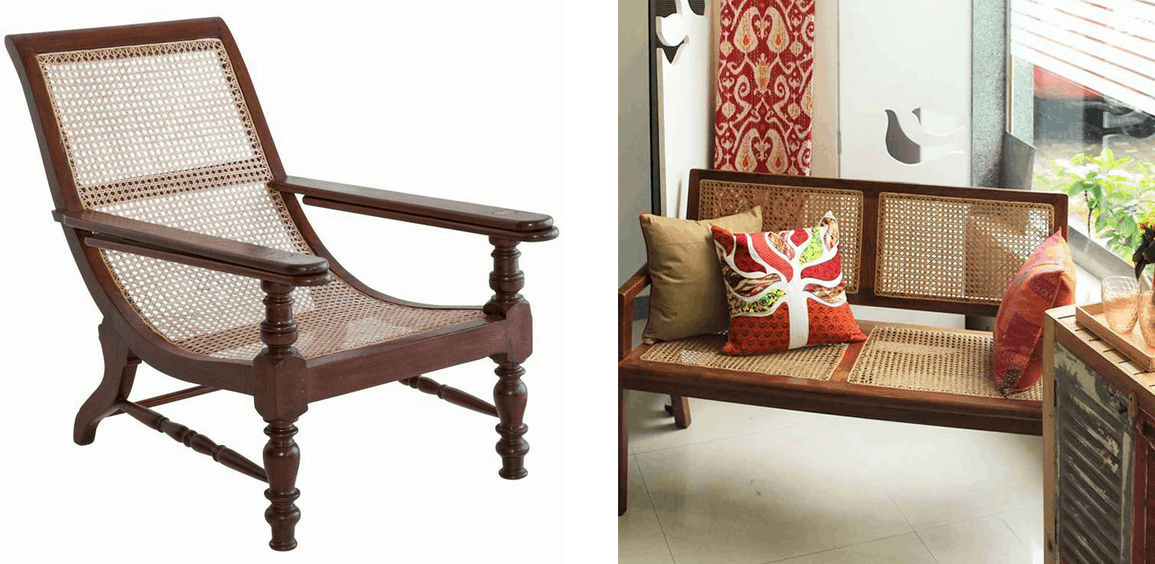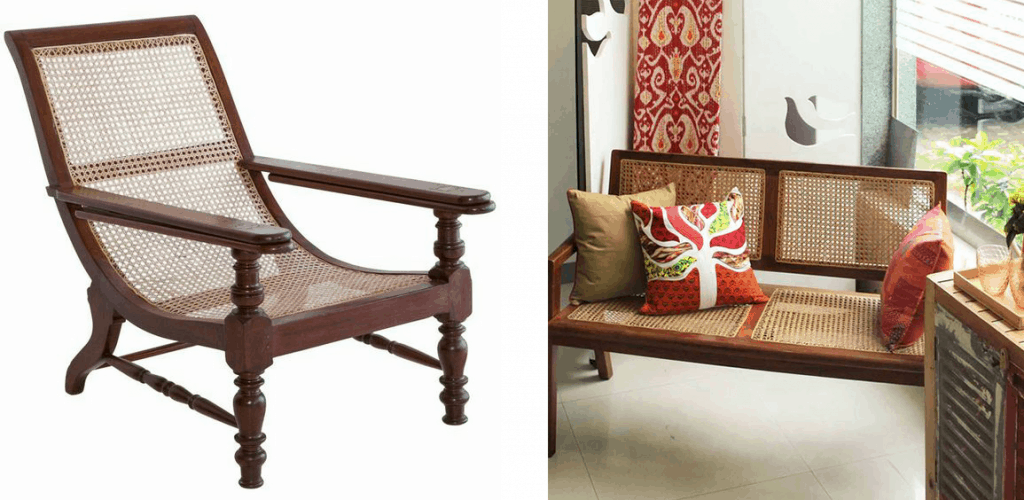 Muddas are stools or chairs made from woven bamboo, the ideal Indian furniture items for a balcony, courtyard or verandah. They are as much in fashion as woven baskets and khadi outfits. Lightweight and inexpensive, muddas come in a wide variety of colours offering the customers a large array to choose from.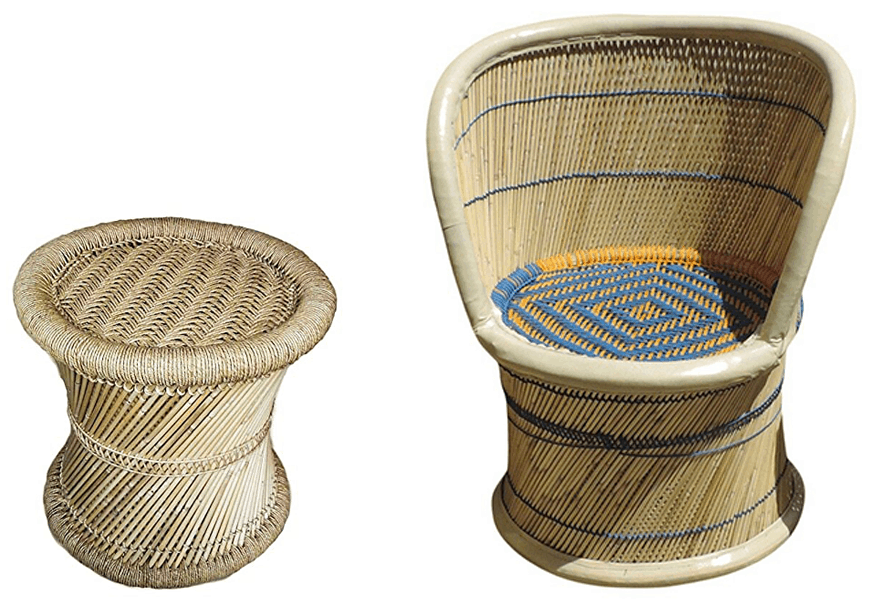 Both these traditional furniture pieces go well in a boho or Indian style home but again, one cannot boldly say they go well with everything. Despite that, they are popular for providing the vintage look and utility they were designed for.
7. Divan
Divan is yet another piece of indian furniture in this list that barely went out of style to make a return. But taking into consideration its growing popularity, it can be considered to be making a comeback into the limelight.
Divan is basically any furniture item laid against the wall, fashioned with a mattress which is either on the floor or on a wooden frame. Though they have evolved into modern times with many different names the traditional Indian divan still holds its value in almost every Indian home.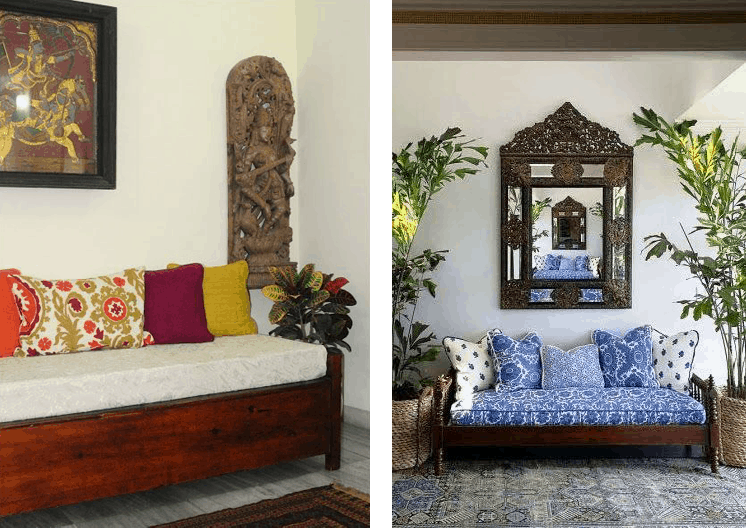 They are the perfect furniture item to add when you require seating but don't have enough space for a huge sofa or armchair. The huge closed divans that open up like trunks give the added storage that Indian homes or almost any home are always in need of.
Also, fashioned with some colours and textures they look great in almost any room of the house.
8. Antique dressing units
As compared to the previous items on the list, these Indian furniture pieces are a bit less popular. The wooden dressing units with nothing more than a mirror and a shelf are sure getting a spot in the 21st century homes. Though some prefer keeping them in their original state with polished shiny faces, most opt for the distressed rustic look.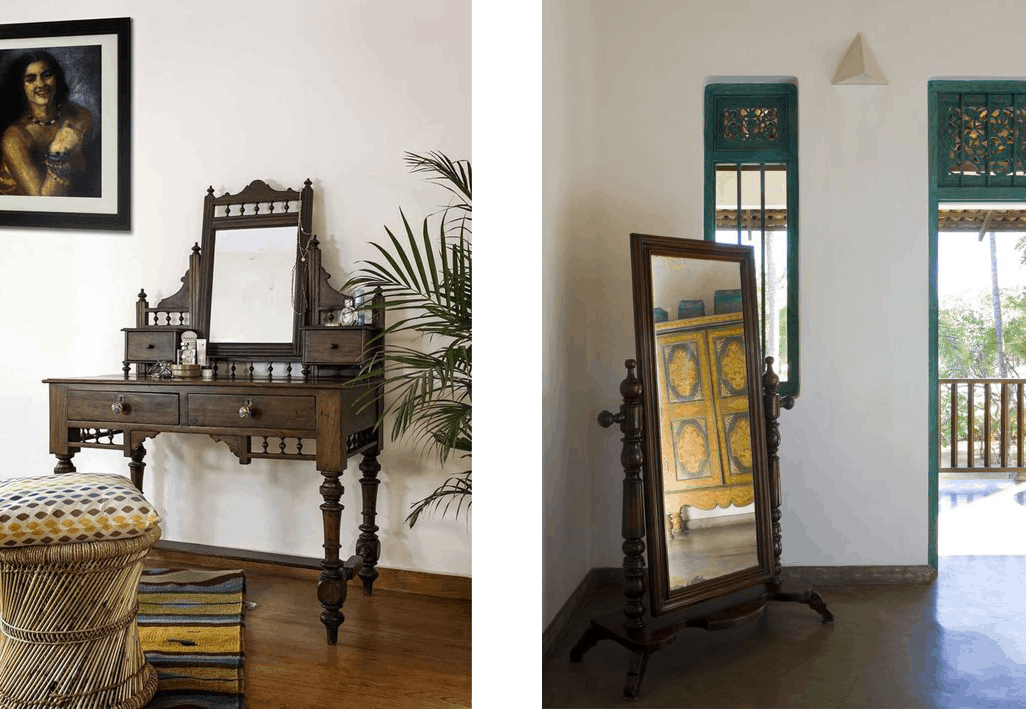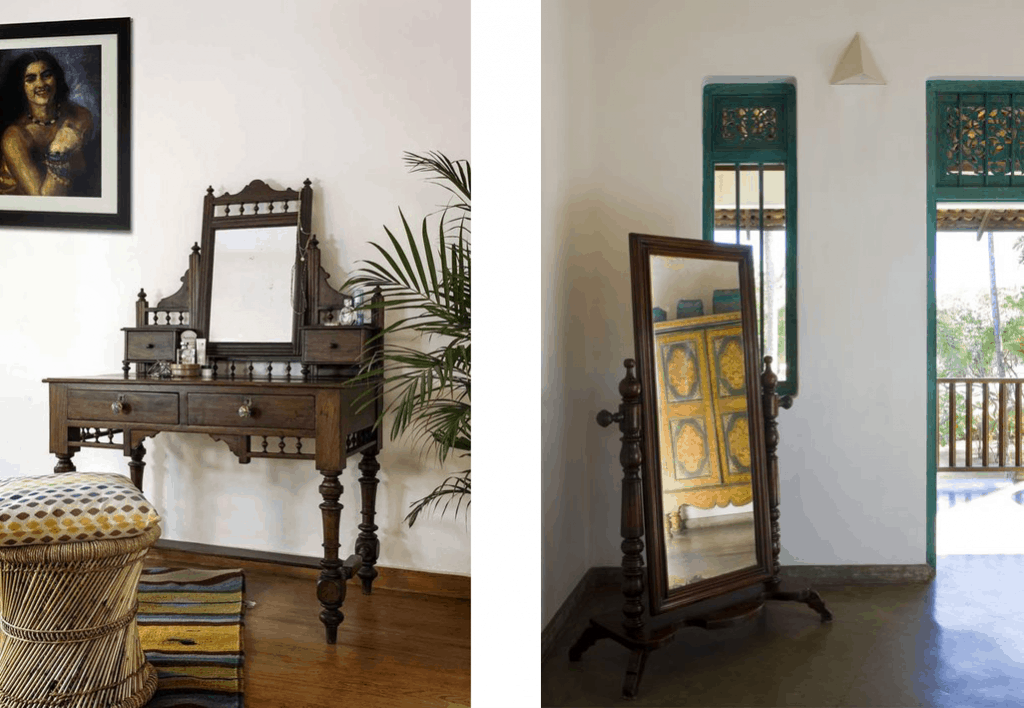 Also nowadays they are not used for dressing but as an accent piece for any room. The huge dressing tables are used as consoles and the smaller wall-hung ones are used to add character to a rather dull wall.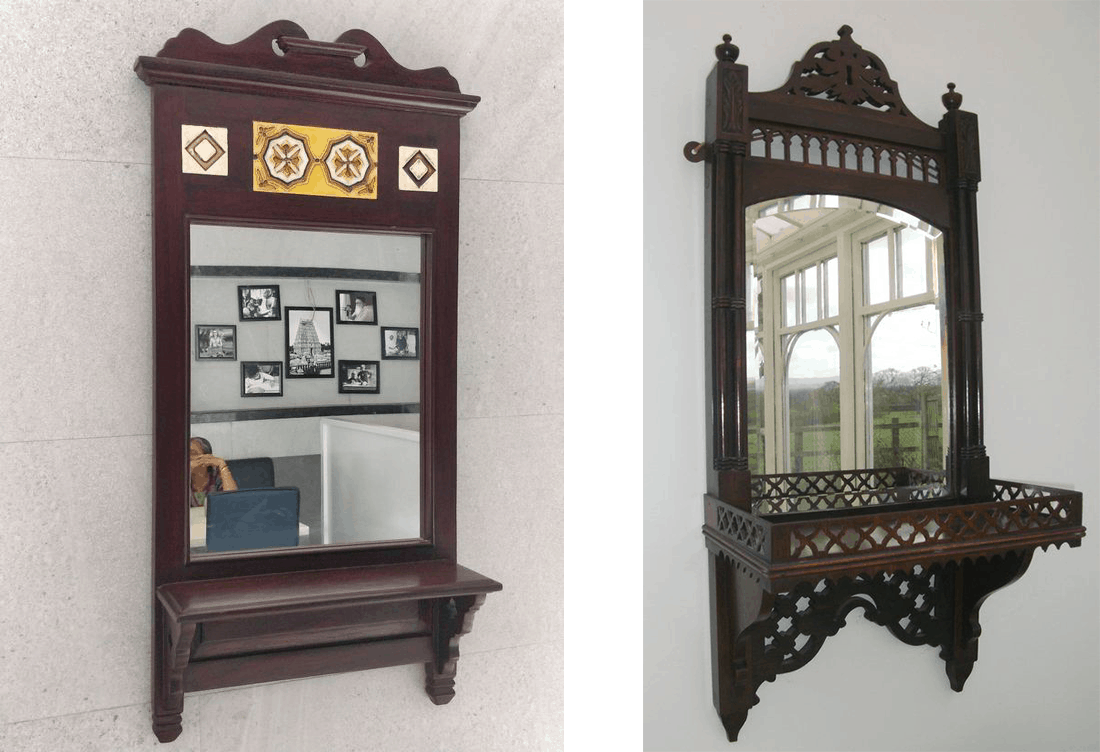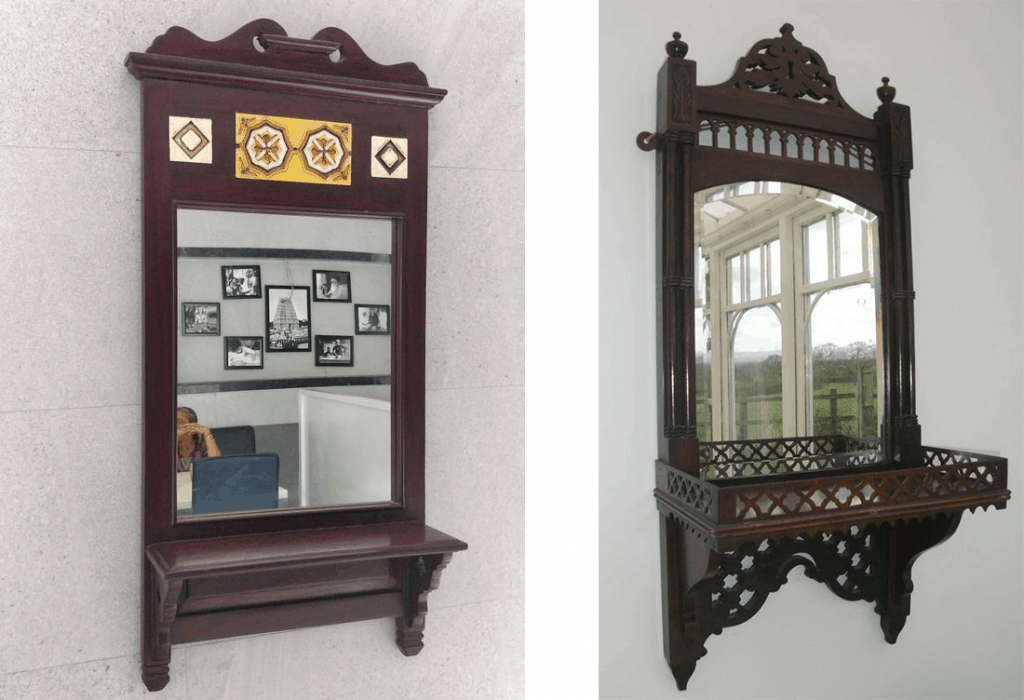 You can read our blog 5 easy steps for selecting the right wall art for your home in case you wish to liven up your empty wall. Or if you are not into art and have to fill up an empty wall amidst Indian decor these dressing tables can surely be a good choice.
9. Carved wooden bedside tables and consoles
If you have a divan or an Indian seating with not enough space to accommodate trunks or other sizeable furniture items, these small side tables are the perfect choice for you. They are also the ideal fit for those who like sleek and dainty furniture. These side tables are carved or painted wooden furniture pieces that can even be used to fill up empty walls or corners.
If you have a divan or an Indian seating with not enough space to accommodate trunks or other sizeable furniture items, these small side tables are the perfect choice for you. They are also the ideal fit for those who like sleek and dainty furniture. These side tables are carved or painted wooden furniture pieces that can even be used to fill up empty walls or corners.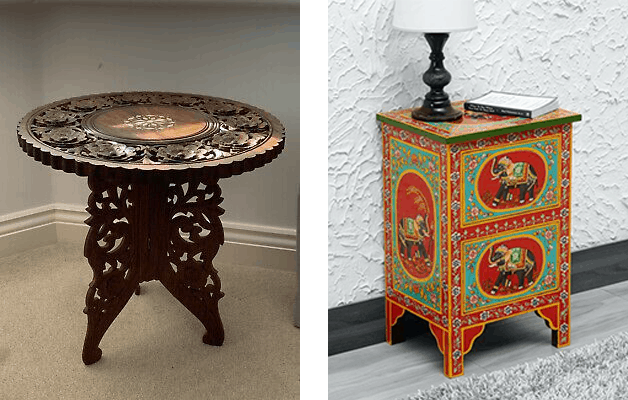 They have a very classy edge to them and come in a lot of varieties for one to choose from. Those looking for a elegant vintage addition to their room make a beeline for the carved wooden tables. While others who like their home to be radiating colours they can go with the bright painted ones.
10. Wooden jaali
Last but not the least, the wooden partition has been in many old households, in and out of India. This is one of the items on the list that has both reincarnated in its same form as well as in its modern adapted versions. As the contemporary and modern styles adapted the essence of it in metal, one cannot declare these items to have been lost in modernization.
The original old wooden jaalis were self standing individual furniture pieces that could be placed anywhere in the house. Many houses still have this Indian furniture not for the same purpose but either to create a visual barrier between two spaces or for adding it as an accent piece.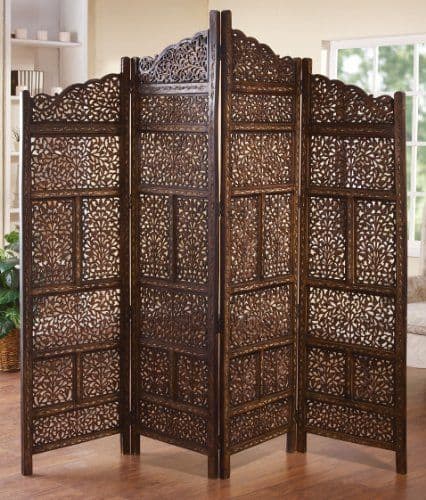 The evolved version is available in wood as well as in laser or machine cut MDF. They are usually installed as a visual barrier and can be cut into any form required using the modern tools. They are painted to suit the surrounding room and even enhanced with lighting to add sciography. Some jaalis are even fixed against the wall to add depth to it. But wherever they might be, one can create the perfect design element with these simple elements.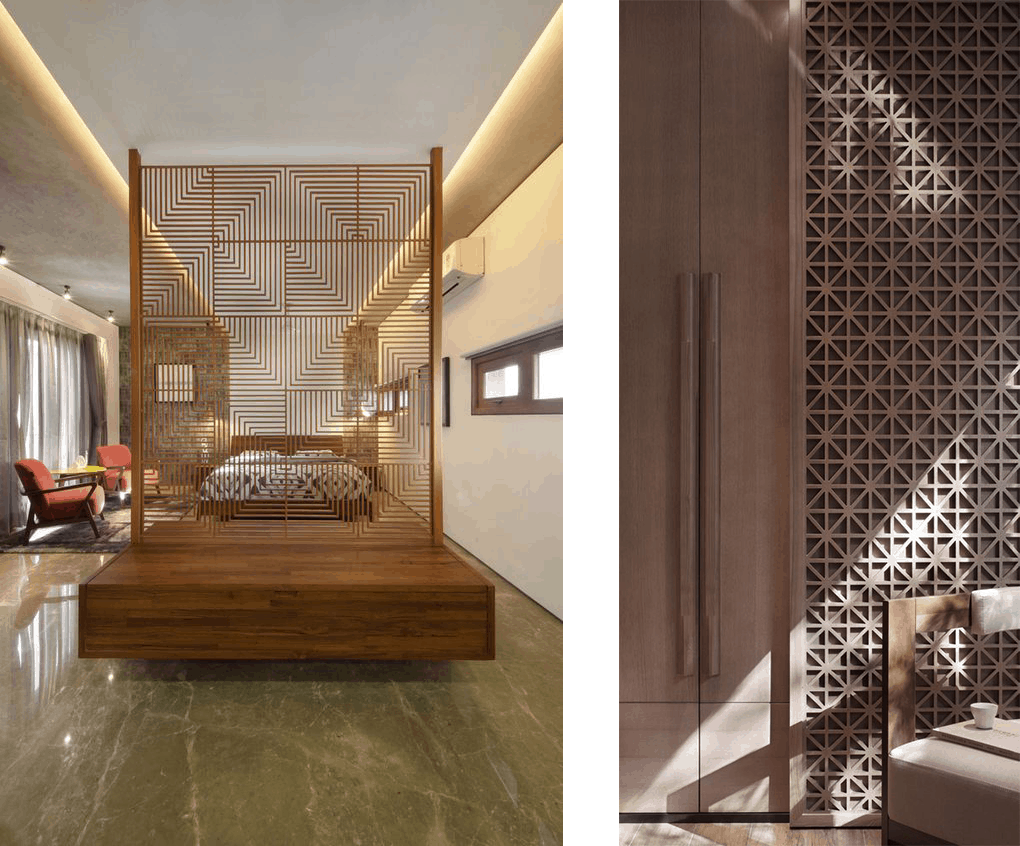 These were all the Indian furniture items that are taking over the modern homes. You are sure to spot at least one or two of these in some form or the other. A few of them are found in office spaces and commercial spaces as well as evolving to fit the requirements in unique ways.
Do you have any of these items stashed in the corner of your storage room not knowing what to do with them? Write to us at [email protected]) and we will gladly like to assist you in reviving your old Indian furniture.
Let us know if we missed any Indian furniture pieces that might be making a stunning comeback. Mention them in the comments below!