Kitchens are a focal point in many homes. They can be an integral space for gathering with family and friends, and hosting dinner parties. But when it comes to choosing the type of kitchen that is right for your home, there can be some confusion about whether you should go with a U shaped or an L shaped kitchen. This blog post will answer five critical questions on L Shaped kitchens to help clarify any doubts you may have!
To all those who have this question of 'Why L shaped kitchen?' in their minds, this blog will help you reach the perfect answer. Not only is it one of the most used layouts for a kitchen but it also has a lot of advantages. This shape can fit into an open concept as well as enclosed between four walls. It has more than adequate storage and is flexible enough to be adjusted into any kind of kitchen space. Most designers prefer it due to its generous countertop, efficient workspace and spaciousness.
An U shaped kitchen is ideal for maximising space and is preferred for homes with multiple families so that they can have their own separate unhindered workspaces. But it blocks all but one side of the kitchen while the L shape leaves 2 sides open. The L shaped kitchen allows you more space for interacting with family and guests while working.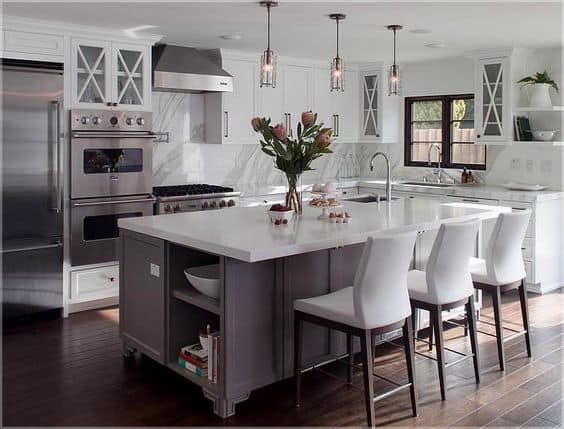 Let's uncover all the aspects of an L shaped kitchen in this design guide.
What is an L-shaped Kitchen Layout?
The name says it all right? An L shaped kitchen is the one whose counter is shaped like the alphabet L. The L shape can be arranged in various ways right from alongside two adjacent walls to having a peninsula projecting out of a wall.

The peninsula can be used when you have a huge open space and want to get rid of the partition wall. In this way, you can use the peninsula as a physical but not a virtual barrier making the kitchen one with the rest of the living-dining space.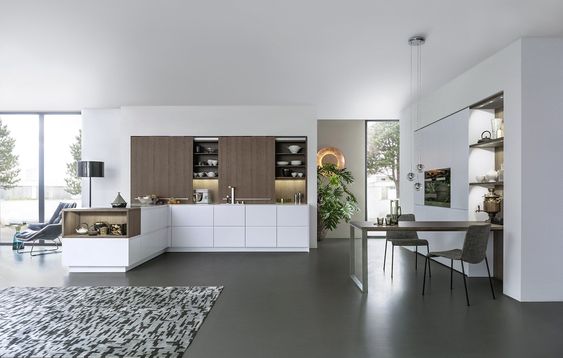 The L shaped kitchen allows one to add an island counter owing to the ample open space available. This counter can be used for storage and additional counter space. If your kitchen is a bit small you can even simply design a breakfast counter with stools. It eventually depends on what the client needs his or her kitchen for.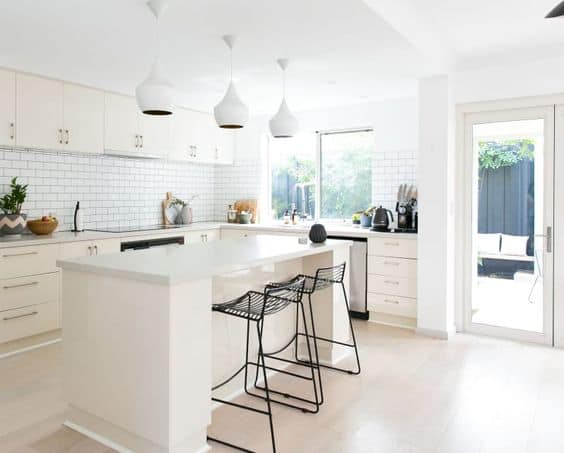 Amongst the two options mentioned earlier, the L shaped counter along two adjacent walls is very popular. This layout is optimal for accommodating all the appliances in the right places leaving more than enough circulation space. It can help you create an open floor plan thus allowing more scope for interaction.
What are the Pros and Cons of this kitchen layout?
Pros of L Shaped Kitchen Layout
Ample of countertop and open space
The main advantage of an L shaped kitchen is that it is spacious and offers a lot of counter space. The counter stands along two adjacent walls leaving the other two walls and the space between; empty. The circulation space for all the activities becomes more optimized as the appliances are not too further apart and do not interfere with the passersby of the kitchen. This traffic is created the most in a parallel kitchen where it is difficult for two or more people to work at the same time but it is resolved in the L shaped kitchen owing to its open space.
There are instances where an L shaped counter is created in a much smaller space. Check out 8 Easy And Effective Compact Kitchen Design Ideas | Alcove Studio to help you with a few tips on designing the confined space that is optimized and more functional.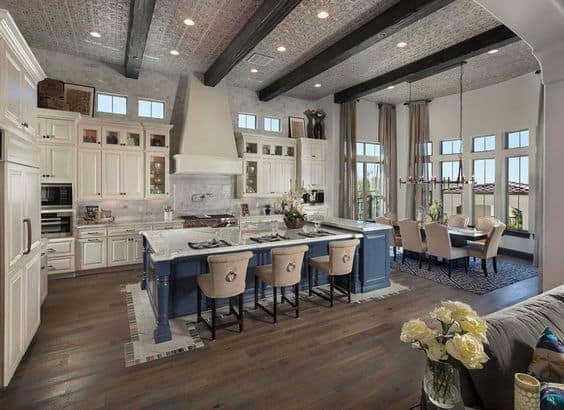 An efficient work triangle
The L shaped kitchen is popular for its perfect work triangle created by joining the sink, stove and refrigerator of the counter. This triangle needs to be uninterrupted by appliances or any other kind of physical barrier and the L shaped kitchen offers just that. There is cabinet space above and below the counter thus making it optimum for storage. And the storage being in the work triangle makes it easier for anyone to cook because all the ingredients and equipment aren't that far away from each other.
Ideal for interaction
Additionally, it provides an open floor plan which can be great for family gatherings. As explained earlier, the counter allows two distinct circulation spaces separating those working in the kitchen and those who aren't. This allows guests or other family members to talk and interact with those who are cooking. Many times if the kitchen is big enough, one can accommodate a breakfast counter or a small table where the non-cooking members can sit while the cooking is taking place.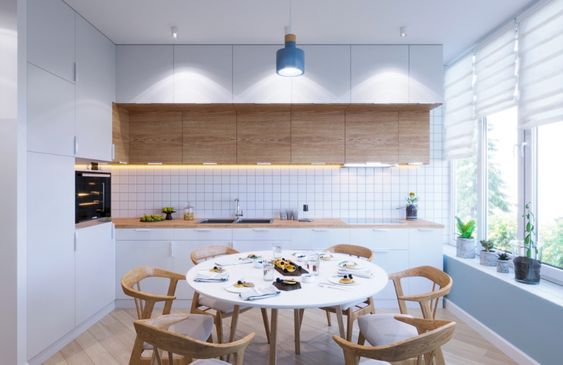 Cons of L Shaped Kitchen Layout
Impractical for certain kitchen spaces
First of all the L shaped kitchen typically has tight corners or dead ends, which means you might not want this design if there's insufficient natural light in your home! That is if you have a huge window in the kitchen flooding the space with light then you would have no problem.
Mishaps in sink placement
To explain the second disadvantage one needs to understand how sinks are placed in a kitchen. Their location is decided on the basis of the work triangle and the existing plumbing of the house. Most designers try not to amend the plumbing too much for it is infamous for its mishaps. Hence preference is given to the layout where minimum service-related changes are involved. This might at times place the sink in a corner of the counter and make it difficult to access it from one end. If not designed efficiently it might ruin the tight work triangle which is actually its advantage.
Inaccessible corners
The last disadvantage of this layout is its corner. The shape creates an intersection that is hard to access and hard to clean making it a big hindrance for this design. But right now there are multiple hacks to designing a tight corner using it properly will make it an efficient design.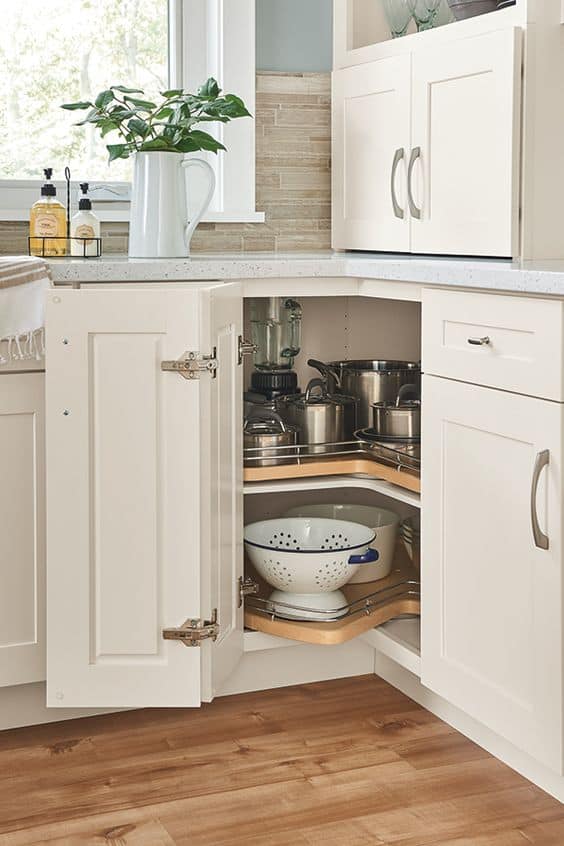 What are the frequent questions to ask while designing an L-Shaped Kitchen
What are the activities for this kitchen? (cooking, eating, socializing, etc)
The answer to this question will help you decide on what kind of counter shape space you are designing requires. Depending on the activities proposed primary as well as ancillary, a designer comes up with a layout most suited to them. For example, if the kitchen is solely dedicated to cooking then a U shaped layout will be more suitable. Or if the family doesn't like to socialize while cooking and eating and a kitchen wall has a huge window with a balcony then you can propose a peninsular L shaped kitchen here the counter acts as the semi partition between the two spaces.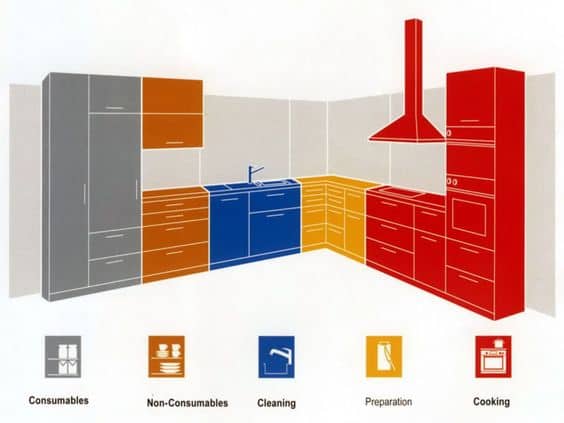 What is the flow of traffic in this kitchen?
This will help you determine if your needs require a U shaped kitchen with more counter space for food preparation and storage or an L shaped kitchen that's better suited to socializing. For example, if there are two or more people cooking in the house then one has to make sure that there is more than enough unhindered circulation space.
What are the dimensions of this kitchen?
The first thing one requires as an architect or an interior designer before starting design is the dimensions of that space. In order to propose an l shaped counter the minimum width required is 36". If that doesn't fit then you are better off selecting a different layout. Make sure to check the dimensions of every element of the design and open spaces including the sizes of the clients existing appliances or the ones they plan to purchase. If you go ahead with simply standard sizes it might be inconvenient for the user.
OR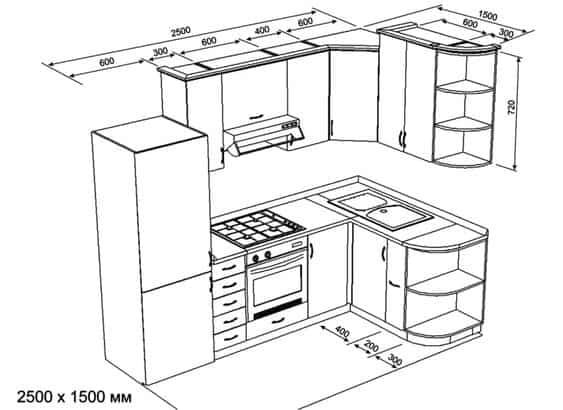 How many cooks can fit in an L shaped Kitchen?
An L shape Kitchen can accommodate two cooks at the same time. This is because of its open layout which means that there are no walls blocking a cook's access to food and cooking equipment, or for other people in the kitchen from accessing the space while not interrupting the workspace.
Once you have all the dimensions and functions in place, here are a few additional questions to help you come up with a design that most suits your space:
How is your work triangle and circulation space?
How many appliances need to be accommodated and where?
Do these appliances work well together or can they interrupt the work triangle?
Is there a proper electrical connection at the proposed locations of the appliances?
How many storage cabinets are required and where do they go?
Is there space left for people to walk by and not disturb the one who is working?
If the cook wishes to socialize where can seating be proposed without compromising the kitchen's integral functions?
What is different in L shaped kitchen from other designs
L Shaped vs U Shaped Kitchen
When an L Shaped Kitchen is compared with a U- Shaped Kitchen, the main difference that comes out on top is the laters more traditional feel. This means u shape design is better suited for homes with an older style or where the kitchen is not central in terms of living space as it is located a bit away. The main advantage, however, is that there is less wasted countertop and storage because it has an entire arm missing when compared to the U shape.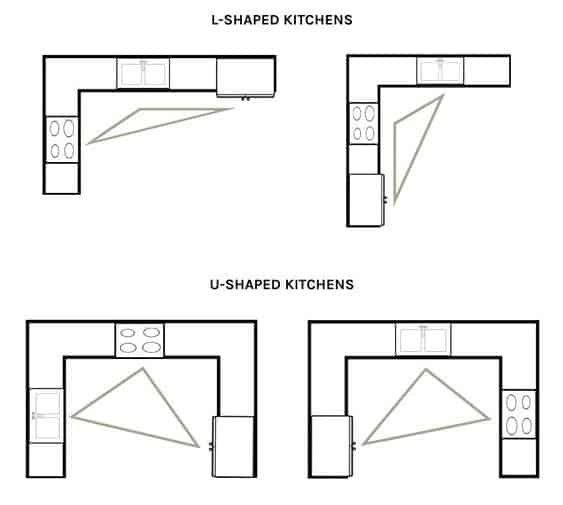 L shaped Kitchen vs Open Kitchen Design
Open Kitchens are typically more spacious than L shaped kitchens which is kind of given owing to the fact that open kitchens are designed to create a more easily accessible concept. This means they're better suited for homes with spacious kitchens with lots of natural light or a large family or where people like to cook together. You can read more about open kitchen design
The main disadvantage for an open kitchen is you might not want it if space is an issue because it is hard to create an open layout in an already congested space. Also it is not recommended for people who look at cooking as a chore or a task and like to keep their kitchen space as tight as possible without any unnecessary extra space.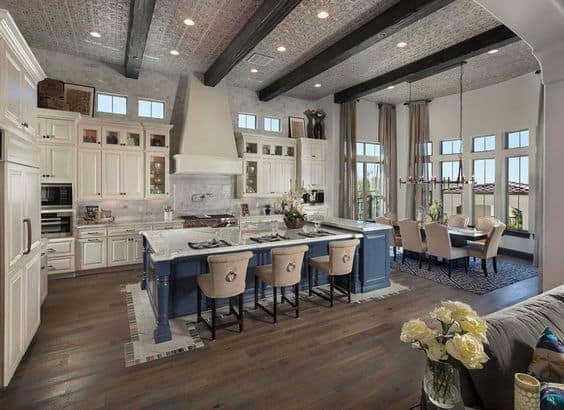 What are the tips for enhancing an L shaped kitchen?
With all the basic and essential elements in their place, it's time to think of the decor, the finishes and the final look of the space. This involves selecting all the materials and fixtures that will go in their proposed spaces to complete the decor. Here is a checklist for the things you should not miss:
Flooring
Cabinet designs
Finishes and accessories
Fixtures and appliances
Furniture (if any)
Lighting and ventilation
Electrical layout (switches and safety)
Focal feature (if any)
Once that is covered we can move on to discuss ways to enhance your design by adding or altering certain aspects of the design. Sometimes changing small things can make a big difference to the look of the functionality of any space and these small changes cannot be overlooked.
These are a few tips we think you can work on to enhance your L shaped kitchen.
Check the work triangle
Though we have talked about it in extensive detail we are still mentioning it because of how important it is. The maximum distance from one vertex of the triangle to another shouldn't be more than 2-3 steps. If it's spaced too far apart, cooking will seem like an exhausting marathon while running from the stove to the sink and to the workspace as they aren't within your arms reach.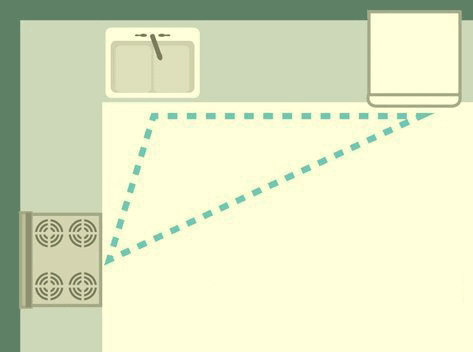 Add an island counter
If there is more than enough space left behind the workspace one can add an island counter in there. It not only offers an alternative workspace that isn't too far away but also can help accommodate some appliances and storage. One can use it for chopping vegetables or placing the prepared food before carrying it all together to the dining. The counter can be used as a breakfast counter as well with the addition of some sleek bar stools or high chairs.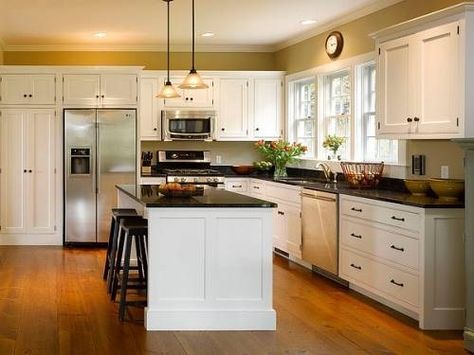 Find the right fixtures
Though the kitchen has very few fixtures as compared to the bathroom a wrong fixture can ruin the entire vibe of the space. The finish needs to go with the rest of the elements and it also has to be functional. There is an array of selections to choose from with multiple brands, styles, colours, designs and sizes at your disposal. So don't shy away from looking for a tiny tap because that might turn you to be the game-changer in our design.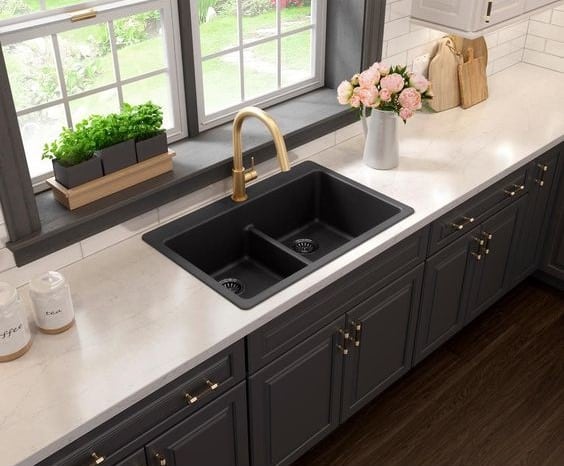 Shelving units and cabinets
These are some of the most crucial elements in a kitchen, especially an Indian kitchen where there are so many items that are stored here and there. They require open as well as closed storage based on their items and hence the design needs to take that into consideration as well. The spices are stored separately from the flours and need to be in easily accessible locations. Some kitchens have glass shutters to give an open feel to the kitchen while some have heavy carved wooden doors. Though these are two extreme examples you can feel free to choose something that suits your decor.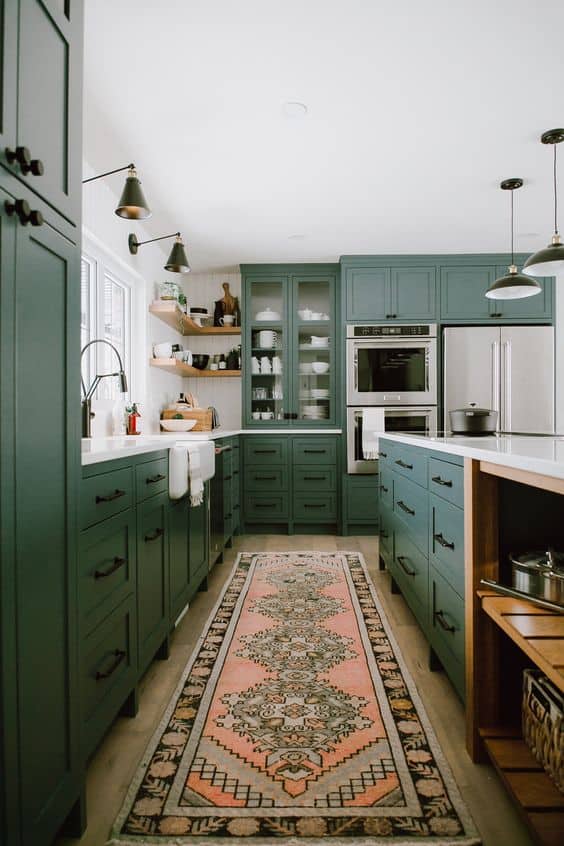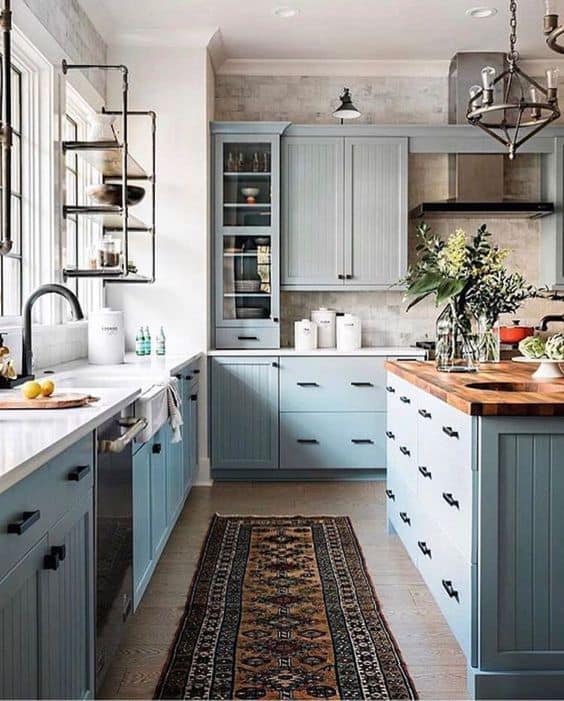 Another thing, Indian kitchens are famous for the tadka which though smells delicious is disastrous for the kitchen surrounding the stove. The oil specks splatter all over the place and hence one must make sure to use materials that can easily be cleaned and won't be damaged owing to it.
If you have any queries that you'd like us to answer in terms of an L shaped kitchen or topics you'd want us to write about please mention it in the comments below and we'd be happy to answer you.
And in case you have a kitchen in your home just begging to be designed into an amazing space feel free to mail us [email protected].