A checklist to enhance your open kitchen ideas
What is an Open Concept Kitchen?
An open concept kitchen is a layout where the wall between the kitchen and living area is eliminated to design them as a single space.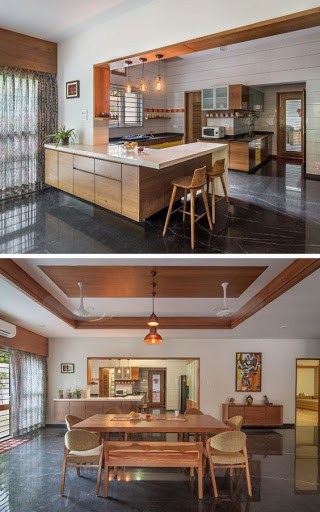 While a kitchen is commonly a hidden space relegated to one end of the home, an open kitchen blends with the interior design of the living area. The idea is to showcase the same elements of style and design in the kitchen, as in the rest of the house. At times, an open kitchen can even be designed in sync with the outdoor areas of a home to allow for entertaining and outdoor dining. This concept is well adopted in second homes, farmhouses, and villas with a kitchen garden.
Wholesomely, the idea behind an open kitchen is to welcome openness to display the design or modern engineering and appliances of your kitchen, to include the family or guests in food preparation while everyone interacts. Also, it helps to create (some) more space by avoiding as many structural divides within a space.
Evolution of an open kitchen design
The surge in need of housing post-World War II made a huge impact on the modern kitchen design. The increased demand for kitchen technology, appliances, and equipment inspired homeowners to tear down the walls of the well-kempt kitchens. The idea here was to make the kitchen quieter, cleaner, better organized, and a place worthy of entertaining guests.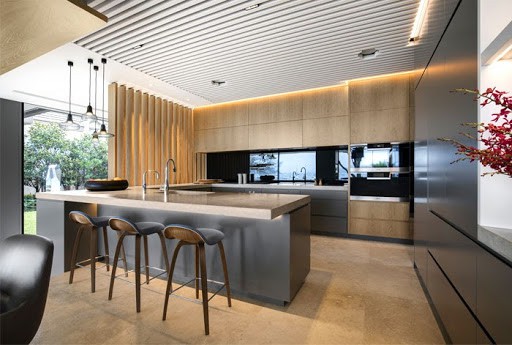 In the 1960s and 1970s, as the world economy progressed, the idea of open concept kitchen gained impetus. A renewed interest in home cooking, kitchen utensils, and entertainment helped redefine a quintessential kitchen design. The kitchen then became a source for improving culinary skills, displaying designer cookware, and becoming the heart of interaction and activity. As we approached in the 1980s, the idea of a completely open kitchen, came into being.
Does an open kitchen design work in an Indian home?
Indian households have always considered kitchens as a place of gathering and interaction. Traditionally designed for interaction of just the women, kitchens were designed to accommodate a large number of people to get together and cook. However, as we have now shifted into smaller metropolitan apartments, the idea of a larger-than-life kitchen is no less than a dream.
As the idea of entertainment and interaction is something that an open kitchen plan offers, it is an idea that suits our roots and socio-cultural needs. If you are fortunate enough to create an open kitchen and wish to design it in Indian decor, check out 8 Easy Rules To Follow In Indian Home Decor | Alcove Studio for a few tips.
However, if you are living in an apartment, the first thought that comes to mind is about the lack of space. We fear that our homes aren't large enough to accommodate an open kitchen design. However, the most crucial factor to consider before anything else is your and your family's personal preferences and lifestyle.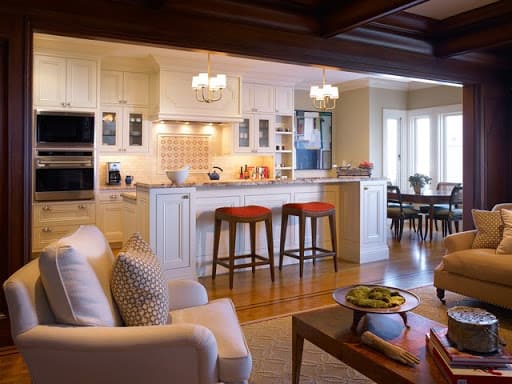 If you are opting for an open kitchen, then here are some points that you need to consider:
Smell: Indian cooking requires generous use of tadka and spices which gives rise to a strong smell. In oil-based cooking, the steam tends to wander outside the room despite chimneys, attaching themselves to other surfaces. An open layout facilitates the spread of vapor which will carry the odor all throughout the house.
Noise: Cooking in India is incomplete without the whistling of the pressure cooker, running of the dishwasher, mixing of the grinder which can be unpleasantly heard in adjacent rooms.
Presentation: The cutlery and utensil involvement is huge. A high variety of dishes in any meal of the day make the kitchen platforms a messy place which disturbs the presentability. Another consideration is that Indian cuisine is made on fire. It ends up tiring the person involved in cooking it, leaving the person less presentable to outsiders. If you have a maidservant to your help in the kitchen, then their presentation also matters.
Things to remember when designing an open kitchen
1.Create clear zoning demarcations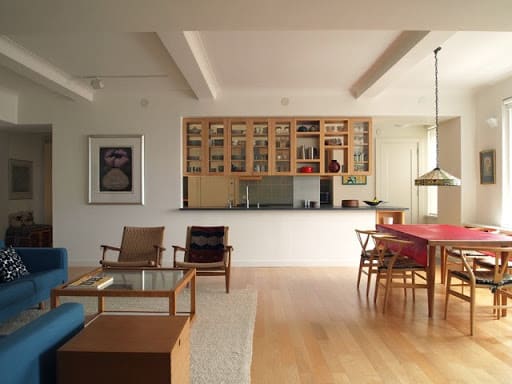 While designing an open kitchen, one needs to figure out how can the spaces be segregated without a lot of physical barriers. This needs to be done to ensure that there is no functional overlap that takes place in the process. The kitchen work triangle needs to be optimized through your zoning.
To demarcate various kitchen zones such as preparation zone, cooking zone, serving zone, etc. one needs to make use of non-physical barriers. Some ways to achieve space demarcation are:
The difference in flooring material
Adding a rug
Adding some light
Planning an island
Opting for half-height or perforated partitions
2.Put your style on display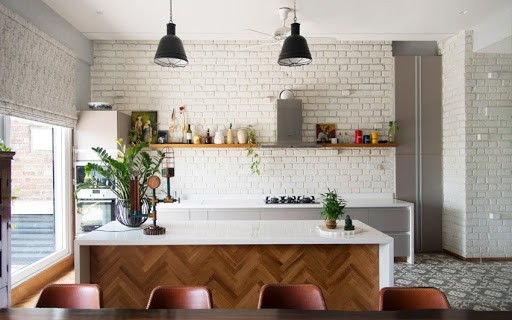 If you've invested in a neat kitchen design with the best appliances, neat cabinetry, and innovative fittings, there's no reason to hide it away in a corner of the house. The idea is similar to how your living spaces reflect your personality, an open kitchen design will be an extension of this. Use the kitchen backsplash, cabinet finish, and blank walls as a canvas to reflect your lifestyle and choices. Be vocal about it through art, appliance, and utensil.
This can be as simple as placing a vase that you like alongside the kitchen island or as huge as a mirror on the sidewall. You can even depict your food habits, cuisines and likes to add the tinge of appetite building to your kitchen design. For more information on a few Interior Design trends, take a look at Top 5 Interior Design Style We Are Crushing On! | Alcove Studio.
3.Have clean finishes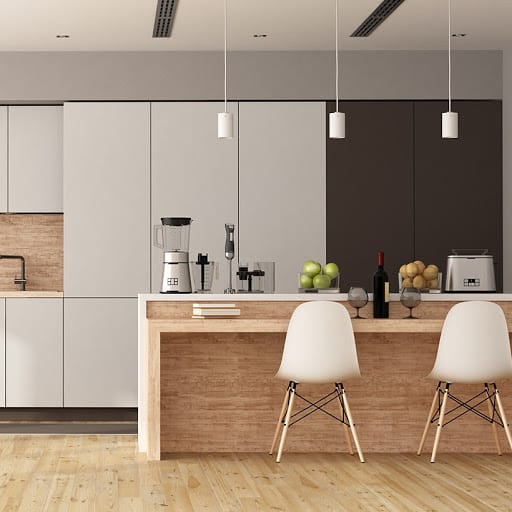 An open kitchen looks best when sleek. Although, it is again a personal choice with what style you like the most. Even a vintage or traditional Indian design looks good, given one has that kind of space to accommodate the intricacies.
If you have a comparatively smaller kitchen, we suggest that you opt for minimalistic, contemporary designs. Even if you have a big kitchen, choosing clean, linear finishes always helps to add more clutter-free vision space. Do not opt for more than 2 colors for surface finishes in the kitchen.
Narrow down on colors and laminates that blend well with the light and create a calm soothing environment. When deciding on surface finishes or even appliances, make sure that you go for non-bulky and less dense forms. The more cool, comforting, and well-lit an open kitchen looks, the more does it serve its purpose.
4.Design as a continuation of the living room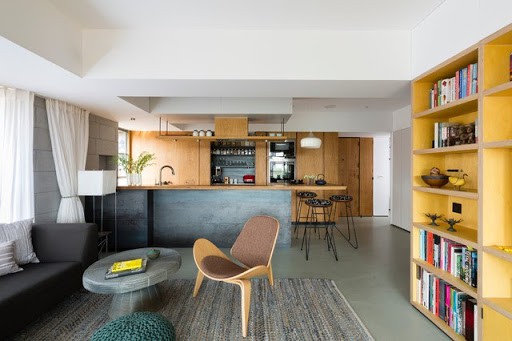 Since an open kitchen design is associated with the idea of putting down the walls between the living area and kitchen, it is important to design the spaces in a similar fashion. It enables more interaction and flexibility of space usage. Therefore, these two spaces need to seamlessly blend into each other in terms of forms, colors, textures, grains, volumes, fabric, and art.
Consider the kitchen as an extension of the living room however, assure enough sound and odor insulation. Try to build a common space between them, such as a dining table or a kitchen island, or even a window that serves as an interaction ground.
5.Allocate space for a kitchen island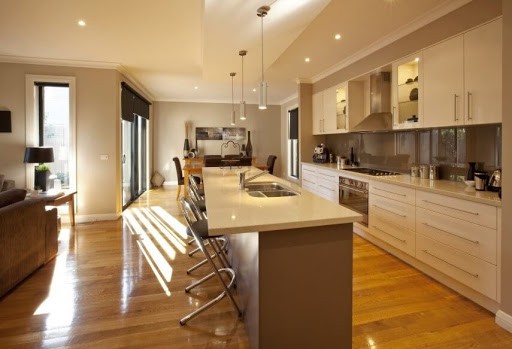 If your kitchen size is small, you most likely won't have room for an island and a breakfast nook. Therefore, we recommend that you choose an island that'll do double duty—you can use it as counter space when you're prepping dinner, and eat at it later. With nicely heightened chairs on the other side, it serves as a coffee table too. For anyone working from home can also multitask cooking on the counters with setting up the laptop and work papers on the island. A kitchen island completes the look and feels of an open kitchen. It also adds some generous storage for your kitchen utensils and cutlery.
6.Declutter the space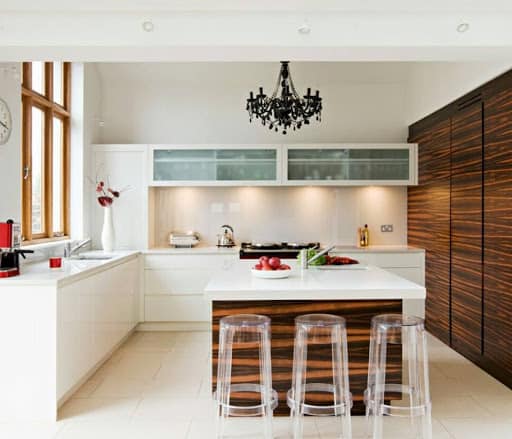 If your kitchen space is limited, then it is beneficial for you to keep the design minimalist and keep clutter to a minimum. It would help if you stayed organized so that you can enhance the look and beauty of your kitchen. Do you need 25 extra bowls? Pare down your kitchen stuff to the bare minimum and you'll be surprised how much space you have. That way, your textural materials can pop. If you're adding shelves for storage, you don't want them to look cluttered. Arrange bowls and mugs by color so everything feels cohesive. Skip bulky hardware on your cabinetry and drawers. It'll help your space look more streamlined and sleek.
7.Think through modules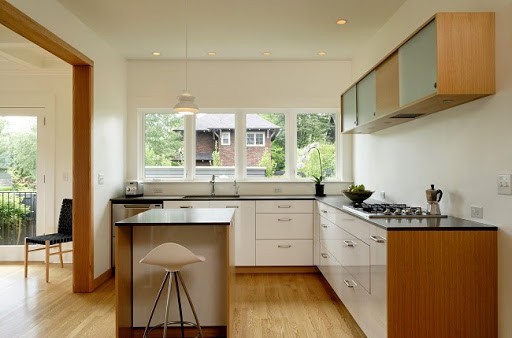 Since noise insulation is one of the top concerns of an open kitchen, you certainly need to opt for easy close cabinets. You can go for soft close drawers and tandem boxes, instead of wire baskets. They are almost noiseless and make for efficient kitchen modules. Make some research and have solid groundwork. Visit experience centers and narrow down on these choices. If you are thinking through redesigning an existing kitchen, you must check out these kitchen remodeling hacks. 
8.Prioritize ventilation in an open kitchen design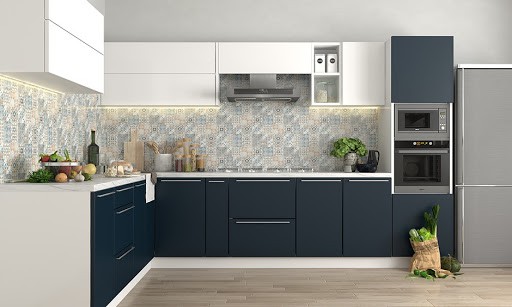 Ventilation is one of the key factors for any kitchen design. Especially for an open kitchen in an Indian household, the odor of spices and dairy can easily spread over the living room. Although food helps you to build the appetite, it can feel unpleasant to cough on a tadka while guests have come over to your place. Therefore ensuring that you design for a good amount of natural ventilation is a must.
Alongside, one needs to get a chimney installed. The main function of a kitchen chimney is to extract heat, smoke, food odors, and airborne grease, using its internal fan and filter. Also, if you are wondering how to select a chimney, you can dive into this article to choose the one that is best suited for your needs. 
Designing an open concept kitchen can be an overwhelming task. It gives them the freedom to try out unconventional patterns and finishes of design. While it is an emerging concept in India, largely preferred by the millennials and gen-z population, the mid-age people are also finding solace in how this concept is helping break the barriers of interaction. This concept is more than just a trend and is here to stay.
If you are hesitant to put the entire wall down as yet, we suggest you begin with perforated screens. Also, open kitchen designs can be a costlier option as compared to a closed kitchen, but one can opt for it if they believe in an open house plan. So, if you are planning to go for an open kitchen design soon, do keep our above-mentioned checklist handy to ace the kitchen design.
However if you have limited space and wish to create a more compact kitchen, you can find some amazing tips at 8 Easy And Effective Compact Kitchen Design Ideas | Alcove Studio.
We are sure that considering these things will help you achieve that perfect open concept kitchen look. Do write your success stories to us in the comments if you find this checklist helpful! If you wish to receive a customized open kitchen design solution, you can also reach out to us here.