[5 minutes read]
Quick links:
Let us first understand:
What is Fringe Interior Design?
Give an edge to your decor, literally. Turn to tassels and fringe to give a flirty edge to home decor accents.
Fringe is a fun embellishment that highlights and accentuates. This humble purfle can transform even a sorry looking side table into a boudoir accent. From hippie ensemble to Art Deco-inspired home decor, the fringe design trend is bringing back the retro, jazz era back and how!
The Fringe Interior Design
On being runways favorite
---
[metaslider id="8363″]
Fashion inspires and how. Designers run by the inspiration folder.
Chic silhouette, edgy gothic to street style, the ensemble story always has a bygone glory attached to it. Fashion repeats itself.
Take 'fringe' for instance. Originally associated with nomad clothing, this flirty embellishment has found its deck. It's everywhere now.
Leading designers like Yves Saint Laurent, Hugo Boss, Anna Sui love mentioning this elvish edging in their collections. From rock n roll style fringe jackets, suede boots to bustier gown, the tassels sure know how to turn heads.
The indoor invite
---
Straight from runways into our homes, 2019 set the interiors to sway in retro style with frisky hems.
Be it a couch, cushions, lamps and more, home decor accessories are seen getting decked up in a fringe. It's fun and flirty. It adds a refreshing outlook and texture to sleek, minimalist spaces.
The history of rebellious edge
---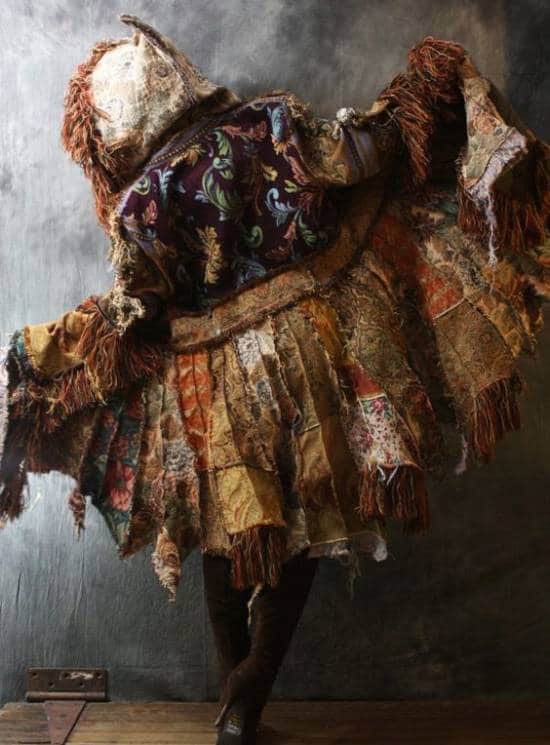 Mesopotamia (Present-day Iraq) in 3000 B.C originated this coltish style. The hemline embellishment was added to skirts and shawls that either hung straight or were knotted in eccentric designs.
Native Americans too were one of the first pioneers in incorporating fringe into their clothing.
On the home decor front, the fringe has a yellow paged history too. Tassels were used for furniture to keep the upholstery textile trims from unraveling. The fringe border kept it safe from fraying plus it looked better as a border too.
From Victorian lampshades to hippie style 60s curtains, the fringe trend has always been making the rounds in fashion and decor.
Art deco and fringe: A tight knot affair
---
[metaslider id="8367″]
Remember Baz Luhrmann's The Great Gatsby, a 2013 melodrama based on a fiction novel where a cast of characters lived on a prosperous land called West Egg?
It tackled the Art Deco design sumptuously. From 1920s flapper costumes to glamourizing antiques, the opulence has Art Deco sheen to it.
Art Deco style came into being between the two world wars. Pouring self-expression into the fashion, literature, sculptures felt needed. The walls, the accents, the panels, ooze rich detailing. It's artistic yet downright flamboyant.
It is said that Art Deco Design is not for the faint-hearted, for it uses opulence like nothing else!
This nouveau art style's love for fringe is open and exaggerated. Native American and Egyptian Heritage artifacts, mirrors, lamps feature a fringed edge that gives it a never-ending touch.
Click here to read more about Art Deco
The fringe benefits: A portrayal of the curious hemline
---
The furniture sits pretty fringed
Fringed Sofa
[metaslider id="8373″]
Why hide? Details are there to showcase and celebrate. Unabashedly.
Furnishing accents detailed with an embellishment makes it look bold and profound. You notice it immediately.
A fringed sofa is a great way to add that extra chutzpah in a living room or entertainment room. It's a great conversation starter piece. The sofa seat adorned with cushion fringe brings in extra texture and a vibe that says when in doubt add a fringe detail.
This pink velvet fringe sofa is a perfect example to give an ode to Art Deco style, where furnishing accents are bold and beautiful. And they always do portray a signature fringe.
Here, the three fringes leave a definite trail that runs along the front and reverse of the wide seat, set against a curved backrest that looks fun, flirty and classy.
Baby Alpaga Side Table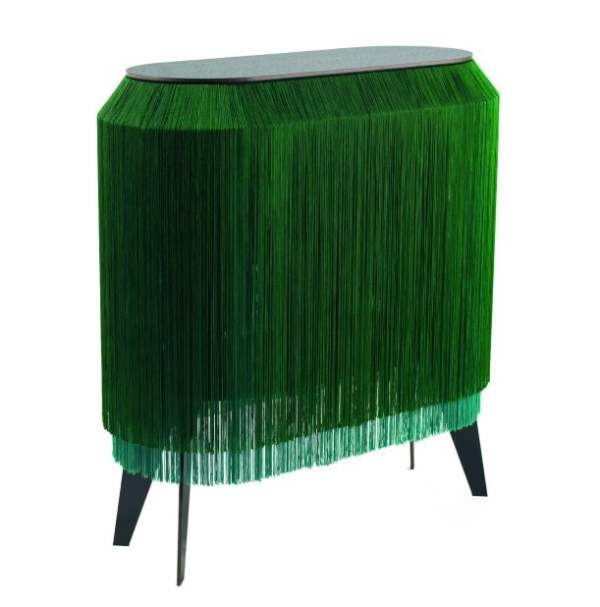 The fringe is a charming trim. The length, be it longer or shorter impresses equally.
But, here this thing about a longer fringe that almost appears like a complete ensemble or an adorned cape. Fringed furniture is a bold investment where the look is often dramatic and downright stellar.
A common decor rule – Don't ignore the side corner. When it is screaming for attention, give one with this eye-catching Baby Alpaga side table. It is adorned with a flapper girl inspired fringe which gives a teasing silhouette.
Here, the long fringes speak louder.
This fringed console's long trim has a two-fold purpose
It's a great alternative to a plain side table
It conceals the open storage shelving, adding an interesting layer of fabric that's tall and trimmed. This side table will make a charming addition in any boudoir
Fringed bench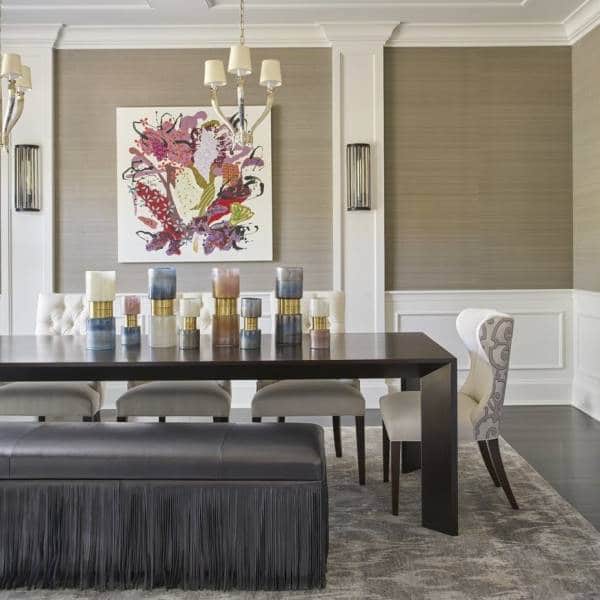 A plain bench, definitely a passé'. These end of bed humble workhorses are a bedroom staple, an extra settee that is often kept basic and functional.
But, it can get dolled up in a purfle. The added fringes upgrade a bench instantly. A fringed bench makes a perfect statement piece in a bedroom or dining area.
Trim adds to the straight lines of the bench and helps loosen up the boxier, sturdier shape of it.
Set the lights on in tassel mode
---
The deco lamp
[metaslider id="8382″]
Vintage style lampshades make one delectable accessory. And, those fringed ones, they look lush and natty.
Take these handmade vintage style lampshades for instance. Adorned in sumptuous velvet and blue trim scalloped detailing, it has a fine double fringed edging. A true signature piece indeed!
Inspired by the roaring 20s and sensuous jazz culture, the bold graphic print of this lamp looks art deco personified. The print is drenched blush and blue.
This classic piece is a total stunner!
Fringe Chandelier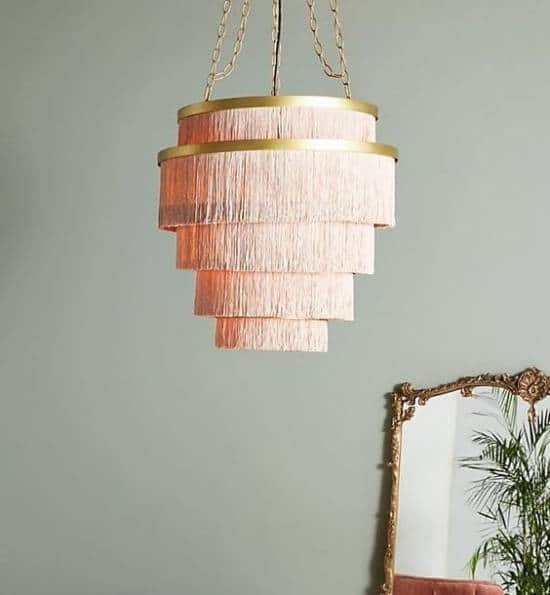 What are accents lights without a charming chandelier? It's a crowning jewel of lights. A signature chandelier is a must-add in your decor.
A chandelier dressed in tiered fringe, oh so classic! This rose gold fringe chandelier is everything and that.
Inspired by flapper girls' dress, the fringe tiers add an interesting layering. Blending metallics with fabric trims makes this chandelier, seductive and thoughtful.
This elegant chandelier makes a perfect choice when you want ceilings to say something sultry!
The Wink Lamp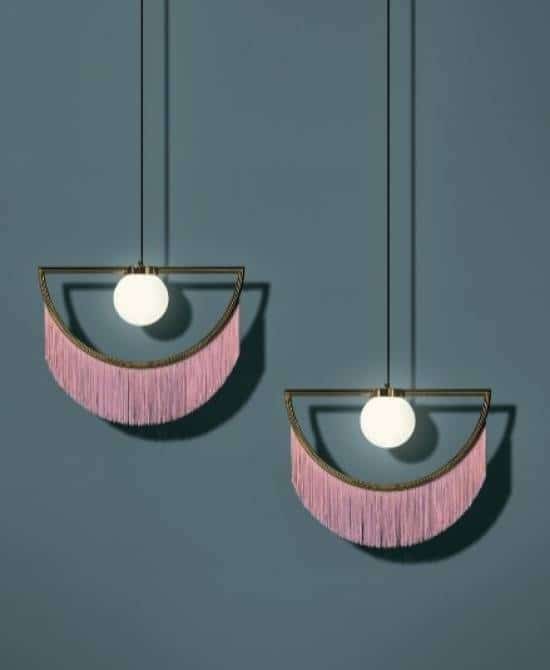 Let the drama unfold with chic pendant lights, it hangs, it floats and yes, it speaks charm too.
Ana Hernandez, the creative designer of Masquespacio designed this wink lamp, is giving typical pendant lights a reason to think and innovate.
This lamp is inspired by different elements, a fine reminder of past and future winking; it adds an illumination story, where observations are personalized.
The bangs, the metals, and a string, this lamp is a true symphony.
Posting the fringe story on the wall
---
Rainbow Mirror Wall Hanging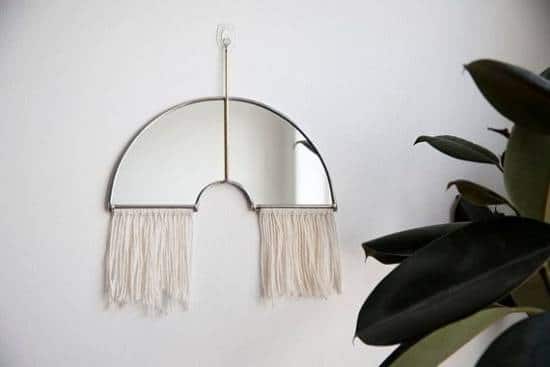 Mirrors and tassels, why not?
Let the walls reflect with a fringe story. This stained glass wall hanging is crafty, fun and eclectic. Made using mirror and lead, it has a fine finish of raw silver with fringe attached.
The arch-like shape of this wall piece takes the usual mirror craft on to the next level. This dainty piece makes a chic, corner piece.
Wavelength wallpaper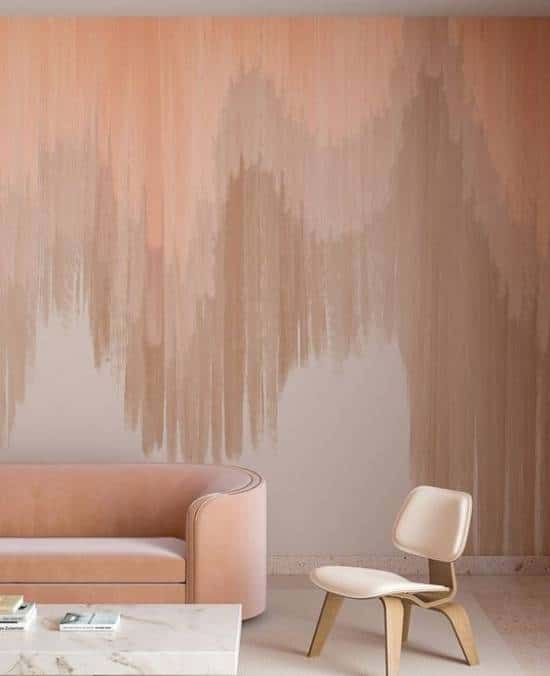 Let the fringe be on the wall. Add this funky wavelength wallpaper when walls scream for attention.
This wallpaper is designed by Bree, owner of Drop It Modern makes an uber number where minimal is everything. This wallpaper can be incorporated to add as a supporting touch, almost like a booster, use it as a backdrop for a piece of fringe furniture.
Or, add a noticeable depth by using it in tandem with a fringe chandelier, for that layered kick!
Our take
Fringe is fun and flirty. It sways too. Home decor accessories inspired by Art Deco's favorite trim looks edgy and classic. This decorative frill glorifies even the simplest accents in a jiffy.
We say, add fringe and bring in that jazz era back; hearing saxophone already?
So? What are your thoughts about Fringe Interior Design?
Tell us in the comment section below and don't follow to like, share & subscribe to our newsletter for regular updates of our trendy articles.
Alcove Studio provides architecture and interior design services. Our office is based in Mumbai, India.
Check out our works on Instagram and Facebook
Here are a few hand-picked articles for you to read next: