[7 minutes read]
Quick links:
Let us first understand:
What is Surrealism Interior Decor?
Conscious art is starkly constrained, it limits you. Fuelled by the Dadaism Art Movement, the creative moguls flipped that 'being conscious' page for good.
It vaulted for exploring the dreams, the unconscious mind, and embracing irrationality. Surrealism is everything and that. Surrealist home decor is bold, creative, gutsy and grandiose. It goes beyond the sketched horizon.
It spills, it stretches and exaggerates. Loud and trippy, the design accents speak an unreal reality.
Art- A frame that is personal
---
Art is not what you see, but what you make others see.
-Edgar Degas
They say real art speaks. And, rightly so. It is the color, form, and shape of a design framework that conveys some message. It is personal and secretive.
One may see a curve as a geometric addresser but for someone else, that curve projects a turn or an unexpected change, a deviation.
Surrealism – A play of a mystified mind
---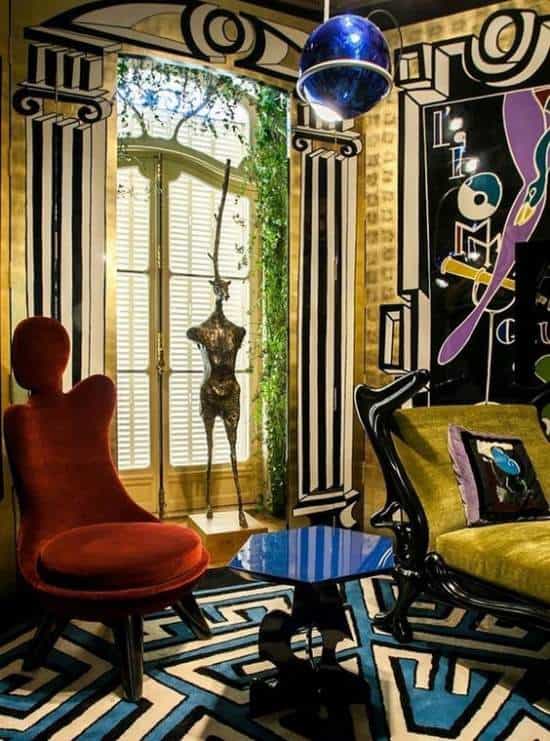 Each era leaves some important pages behind. It often brings in a revolution or change that gets conveyed through art and literature. One such cultural movement was Surrealism, dated way back in 1917.
Artists painted and chiseled unnerving and illogical scenes, designs that left the unconscious to activate and express.
Art has no boundaries. It's free flow and adaptive. Surrealism is everything and that. It is seeking something beyond the sketched horizon. It spills, it stretches and exaggerates.
Surrealism blends the dream and reality. The blending brush then shines in distinct tint that marks some fine, superior reality. A surreal interpretation is multi-faceted. It's a fluid art that is thought-provoking and imaginative.
Like a wave, an era or a revolutionary idea fades too. Surrealism had its moment of glory in the late '60s and '70s. A raw hunger for ideas expressed freely through art seemed necessary at that time.
But, art is funny that way. The pages of it may get sepia-tinted, but it never leaves the shore. It remains, grounded and firm. Surrealism too stayed and it has made a mind-boggling comeback in recent years.
Bringing surrealism in interiors is a chapter that is too hard to miss out on. The playful form, far-fetched textures and color palette that paint like a dream, surrealism plays discrete.
Tracing the routes of surrealism
---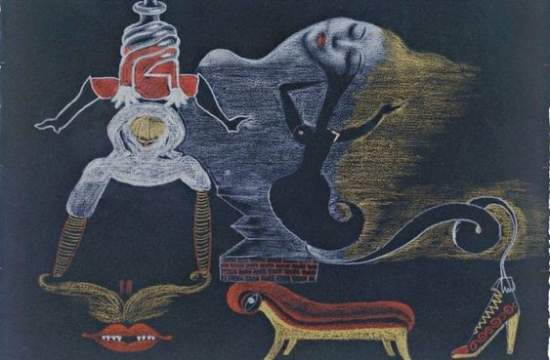 Dadaism, an art movement developed by the European avant-garde, in the early 20th century rejected the logic, reason, and aestheticism of modern capitalist society. It showcased 'why not this' ideology in visual, literary, sculpting platforms.
Surrealism was born out this curious, seeking the unreal nature.
Andre Breton, a French writer, Anti-fascist is best known as a leader, principal theorist of surrealism. In his writing, Surrealist Manifesto (1924), he described surrealism as pure psychic automatism.
He inspired the artists to question reality. Challenge it with supplemented dreams. Another unabashedly surrealist artist Salvador Dali is known for showcasing bizarre and grandiose artwork.
Why seek rational when you can tap the unconscious mind, surrealist embraced the break-free ideas of Sigmund Freud. His method of bringing in psychoanalytic interpretation to showcase the reality felt real.
Freud once mentioned, 'A dream that is not interpreted is like a letter that is not opened'. Surrealists could relate to this ideology. Rational, chalked out thoughts of the modern society appeared bland. Illuminating the reality with an unseen dream felt logical then.
A surrealist chisel- when spaces speak unreal reality
---
Surreal is dreamy, bizarre and mind-boggling. It is that untapped chapter in interior trend which opens like a pop-up book.
Renowned designers who swear by 'why go straight when that arch looks alluring' method keeps the surreal trend visible and floating. They say you enter these surreal spaces. It looks too bizarre to be true.
You get a feeling of "seems like seen before, but not sure where, maybe in dreams". And that's when surreal wins, hands down!
Apartment of an Immigrant- Only Design, Moscow
---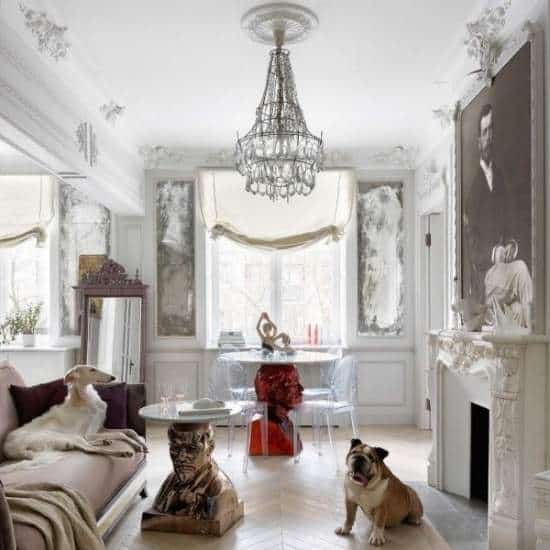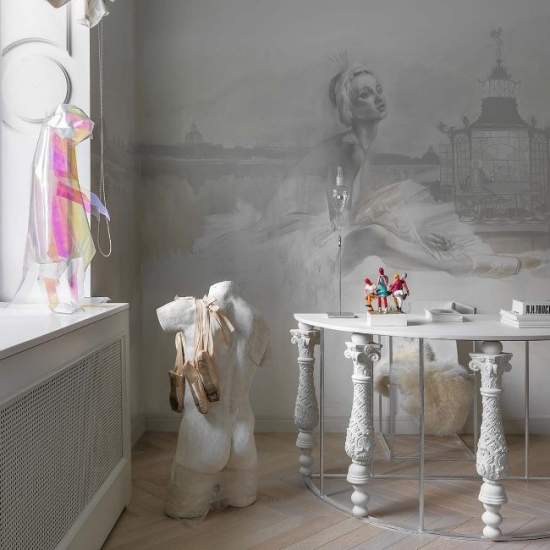 This fabulous surreal interior is a vision made into reality by Only Design, a studio based out of Moscow, Russia.
The entire decor concept is a story invented where a Russian immigrant moved to Paris when art smelt surreal. It portrays different layers of soviet design where the grandeur empire style blends with minimalist modern, quite effortlessly.
The apartment portrays a passion for contemporary art. It brings out the best in classic sculptures. Painted and portrayed in a vibrant avatar, it almost appears real.
Blending the same with furniture pieces epitomizes when art meets functional. The area around the windows seeks attention with antique mirrors that are set into the wall panels. Heavy with patina, the mirrors received a weathered sheen.
Their distressed shimmer compliments the crystal chandelier that swings mystical from an ornate ceiling. The walls speak with Russian ballerina mural. Very antique.
Le Hotel Montana, Paris by Vincent Darre
---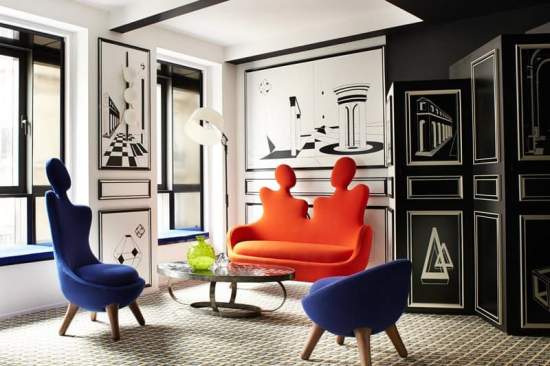 Travel anywhere in the world, but hotels always have the same decor, says Vincent Darre, the effervescent designer behind the Le Hotel Montana, Paris.
The mirror, sconce and even a canvas wall art above the headboard, everything is similar. I wanted to break that monotony. I knew I wanted to create bizarre yet eclectic decor for this hotel. The inside of me screamed surrealism; again, it's my trademark style.
Located on 28 Saint-Benoît, Paris, Le Montana is the most sought-after boutique hotel in Paris. It is home to six suites along with a restaurant and rooftop bar. Each suite is unique and chic.
The colors, volumes, and accents portray surrealism quite flamboyantly. The whole idea was occupants should have a gala time. The designer adds, wherever surrealism peeks in, there is no room for boredom.
Darre admits, borrowing a color palette from Christian Bérard, Jean Cocteau, Pierre Le-Tan and Le Corbusier. This is my way of giving tribute to the surrealists!
Furniture designed with human silhouettes, floorings crafted in geometric marvels is hard to miss. Call it trippy or dizzy, the decor is pretty mad hatterish!
Vincent Darre's Apartment, Paris
---
Let the reality be outside the door. The interiors can breathe in some unconscious surrealism.
Designer Vincent Darre apartment in Paris extends his love for surrealism with decor accents that are too good to be true. The first thing you notice is flamboyant textiles.
Derre's dreamy fabric collaboration with Pierre Frey accentuates the dining chair, couch, and windows in the living room with contrast textiles. The cubist carpet then extends the pattern saga throughout the room.
The graphic, lacquered tables play an interesting game of geometry. The sofas shaped like human silhouettes-peeks in Salvador Dali's ideology. The accents like a shapeless blue glass mirror, metal insect sconce are very 60s and timeless. The hallway speaks crimson.
The area is covered in fun botanical wallpaper which is quirky than a coat of paint. The doorways are trimmed in black paint highlighting the room's architecture.
Le Germain, Paris by India Mahdavi
---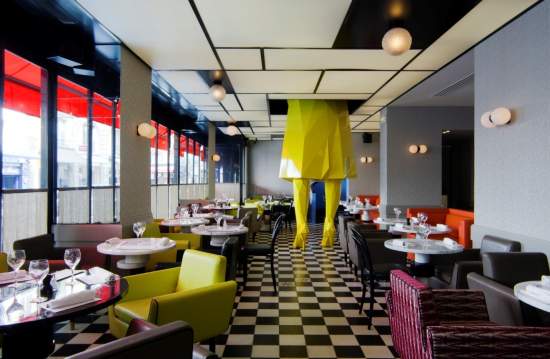 With Le Germain, Designer India Mahdavi revealed her first project in Paris. The Parisian bistro takes the surrealism saga onto another level with focal accents drenched in bold tones.
India admits that she wanted to experiment and play with scale, proportions, and patterns. It was a blank canvas that needed an outbound outlook.
The pixelated floor is fun and dizzy. The black and white cement tiles look like an endearing board game. The graphically illuminated ceiling makes you want to notice and admire its grid-like pattern.
But it is Sophie, a 5-meter yellow metal statue by Xavier Veilhan, wins the accent game hands down. Anis green and orange tones float around this massive accent piece bringing in the unobvious gleam.
The bistro brings back history, tradition but it also unleashes you from the bygone era real quick.
The decor-a portrayal of surrealism
---
Rorschach inspired rugs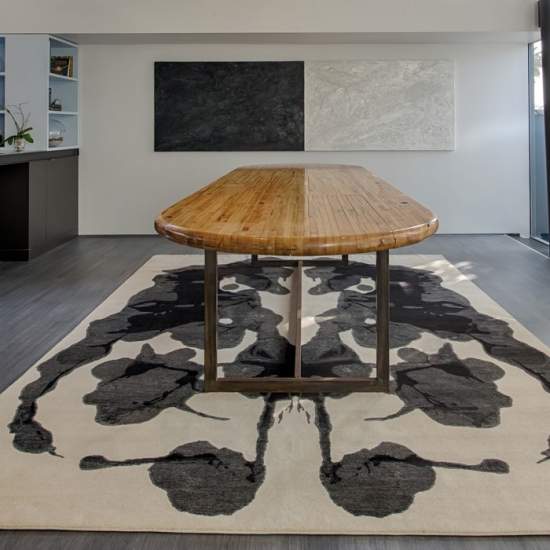 Rorschach inkblot test can trace the human personality characteristics and emotional functioning. Inspired by this psychological text, this inkblot collection of rugs evokes beauty, conversation, and emotions.
The message does lie in the eyes of the beholder. The bilateral symmetry crafted on it, allows you to play with your imagination.
The inner sense tells you to view the endless possibilities of shapes formed. The imagery of dark and light objects gives a metaphor of everything has two sides.
Clocks
---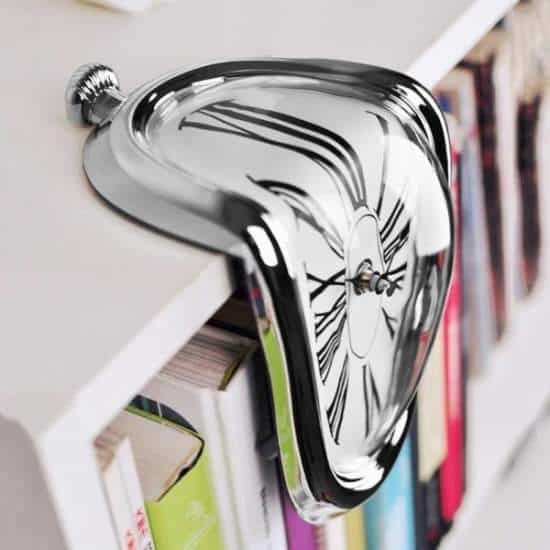 Remember Salvador Dali's famous painting 'persistence of memory' that portrays melting clocks?
The painting is a well-known symbol of surrealism that says time is transitory or maybe it holds no specific meaning. These melting clocks are showstopper accents that make you want to revisit the surreal chapter, again.
What do you think about it?
Is it imperative to run by the minute hand or time can be tamed just like in our dreams?
Traccia Table by Méret Oppenheim
---
Meret Oppenheim, a German-born Swiss artist designed this 'the bird's feet Traccia table' in the early 70s. It's a surrealist furniture piece that represents a bird with feet imprinted in an egg shape surface.
The piece captivates with its leg-structure that has claws in bronze finish, denoting a firm ground, a hold. In Italian, the word Traccia means footprint, the birds leg table is a fine reminder of making an impact with unleashing creative boundaries.
Going beyond the obvious, embracing the wild imagination.
Hand Table and Chair by Pedro Friedeberg
---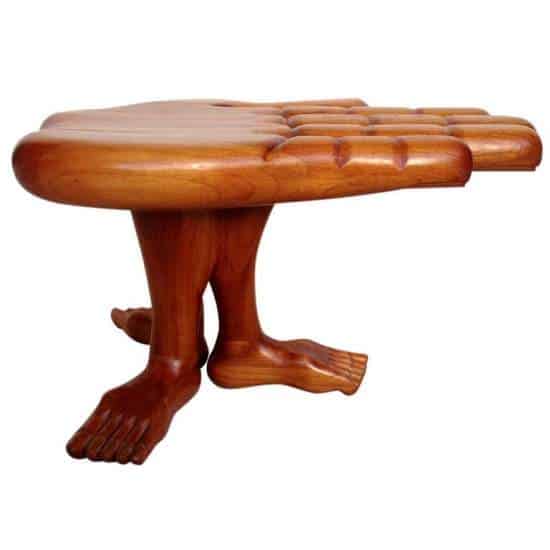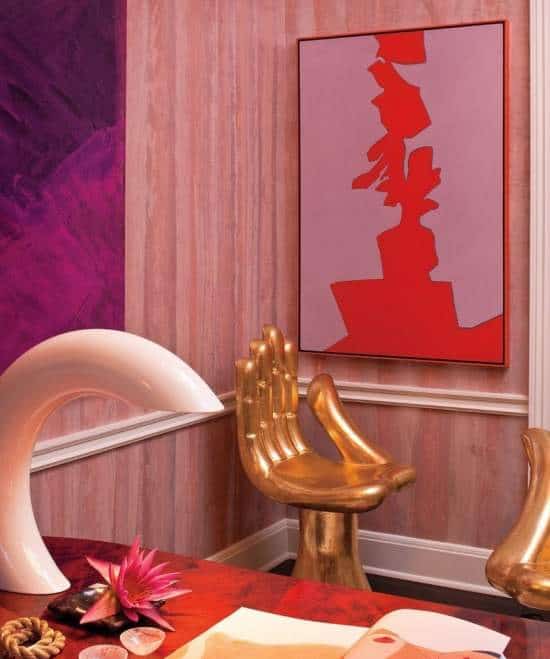 Mexican artist Pedro Friedeberg breathes surrealism. He is known for his iconic hand and leg motifs.
This stunning hand and foot table opens doors of imagination. It is free form and inharmonious in a good way. The palm is supported by three link legs which project connecting human limbs together. The body, the soul and support everything is interlinked.
His most iconic work to date is the 1960s Hand Chair that denotes support. Shaped in a hand silhouette with a matt-gold finish, the palm is your seat and fingers become an arm and backrest.
The human body is complex, it remains unexplored. There is a lot to get inspired from.
Dressing Table
---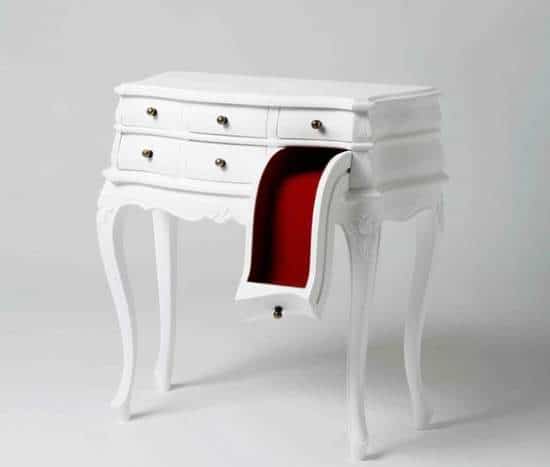 Lila Jang is a Seoul born marvellous sculptor who gave a quirky and playful twist to 18th-century French furniture, which says it's about time a home decor takes a surrealist route.
Her eccentric furniture pieces are a sheer bend, twist, and deform game. The whole idea here is to craft shapes that fit happily in a cramped, boxy area too.
This dresser is practical with its storage cubbies except for one drawer that is crafted open, with the intention of it being unmovable, stoic and firm. It's way too long to close and match up with other sectionals. The chosen one remains flaming red and hard to miss out.
Surrealism may be grand, loud and trippy but it celebrates the potential of vagary. It openly states, there are myriad boundaries beyond the usual bracketed sphere.
The interior decor is happy to drench in surrealism whenever you let the mind wander, set free from rules!
We loved the fact that surrealism never really left the decor ground, it's always been there, grandiose and awe-worthy!!!
Alcove Studio provides architecture and interior design services. Our office is based in Mumbai, India. 
Check out our works on Instagram and Facebook
Here are a few hand-picked articles for you to read next: